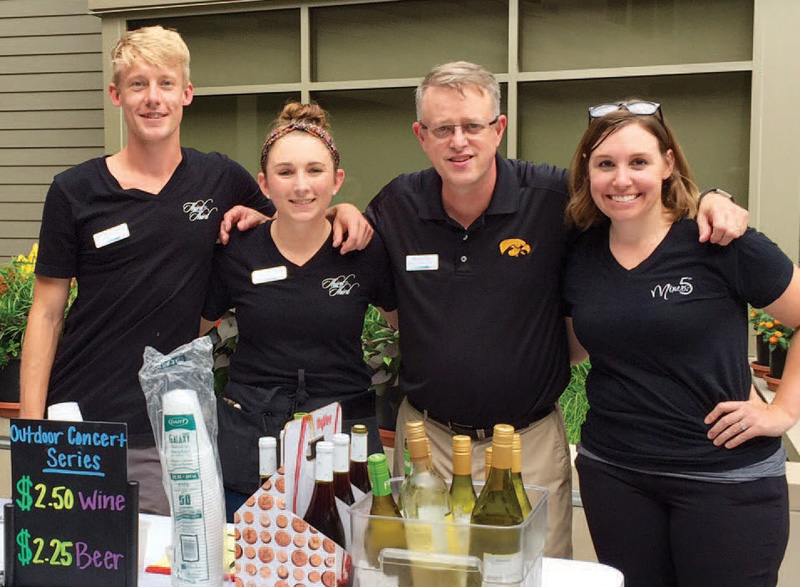 Iowa City's Oaknoll Retirement Residence takes top honors in the CBJ's 2017 Coolest Places to Work competition.

By Dave DeWitte
dave@corridorbusiness.com
When Oaknoll Retirement Residence employees weighed in on what makes it such a cool place to work, one reason stood above all the others – or rather, 370 reasons.
The 370 residents of Oaknoll make working there a pleasure, survey respondents said. And that helped make Oaknoll the winner of the Large Companies category, as well as the overall winner in this year's Coolest Places to Work competition. (See our related article on selecting the Coolest Places to Work).
Residents travel to softball games to cheer on the Oaknoll staff team, and turn out for fundraising walks or golf tournaments with staff to support worthy causes.
"The residents are amazing," one employee wrote in their Coolest survey.
"There is an amazing bond between staff members that is fueled and nourished by both parties," wrote another.
Marketing Director Kimberly Haring and Executive Director Steve Roe are among the many staff members whose children come to Oaknoll frequently to take part in social events.
"My son said, 'It's like I have 100 grandpas and grandmas,'" Ms. Haring said.
Staffers aren't exaggerating when they say residents are amazing. Because Oaknoll is a premier retirement community just off the University of Iowa's campus, it has become a magnet for retiring faculty and staff.
Among the many notables who've shared their lives with staff are astrophysicist James Van Allen, best known for his discovery of the Van Allen radiation belts, and eminent communications scholar Samuel Becker. Mr. Roe said many residents are emeritus faculty of the UI and some still go to campus to lecture or travel internationally for speaking engagements.
Oaknoll has a strict policy that prevents residents from showing their appreciation to staff through tipping. But when the late Mr. Becker was a leader on a residents committee, he initiated a holiday gift fund for staff. Donations have grown each year, and last year residents donated a total of $130,000.
"If you were full-time employee, your share of that was $700 if you have been here over six months," Mr. Roe said.
Staff also have a good time putting on events for residents, including talent shows, a Titanic-themed dinner in vintage costumes and an Oaknoll version of "The Newlywed Game." They've even been known to organize flash mobs and synchronized swimming exhibits.
Ryan Mulligan is the full-time bartender on staff at Oaknoll's in-house pub, Mixers on Fifth. He is on a first-name basis with the regulars at Mixers, and says two of them share turns performing on the piano.
Mr. Mulligan recently received a $1,000 scholarship from Oaknoll to help him pursue an associate's degree in computer networking at Kirkwood Community College. The scholarship funds were donated by Oaknoll residents.
"It meant a lot to me," Mr. Mulligan said. "Everybody else who's gotten a scholarship before me was studying nursing."
When he has time after work, Mr. Mulligan has been known to visit residents to help them with technology issues, such as replacing batteries and fixing connectivity issues with their mobile devices.
Aside from their many interactions with residents, Oaknoll staff enjoy some enviable perks. They include half-price meals at its dining facilities, access to Oaknoll's pool and exercise rooms, and casual Fridays, during which they can wear jeans to work.
Staff turnover is relatively low, according to Mr. Roe, who tracks it by the number of staff who have qualified for a retirement contribution from Oaknoll for two consecutive years. He says most part-time staff are college students who do not stay, but many full-time employees have been with Oaknoll for decades.
"The organization lives the mission," wrote one employee. "I work with amazing people and I make a difference in the lives of residents. Bravo, Oaknoll."