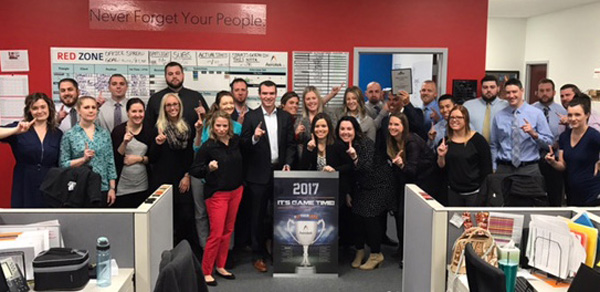 Aerotek staffers pose in their Hiawatha office earlier this year. The firm will relocate to a
new 8,500-square-foot space in October. PHOTO AEROTEK
By Christine Hawes
news@corridorbusiness.com
When you work at Aerotek, training comes in many forms.
Account executives at the administra­tive and executive recruiting firm attend revered leadership programs at the com­pany's national headquarters in Phoenix. When they return to Aerotek's Corridor headquarters in Hiawatha, they pass their new knowledge along to other recruiters through sessions known as "teachbacks."
Those recruiters, meanwhile, are con­stantly coaching each other. Located in the center of their office and working from low-walled cubicles, staffers can hear each other on the phone and offer timely feedback.
"We do a very nice job of encouraging peer-to-peer development," said Aerotek Director Ben Rohan. "In some organiza­tions, a lot of the development relies on 'top down to subordinate.' Not here. We encourage our employees to make those around them better."
That emphasis on lifting each other up, coupled with some unique work perks, earned Aerotek its second-straight award as the Coolest Place to Work among me­dium-sized companies in the Corridor. It has also helped fuel growth in its head­count, which has risen from 28 to 35 over the past year and necessitated the move into a new 8,500-square-foot space. That transition should be completed by Octo­ber, according to the company.
Aerotek offers many avenues for ad­vancement or finding the best fit. On av­erage, Mr. Rohan said, employees are able to advance either laterally or vertically – to a new department or a higher position – after one year.
The company's competitive atmo­sphere dominated the comments offered by employees in their Coolest Places to Work survey responses. Many shared how much they appreciate the opportunity and pace of advancement.
"I have been able to have multiple po­sitions within Aerotek," one employee wrote. "The fact that I have had someone help develop and see my potential has been huge. I have been able to do that for others and give them career success."
"We take pride in our positive, compet­itive atmosphere, and we are taken care of," wrote another. "We are rewarded for our hard work with a competitive salary plus bonuses. Everyone here pushes you to be successful, and we are a team."
Aerotek fosters motivation by having each employee keep a "why" board, which documents their current goal and "the reason they come to work each day."
A bottle of champagne helps mark when the goal is attained. And then em­ployees pinpoint another one.
Small victories are also celebrated along the way, Mr. Rohan said, with the intention of creating continual progress through positive reinforcement.
A sense of family also topped the list of key qualities mentioned by employees. Aerotek tries to build that feeling with traditions like collectively honoring and supporting the big events in employees' lives. The staff recently honored one em­ployee's father, who was struggling with a heart condition, with a fundraiser for the American Heart Association.
Employees also take turns providing Fri­day breakfast to everyone in the office and recognize each others' birthdays, personal anniversaries and "aeroversaries" – Aerotek's term for years of service to the company.
"At the end of the day, we're a very tight-knit group," said Chandra Wiezorek, account manager of professional services. "Everyone has each others' backs."
Aerotek also goes out of its way to take a nurturing approach to its own commu­nity and people in need. Mr. Rohan re­cently met with Habitat for Humanity to talk about a future collaboration with the group's "A Brush With Kindness" home repair program and the company is part of the Adopt-A-Highway road cleanup program. A fundraiser a few weeks ago helped raise money for Hurricane Harvey survivors.
An ongoing pursuit of fun often over­laps the company's family approach to co-workers, Mr. Rohan said. Aerotek's employees pull together for group events every quarter, ranging from Kernels and Rough Riders games in Cedar Rapids to company barbeques at Mr. Rohan's house.
The end result is a motivated workforce excited to get to work each day.
"Aerotek is a company that challeng­es you to be better every single day, both professionally and personally," one em­ployee wrote. "They care about your suc­cess and your development. There is never a day that goes by that I have to watch the clock. The people I work with are incred­ible, and I truly enjoy coming to work ev­ery day."