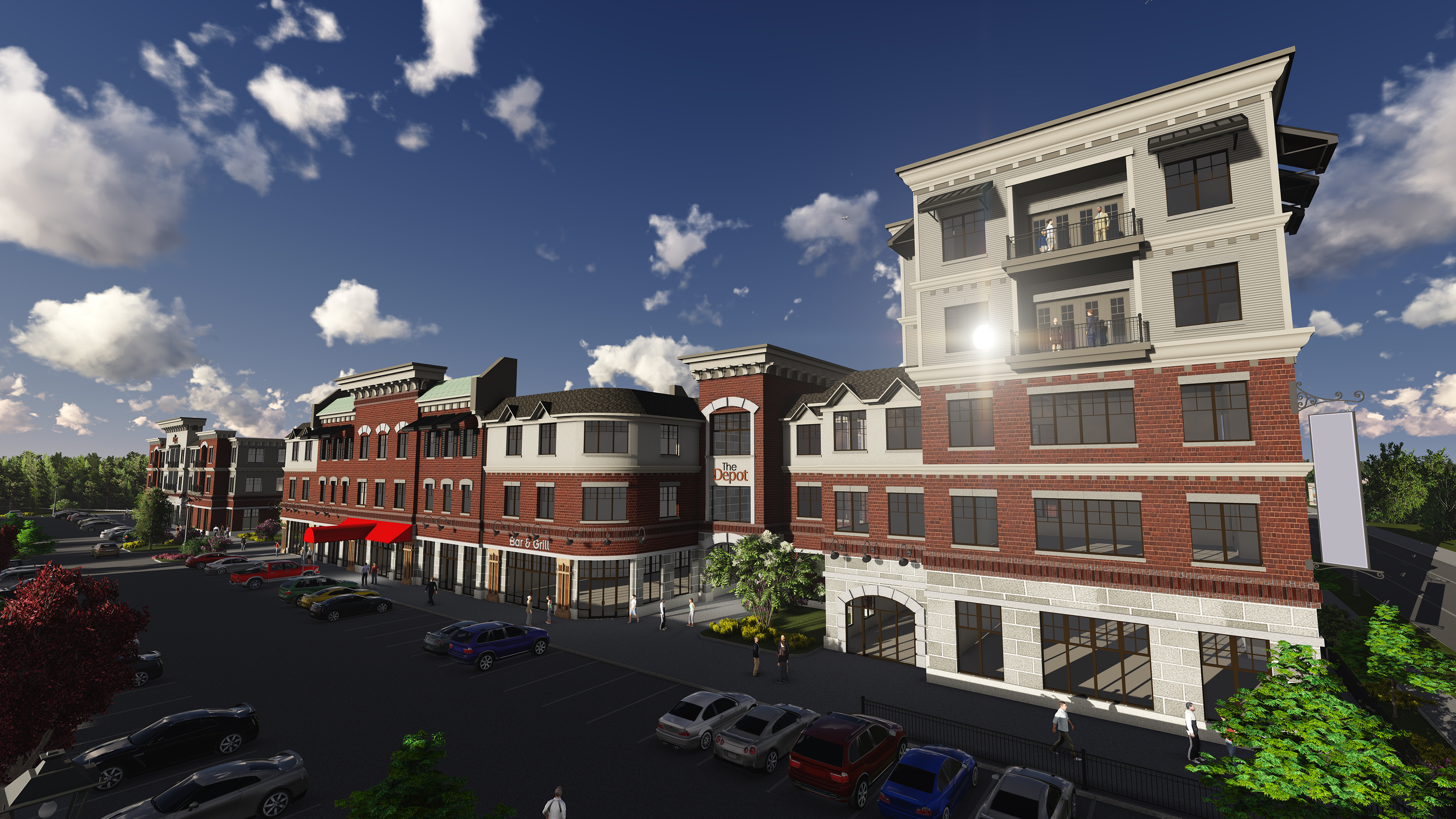 By Dave DeWitte
A $17.5 million development proposed for a city-owned brownfield site promises to bring some of the live-work-play synergy the New Bohemia neighborhood has been lacking.
Depot Development Group LLC, an offshoot of Ahmann Companies, received a green light from the Cedar Rapids City Council on Nov. 18 to enter final negotiations with the city for the former Iowa Iron site at 400 12th St. SE.
"It's not very often you have a councilwoman speechless, but I am," said councilmember Ann Poe. "This is amazing."
The project calls for four mixed-use buildings to be constructed in phases. They are designed in a style that complements the nearby Geonetric building, developed by Ahmann Companies, with brick and rich architectural details. The Depot would share city-owned parking with the NewBo City Market, and have pedestrian access to the New Bohemia district.
The developer would acquire the 2.5-acre site for a song – about $50,000, with a 10-year, 100 percent tax increment financing deal. But there are a couple of big and costly issues that city staffers say warrant the incentives.
The project lies in the 100-year floodplain, requiring special development methods, and is expected to require costly preparations due to the site's history of industrial use and contamination.
According to Chad Pelley, business development manager with Ahmann Companies, the developer plans to apply for a brownfields-greenfield tax credit when the program, now idled during an administrative revamp, is revived next year. He believes the project would have a good chance of securing assistance. If so, work on the site could begin late next summer.
Mr. Pelley said Depot Development is primarily working with two businesses interested in locating in the development, however he was not at liberty to name either company.
Depot details
The first phase planned is a five-story, $3.5 million mixed-use building.
The plans call for 46 market-rate housing units, office and retail uses. In the later phases, spaces initially provided to residents for use as indoor parking will be transformed into ground-floor office or retail spaces.
A key attraction would be the ability to live and work in the same building, and within walking distance of such attractions as NewBo City Market, CSPS, the Cherry Building and Czech Village.
Caleb Mason of the city's community development department said Ahmann Companies responded to a city request for proposals for use of the site, which the city has owned since 2001 and cleared of industrial buildings.
The project responded well to city requirements such as placement of parking behind the buildings, and having buildings that addressed the street frontages. Camouflaging parking and attractive building fronts are becoming more significant to the city as it works on strategies to give the city's attractions a more compelling sense of place.
The site had a short-lived existence as a sand volleyball court and event space for the nonprofit New Bohemia Group, which did not anticipate some city requirements and was unable to complete the project.
The council passed a resolution voiding $11,250 in hotel-motel tax payments allocated to New Bohemia Group and authorized that $10,000 of the amount be redirected to Kelly Demolition, which took out a lien on the property after it did not receive full payment for its work on the volleyball courts.