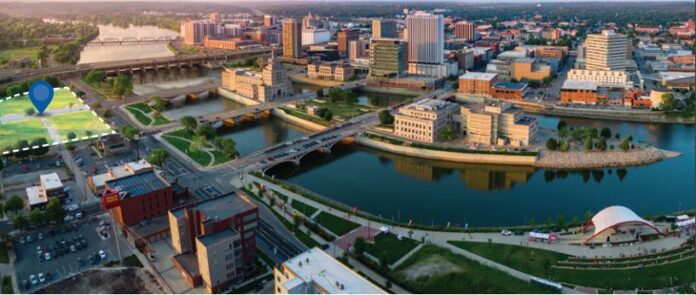 First & First West site (left). CREDIT City of Cedar Rapids
By CBJ News Staff
news@corridorbusiness.com
A city of Cedar Rapids project review panel is recommending the city negotiate a deal with a high-profile local development group for a mixed-use project on the prime First & First West site the city is offering for development instead of a smaller deal proposed by a large Indianapolis developer.
The project proposed by 1&1 LLC calls for spending $90-$100 million to develop a mixed use project with a Big Grove Brewery, multiplex cinema, multi-use buildings, 600-stall parking garage, Spare Time Family Fun Center and public spaces. The LLC includes Joe Ahmann of Ahmann Companies, entrepreneur and former pro football player Nate Kaeding and restaurateur Matt Swift.
The project calls for significantly more investment than a competing proposal from Indianapolis-based Flaherty & Collins. That proposal called for spending about $63 million to develop one large multilevel mixed use building in an L configuration, a second building on another block with 200 housing units and surface parking, and a third parcel to be developed with a public plaza.
City Economic Development Analyst Caleb Mason requests the council consider authorizing the city manager to negotiate a project term sheet in a memo to the city council. Term sheets typically set forth obligations of the city and the developer, and would include such terms as the price paid, and tax increment financing and other incentives provided to the developer, as well as the project timetable.
The city has high hopes for the highly visible flood buyout site just off I-380 at First Avenue and First Street SW, which had long been held in reserve in hopes that the state would approve a casino license for Cedar Rapids. When Iowa's racing and gaming commission would not approve a gaming license for the state's second largest city, the city decided to issue a request for proposals for other types of development.
Mr. Mason said the city's steering committee also recommended that the term sheet negotiations include thoughtful discussion of parking location and right-sizing parking to meet current and future needs, the compatible design of parking structures with the development, connecting the project design to the riverfront, and housing at a variety of price points and options.
The virtual city council meeting will be held 4 p.m. Tuesday and can be viewed on the City of Cedar Rapids Iowa Government Facebook page. CBJ
UPDATED 6/23/20 9:04 p.m.: This story was updated to correct the name of the development group and investors in the First & First West site.