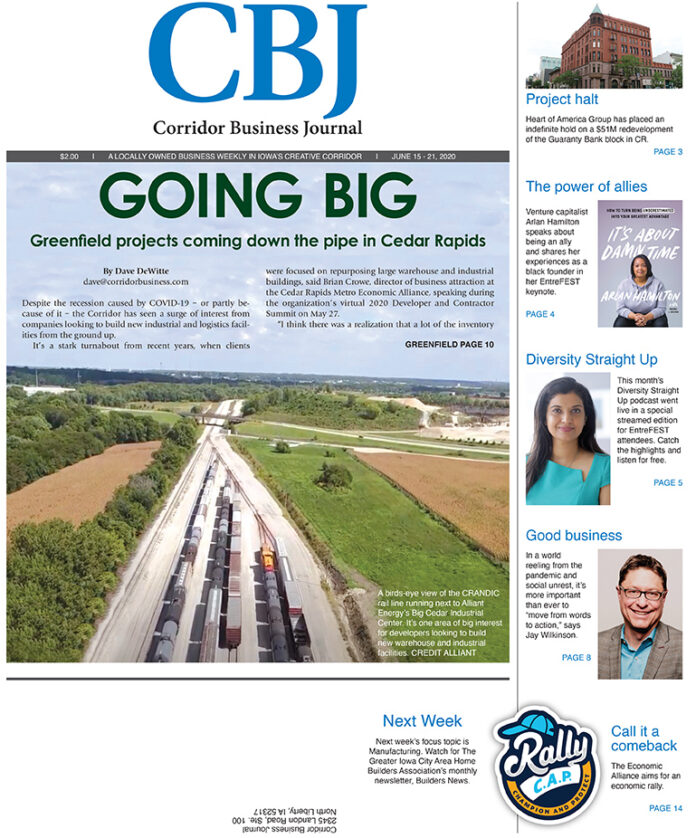 By Dave DeWitte
dave@corridorbusiness.com
Despite the recession caused by COVID-19 – or partly because of it – the Corridor has seen a surge of interest from companies looking to build new industrial and logistics facilities from the ground up.
It's a stark turnabout from recent years, when clients were focused on repurposing large warehouse and industrial buildings, said Brian Crowe, director of business attraction at the Cedar Rapids Metro Economic Alliance, speaking during the organization's virtual 2020 Developer and Contractor Summit on May 27.
"I think there was a realization that a lot of the inventory was gone … and that we needed to work on having some spec buildout, some development-ready space that could be easily accommodating to light industrial warehouse and distribution," Mr. Crowe said.
Several projects are currently in the development pipeline under confidential terms, according to Ron Corbett, business retention and expansion strategist at the Economic Alliance. To discuss them amongst themselves, local officials use code names like "Project Gold Core" and "Project Clean Room."
"It's unlikely that they would all come through – even the best ball players don't always hit a home run," Mr. Corbett told Cedar Rapids' Downtown Rotary club during a presentation on June 8. "We do believe a couple of these for sure will come to fruition, and expect to make announcements later this year."
One large project that appears virtually certain is a new BAE Systems facility to house the military GPS business that the company has agreed to acquire from what is now the Collins Aerospace division of Raytheon Technologies. At the time plans for the $1.9 billion sale were announced in January, BAE said that it would keep operations in the Corridor and develop a new facility to house them.
A request for proposals to build the facility was put out to a select group of developers, Mr. Corbett said, and the list of prospective developers has been narrowed from the proposals submitted. Further details of the project, including the location, are expected in the months just ahead.
Mr. Corbett said the other projects in the pipe are mostly solid prospects that have come down to the search for the best site, not "fishing" inquiries from projects in the early stages. If they were all to come through, "we'd have our biggest economic development year in the history of Cedar Rapids," he added.
The main nexus of developer interest in Cedar Rapids has been an area along 76th Avenue SW that includes two of the state's largest, yet virtually untapped, industrial parks. Alliant Energy's Big Cedar Industrial Center at Edgewood Road and 76th Avenue SW is a 1,391-acre state-certified Mega Site. The Eastern Iowa Airport's Cedar Rapids Land and Air Super Park is a 582-acre state-certified Super Park to the south of Big Cedar. Both parks have strong logistical advantages, access to Interstate 380, rail and the airport.
The state certifications indicate that a site is ready for immediate development, with appropriate zoning and infrastructure such as water, sewer and roads in the vicinity that could be easily extended to a project. They give site selectors greater confidence that a project won't become ensnared in delays.
"It's not so much a site selection process as a site elimination process," Mr. Crowe noted. "The site selectors we're working with are looking for red flags."
He said it's not always possible to eliminate every red flag, but it is crucial to show them that you're able to work creatively to overcome issues that arise.
Further distinguishing the Mega Park and Super Park designations are the larger scale of sites and utility capacity they are required to have available. A Super Park, for example, must be able to provide 1 million gallons of water per day and 32,500 million cubic feet of natural gas per month. It must also have immediate access to rail, be within five miles of an interstate highway and have at least 500 acres of contiguous land.
Nearby, the 120-acre Midwest Commerce Park is being developed by Midwest Commerce 1 LLC, a Skogman company. It will begin with a 250,000-square-foot food grade warehouse to be leased by Worley Warehousing at 9940 Atlantic Drive, with enough space left over for at least three more warehouse facilities.
Among the many other attractive options in the Corridor are the state-certified Marion Enterprise Center and Iowa City Industrial Center. The 184-acre industrial center near the Marion Airport has a growing list of tenants, including Legacy Manufacturing, Spee-Dee Delivery and Elplast. The 173-acre Iowa City Industrial Center is served by the Iowa Interstate Railroad and located near a cluster of existing industries in the Scott Six Industrial Park.
In a letter seeking state incentives for the Midwest Commerce Park project last year, Cedar Rapids city officials said the 2.9% vacancy rate for industrial space in the city was restricting growth, posing a need for additional development. The application cited some of the city's large existing industries as potential users of the park, including International Paper, Quaker Oats and General Mills.
Connections count
Engaging with developers on big projects this year has been different than usual because of the pandemic. Mr. Crowe said there have been a series of virtual site visits with site selectors, as well as some promising onsite visits in which every effort was made to meet the widely varying comfort level of the visitors.
He displayed a list of descriptions of projects in the pipeline, stripped of names and identifying characteristics.
"The thing that is so apparent to me when you look at this list is, they're all greenfield opportunities and they're all significantly big," Mr. Crowe said. "Our smallest opportunity is 10 acres that somebody is interested in for bioprocessing. But then we have entities looking for 300 or 400 acres. These are large manufacturing opportunities that need significant amounts of utility capacity."
Because of those needs, Mr. Crowe urged land developers to learn not only what the existing utility capacities are for their sites, but to reach out to utility providers to find out how much their supply to the site could be increased at relatively low cost. He also recommended landowners make sure they have up-to-date site information on LOIS, the Location One Information Service, where many site selectors appear to be gathering site information.
Mr. Crowe, who also represents ICR Iowa in industrial recruitment, sees about a dozen projects in the pipeline around the seven-county region. He suggested the businesses behind them may be repositioning themselves for economic changes due to COVID-19.
"A lot of big companies in manufacturing are looking to say, 'What's next? How do we position ourselves in the post-COVID world?' and so I'm very encouraged by it," Mr. Crowe said. "And I think there is some opportunity for us here."
For economic development entities, he said the focus has to be the creation of development-ready opportunities.
"I think we need to look heavily at adaptive reuse of retail, how can those places be retrofitted for logistics or distribution operations and supply chain," he said. In the likely event of closures, he said, economic development groups tend to be focused on repurposing those properties in short order and rehiring affected people to avoid displacement.
Mr. Crowe said the number of "Best of" rankings the region has received "really paints a compelling list," and that the area has also been cited for its resiliency by several prestigious organizations. But he speculated that one of the main reasons for the recent spike in interest may be a reversal of the tight labor force in the Corridor, due to COVID-19-related business closures and cutbacks.
Iowa Economic Development Authority Director Debi Durham, who spoke after Mr. Crowe, was asked by an audience member if she feels that is the case. Ms. Durham was skeptical, saying, two of the large projects that are considering the area were interested well before the COVID-19 job losses.
Mr. Crowe weighed in, however, saying "I do think the workforce pinch had the effect of just really not getting us looks." There appears to be a general consensus that a return to low unemployment is just a matter of time, Mr. Crowe told the CBJ, and with the quality reputation of the area's workforce, he said some site selectors may see this as a limited window in which to choose from a strong pool of workers.
In the Cedar Rapids MSA, unemployment swung from 3.9% in March to 12.2% in April. In the Iowa City MSA, the rate went from 2.6% to 9.4% over the same period.
The new crop of large project leads came about through state referrals from the IEDA and the direct marketing outreach of the Economic Alliance, Mr. Crowe said.   CBJ