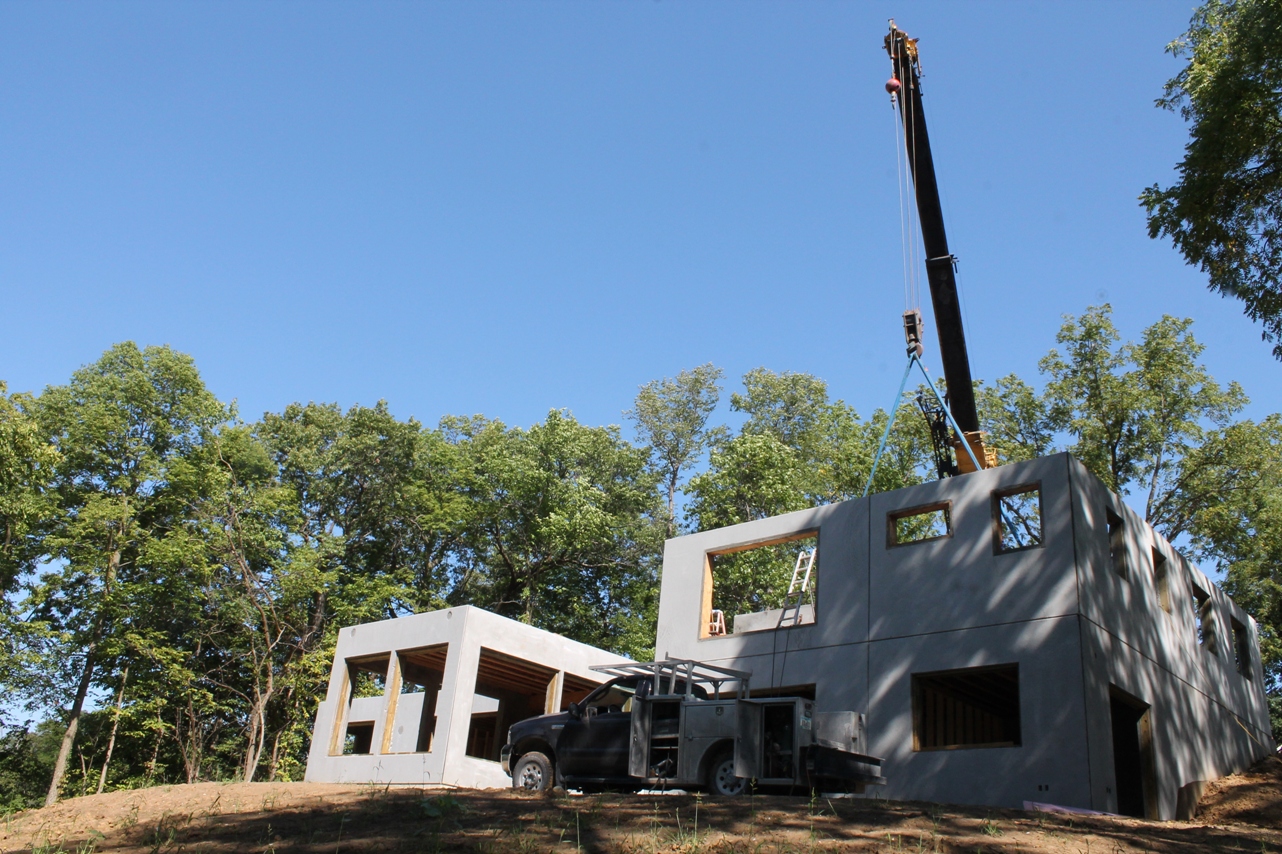 By Dave DeWitte
Green homebuilder Randy Hahn of North Liberty had been observing alternative energy-saving wall technologies for 30 years, deciding most of them offered about as many disadvantages as benefits.
The veteran contractor's perspective changed after hearing Scott Long, co-owner of Zero Energy Systems, speak at the Corridor Business Journal's Green Symposium on April 11. Mr. Long had just opened his first factory in Coralville for Zero Energy walls, made up a layer of foam sandwiched between two layers of concrete.
The walls offer a combination of high R-values, structural strength and low-maintenance finish, which got Mr. Hahn thinking as he went on the tour of Zero Energy Systems after the speech. They come from the factory with window and door openings built in, and the electrical wiring conduits, outlet boxes and switch boxes already installed.
Within a month, Mr. Hahn was bringing Mr. Long blueprints for a Zero Energy-walled home for he and his wife, Susan.
Mr. Hahn's company, H & H Green Builders, is building the home using manufactured wall systems from Zero Energy's new Coralville plant, and considering whether to work with the wall systems on a long-term basis.
"When I saw this system, I said, 'this is it,'" recalled Mr. Hahn. Highly insulated concrete wall systems have been around a long time, but they have been too costly to use for most conventional homes because they had to be built on-site with high labor and setup costs.
Zero Energy Systems is able to drastically lower the costs and make the walls more precisely by building them in a computer-controlled factory environment, Mr. Hahn said.
The Hahns had already drawn up plans for a new 2,091-square-foot walkout ranch home that was to be built with conventional wood-framed walls. Mr. Hahn simply modified the design lightly to use the concrete wall systems.
With four inches of foam insulation and an R-31 insulating value, the wall systems will be even better than the R-23 wall systems Mr. Hahn typically uses in high-efficiency wood frame construction. R-values are a measure of a structure's s resistance to thermal transfer.
Between the R-31 wall systems and attic insulation that will have an R-60 rating, the Hahns' home will only need about half as large of a furnace and air conditioner as a conventional home the same size, Mr. Hahn said.
The home will have large sunrooms on both the main floor and the walkout lower level at the rear. Mr. Hahn is also considering adding a photovoltaic solar array on the roof to further reduce the home's energy consumption.
Raising the roof
The wall panels arrive from the factory on a truck. They are lifted into place by a crane, and are welded together at the corners and at points along the floor using steel plates embedded in them. Conventional wood floors can be used; concrete floor options are also available.
Mr. Hahn impressed Mr. Long with his willingness to learn the new construction method.
"Randy's a very innovative guy," Mr. Long said, adding that Mr. Hahn collaborated with Zero Energy Systems on setting up the wall production system that would best serve his needs.
Mr. Hahn was willing to take on the learning curve of a new construction method with the understanding that once he got over that curve, it would become no more difficult to work with than any other construction method, Mr. Long said.
Building with Zero Energy walls can allow builders to omit some time-consuming steps. The walls for one level of the home can typically be set in a day or less.
One the walls are set, finishing them can be pretty simple. Interior walls can be textured rather than drywalled, saving time, materials, labor and expense.
"Some of the large national homebuilders, the big advantage to them is speed," Mr. Long said. "They can oftentimes go from groundbreaking to occupancy in 30 to 32 days."
Exterior walls can be left bare if the owner likes the look of concrete.
"We're at a time in responsible and sustainable construction where the people who really want to embrace that want to show it," said Mr. Long. "If they built something better than what's commonly accepted, they want to show that."
Mr. Hahn and his wife Susan opted for a more conventional look. Their design calls for a combination of low-maintenance stone, cement board shakes and stucco exterior finishes that will make it impossible to tell that the home's walls are made of cement.
One interesting test of the concrete walls will be whether the house makes the Hahns stay put. The couple have built about six homes and sold five of them in the last 20 years, including two homes within a few hundred yards of the spot where they are building now, a few miles northeast of North Liberty.
Mr. Long expects Zero Energy wall systems to have their strongest appeal in markets with special energy requirements or a need for construction methods resistant to tornados, floods or hurricanes. The strength of the wall systems make them suitable for tornado shelters, Mr. Hahn said, and the ability to shed water makes them great for areas prone to floods and hurricane.
Zero Energy Systems expects to work with no more than 10 or 12 distributors out of its Coralville plant. By limiting the number of distributors, Mr. Long said the company will have a better understanding of their needs and preferences, and be able to work closely with them on projects.
Residential walls are expected to constitute no more than about 20-25 percent of the Coralville plant's output, Mr. Long said, with the vast majority of the wall demand coming from commercial and school clients. In two years, Zero Energy Systems expects to open a second plant in Southern California to serve the California, Arizona and Nevada housing markets.
The construction of the Hahn's house is expected to take about four months, with an October completion date. Mr. Hahn expects construction times to be about one month less after he and his subcontractors have acquired more experience with the new system.