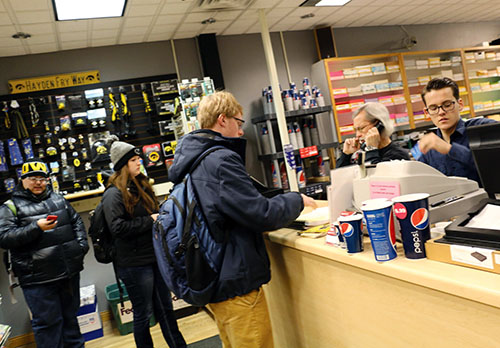 Store associate Jacob Pajunen (right) and manager Dave Hansen service customers at Zephyr Printing & Design on Jan. 19, the first day of the new semester at the University of Iowa.
By Chase Castle
chase@corridorbusiness.com
The winds of Zephyr Printing and Design will blow southward this spring as the business moves its landmark location on Washington Street in downtown Iowa City to a new spot on the Pedestrian Mall.
More than 30 years after opening Zephyr's first location, owner Steve Pajunen this month sold the building at 124 E. Washington Street to independent broker Tracy Barkalow for $1.35 million, according to city records. Mr. Barkalow is also a realtor with Ambrose & Associates, the same firm that owns Zephyr's newest location: the former Swankie Frankie restaurant at 125 S. Dubuque St., which closed late last month.
Mr. Pajunen said multiple factors played into his decision to relocate the store, including limited street parking – a challenge the business addressed, in part, with its expansion into Coralville in 2009.
That year, Zephyr purchased two buildings at 411 Second St. in Coralville, which now house Zephyr Printing & Design's headquarters; Zephyr Weddings, an event invitation and wedding accessories business; and Imprinted Sportswear, an athletic apparel company Mr. Pajunen also purchased in 2009.
The coming overhaul of Washington Street between Clinton and Linn streets planned by city officials for later this year also increased the appeal of the move, he noted. The city plans to spend approximately $5.3 million on new street and sidewalk pavement, traffic signal upgrades, utility improvements and more. Contracts and schedules for the upgrades are likely to be finalized by March 1.
"So it was very good for us," Mr. Pajunen said. "With our main production facility in Coralville, I didn't need all this space in the downtown building."
He said the Ped Mall location may also benefit from the planned MERGE center across the street, where the Iowa City Area Development Group and the University of Iowa's Office of Research and Economic Development are planning to host a variety of programming and services related to technology and design.
The new location may also offer several new services through its own local partnerships.
Mr. Pajunen said he's in talks with the U.S. Postal Service about using the store as a post office substation, and is in negotiations with a local dry cleaner about utilizing part of the space, which was previously home to Technigraphics before it relocated to Highland Avenue.
He is also in discussions with a startup company interested in offering customers small-scale, temporary storage. The storage units would likely be in the business's basement, which contains multiple suites used by existing tenants, primarily for overflow or storage. Mr. Pajunen said that service could be implemented as early as August, while he aims to have Zephyr fully relocated to its new location by May 1.
Swankie's next move
Clyde Guillaume, owner of the shuttered Swankie Frankie, said the restaurant could re-open by the end of this year, ideally at a location with a drive-thru window – an impossible feature to incorporate on the redbrick-paved Ped Mall. He said he's considering multiple locations near the Coral Ridge Mall in Coralville, and noted that being located near an established fast food restaurant would be ideal, despite the potential for competition.
"I think it'd be more of a benefit than a detractor," Mr. Guillaume said. "All I need is for them to try [us] once, and I think we can get a good following back."
He also would like to expand the restaurant's menu to include other traditional American dinner fare such as chicken sandwiches and burgers, which he said would have conflicted with the lease at his former space. His previous agreement with Gerry Ambrose of Ambrose & Associates included a noncompete clause, which allowed the owners of the neighboring Brothers Bar & Grill to impose some food and drink restrictions on the space next door.
"Those are a couple of areas that we had a lot of overlapping products I was wanting to add and couldn't, because of those lease agreements," Mr. Guillaume said. "We've got a good product, and a great, bigger concept with the products. It's just a matter of raising the money and finding the right location."
Mr. Ambrose denied that the noncompete clause contributed to the restaurant's closure.
The new owner of the original Zephyr location, meanwhile, is seeking a new tenant. Tracy Barkalow said he is in discussion with multiple prospective occupants. He said a retailer or restaurant at the space is likely, but only one that compliments existing establishments on the block, which include Jimmy John's, Osaka, Bo James and others.
"We don't want to be competing with similar business in that area," he said.