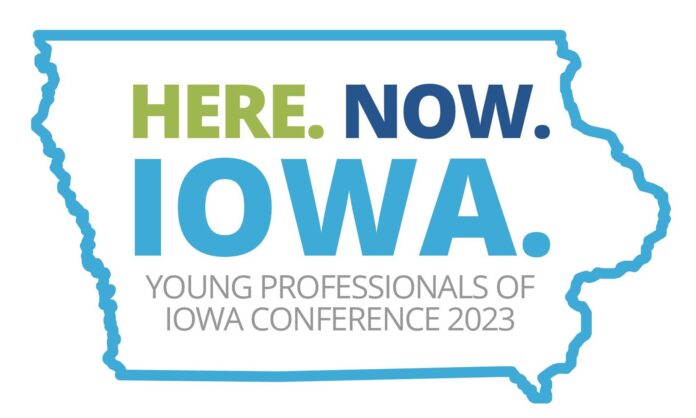 Young professionals from across the state are invited to convene for a one-day summit in Ankeny, Iowa, on Friday, Aug. 25.
That when the Young Professionals of Iowa will host its annual conference from 9 a.m. to 4:15 p.m. at the FFA Enrichment Center in Ankeny.
The 2023 event's theme is "Here. Now. Iowa." The conference will focus on the importance of the state's next generation of leaders, and inspiring the audience to use their talents to drive positive change in communities across Iowa. Young professionals ages 21-40 are encouraged to attend, but leaders of all ages are welcome, as well as collegiate student-leaders.
"We hope that this event serves as inspiration for growth and development that will help encourage our emerging leaders to reach their highest potential and lead our state for years to come," said Jessi McQuerrey, Young Professionals of Iowa chair and director of programs at the Iowa Association of Business and Industry (ABI) Foundation, in a release.
Conference attendees will learn from other thought and industry leaders and gain valuable insight for personal and professional growth. They also can attend informative sessions and interactive workshops, and connect with peers from across the state.
Liz Nead, from Nead Inspiration, will deliver her keynote "The Power of Now." Billy Weathers, CEO and co-owner of the B. Well Foundation, will provide opening remarks, and a lunch panel will include insight from representatives of organizations, such as the Greater Des Moines Partnership, the Iowa Business Council, and the Iowa Department of Human Rights.
Breakout sessions will highlight topics such as authentic leadership, imposter syndrome, design thinking and confidence. The sessions will be presented by some of the state's top facilitators. These include Joe Benesh (Ingenuity Co.), Erik Dominguez (SpeakEasy), Laila Down (Point One Development), Ben McDougal (Kauffman Foundation), Aaron Putze (Iowa Soybean Association), and Krista Tedrow (South Central Iowa Local Workforce Development Board).
Event details and registration can be found on the Young Professionals of Iowa's website at ypiowa.org/events. The cost is $85 and includes the day's content, as well as breakfast and lunch. For more information, email youngprofessionalsiowa@gmail.com.