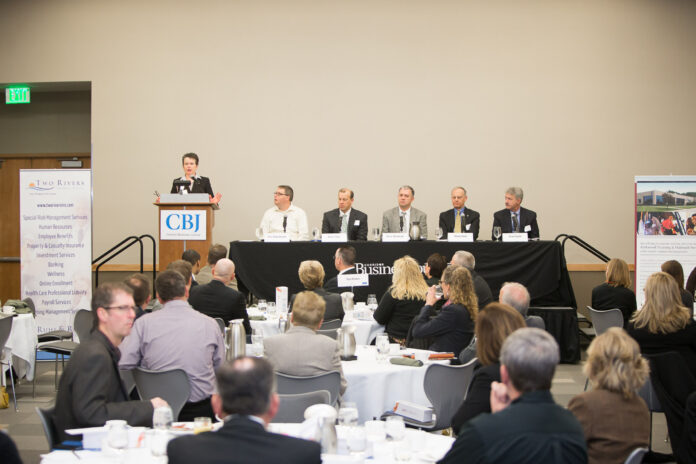 Demographic shifts, skills gap have employers concerned
By Sarah Binder
CORRIDOR—No matter what job you have, you still need to smile.
"We went through an exercise as part of our guest services training where we just practiced smiling," said Dan Franz, general manager of Riverside Casino and Golf Resort, when asked about workforce challenges. "That's one of our guest service standards; these are simple sorts of things, just smiling. There was one guy who was not participating. So, the moderator of the class asked him why, and he said, 'smiling kind of creeps me out.'"
Mr. Franz made the comments as a panelist at the Corridor Business Journal's first Power Breakfast, which focused on "Workforce Challenges with Iowa's Low Unemployment Rate." The breakfast took place March 13 at the Hotel at Kirkwood in Cedar Rapids. Other  panelists included moderator Sarah Fisher Gardial, dean of the University of Iowa's  business college; Eric Engelmann, CEO of Geonetric; Hass Machlab, CEO of Innovative Software Engineering; Dan Smith, vice president of Whirlpool/Amana division and Steve Ovel, associate vice president of government affairs at Kirkwood Community College.
Panelists at the event represented a range of hiring needs, from guest service positions at the casino and manufacturing jobs at Whirlpool/Amana, to specialized computer  engineering jobs at Geonetric and Innovative Software Engineering. However, nearly all the panelists lamented a lack of soft skills, such as communication, problem solving and teamwork in today's workforce.
"We compete at the global level, right here," said Mr. Machlab, noting that his company competes against offshore software companies by focusing on customer service. "It's extremely important for us to find the right balance of skills, between soft skills, good communication and technology skills."
Since Kirkwood Community College began analyzing the skills gap, starting with the Skills 2000 report in 1998, there has consistently been a need for more soft skills.
"At Kirkwood, we don't call them soft skills, we call them essential skills," Mr. Ovel said.
The Corridor, as well as the state, is facing a shortage of skilled workers. According to an Iowa Workforce Development study, as of 2010, half of the jobs in the state are middle-skill jobs, requiring more than a high school degree, but less than a four-year college degree. Thirty-three percent of workers had the skills to fill those jobs. Meanwhile, 18 percent of jobs required low skill levels and 38 percent of workers had those skills. Low unemployment rates (Iowa had a rate of 4.9 percent in December, compared to 7.8 percent nationally) sometimes mean skilled workers tend to not be looking for jobs.
Demographic changes also have employers concerned. According to U.S. Census data, from 2000-2012, Iowa's population increased 0.9 percent, putting it among country's the slowest growing states. The population is aging, too, meaning fewer children are in the K-12 system today and employers fear losing talent in waves as older Iowans retire.
Meanwhile, the demands of the workplace are becoming more rigorous. Mr. Smith said technology advancements have created a demand for workers with more skills and he has to pay more to hire those workers.
"As computers get more sophisticated, as home appliances get more sophisticated, our needs continue to get more sophisticated as well," he said. "It invokes the law of supply and demand."
Geonetric has taken on many initiatives to attract talented workers. The company has won awards for workplace flexibility, brought in consultants from communities such as Boulder, Colo., which are known for cutting-edge software development and most recently, changed the organizational chart. There are no longer managers at Geonetric, as all employees are on self-managing teams.
"That means a pretty wild set of expectations for someone coming out of school, or someone coming from 10 years of climbing the ladder and now there's no ladder to climb," Mr. Engelmann said. "Your only incentive is to solve a problem for the marketplace."
Several panelists talked about the need to brand the region as an attractive place to live and work. A vibrant startup community, high-speed rail transportation to major cities and more continuing education programs for professionals were all discussed.
"We need to do a much better job, as a group, to let people know we have an awesome, vibrant community," Mr. Smith said.