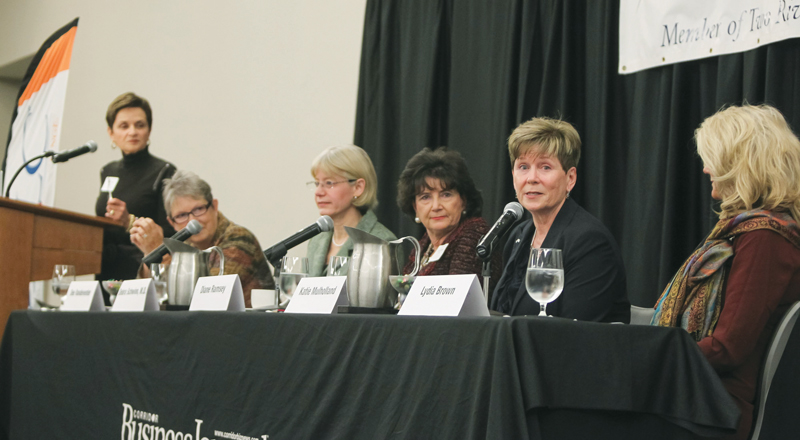 By Pat Shaver
CEDAR RAPIDS—The statistics speak for themselves.
There are far fewer women than men in leadership and executive roles in business.
According to the SHE MATTERS: 2012 Status of Women and Girls in Iowa study released in April 2012, women and girls make up about 50 percent of Iowa's population, yet 21.3 percent of Iowa legislators are female. Iowa has never elected a female governor or U.S. senator or congresswoman. Women make up 75 percent of Iowa teachers, but only 14 percent of superintendents are female.
From 1997-2012, the number of women-owned businesses in the U.S. grew by 54 percent. In Iowa, that growth rate was 21 percent, ranking Iowa the last in the nation.
"This year, the Equal Pay Act turns 50. The average woman earns 77 cents for every $1 a man earns. The rate of improvement is going to take us 45 years to catch up. I don't have that much time," said Kate Minette, general manager and senior vice president of operations and scoring assessment and instruction at Pearson in Iowa City.
Ms. Minette moderated a panel at the Corridor Business Journal's Power Breakfast, titled "The Gender Gap: A Panel Discussion," Nov. 6 at the Hotel at Kirkwood Center in Cedar Rapids.
"It has always been my pleasure to work with men. This is not about men being bad and women being good," Ms. Minette said.
The panel of five women discussed the gender gap in Iowa, ways to overcome that and their own stories of advancement in business.
Lydia Brown is president and CEO of Ascent and founding partner of Skywalk Group, a recruiting and staffing firm in Cedar Rapids. Ms. Brown started Ascent about a year ago after hearing the statistics of women-owned businesses in Iowa.
"When we started (Skywalk), we felt strongly about work/life balance because we did not always adhere to that in our early careers. In the search business, when people negotiate packages, flexibility is the first thing that comes up; it wasn't like that 10-15 years ago," Ms. Brown said. "The dirty little secret (to starting a business) is you don't have any idea what you're getting yourself into — it's sort of like having a baby."
When she started Skywalk Group 11 years ago with her two business partners, Ms. Brown said she did it out of necessity.
"I did it because I had three small children at home. I opened my business so I could be a mom," she said. "We have to figure out a way where we can balance that and we haven't figured that out yet. I thought that my situation was isolated, but what I've found is that my situation is extremely common."
Ascent provides strategic resources and mentorship to women business owners and is conducting a statewide research-based outreach.
"I'm so passionate and driven to make sure the next generation has opportunities. We are phenomenal relationship builders. Use your network. Your network is your power," Ms. Brown said.
In Iowa, there are 45 female superintendents and 256 male, said Katie Mulholland, superintendent of the Linn-Mar Community School District. Of the female superintendents, 69 percent had advanced degrees, while 57 percent of the male superintendents hold advanced degrees.
"With the time it requires to be a superintendent, it is hard to be a hands-on mom," Ms. Mulholland said.
Ms. Mulholland has served as superintendent for Linn-Mar Community School District since 2003 after holding positions as assistant superintendent for school districts in Naperville, Ill., Dubuque and Ottumwa.  Her career in public education began as a teacher and special education consultant in the Waterloo Community School District. She earned three degrees from the University of Northern Iowa, a bachelor degree in art, a master's degree in special education and a doctorate in educational administration.
"I'm a third-generation college graduate. That's been the heritage of our family," Ms. Mulholland said, who is also a member of the Iowa Board of Regents.
Debra Schwinn, the dean of the University of Iowa Carver College of Medicine, started in her position in October 2012. She recalled times in her career where she led teams of 100 percent men.
"For me, it's comfortable. I mentor men as much as I mentor women," Ms. Schwinn said.
Prior to joining the UI, Ms. Schwinn worked at the University of Washington in Seattle as a professor and chair of the anesthesiology department, the Allan J. Treuer Endowed Professor of Anesthesiology and adjunct professor of pharmacology and genome sciences.
She received her medical degree from Stanford University School of Medicine and completed a residency in anesthesiology at the Hospital of the University of Pennsylvania and a clinical fellowship in cardiac anesthesiology at Duke University Medical Center.
"In terms of medicine, when I was a resident at the University of Pennsylvania, I looked around and said, 'who is successful and what characteristics do they have?' All of the people I saw 30 years ago were physician scientists. It was harder upfront, but it gave me flexibility, I could leave the lab for a parent-teacher conference," Ms. Schwinn said.
Dee Vandeventer is a founder and partner and the "V" of ME&V, a marketing and advertising agency based in Cedar Falls.
"For me, it began with my mother, who was the president of a trucking company in Chicago. I grew up in a home where that was OK. I didn't know any other way," Ms. Vandeventer said.
Ms. Vandeventer recommended women become involved on boards and get on the nominating committees to help ensure a diverse board.
"I see a huge amount of female leadership in the nonprofit sector. Every major foundation in the Cedar Valley is chaired by a woman. I see equality happening in the nonprofit sector. But pay is still an issue," Ms. Vandeventer said.
Diane Ramsey, executive director of IWLC (formerly Iowa Women's Leadership Conference), said these discussions need to continue.
"What became obvious through this journey is that there is such a demand and thirst for helping women hone their skills. We had to transfer from a once-a-year event to a women's organization," Ms. Ramsey said. "When women invest in themselves there is a direct correlation to families, work and their communities."
Ms. Ramsey found that companies might have an unconscious bias, promoting people who look like them, think like them and act like them.
"And women often say I'm not interested in hanging out here, so they leave. You don't leave companies, you leave bosses," Ms. Ramsey said.
Ms. Brown noted that many women believe they need to have 80 percent of the job qualifications to apply for the next position, while for men, it's closer to 40 percent.
"Women believe they need to almost be overqualified for that next position, while their male counterparts don't. It's really about taking that risk if you believe you can do that job," she said. "The more gender balance you have, the higher success you have. It's an economic issue. There's something to be said if 50 percent of the population is not represented in an organization. Women make a majority of the buying decisions. Every statistic out there will tell you that this is important."