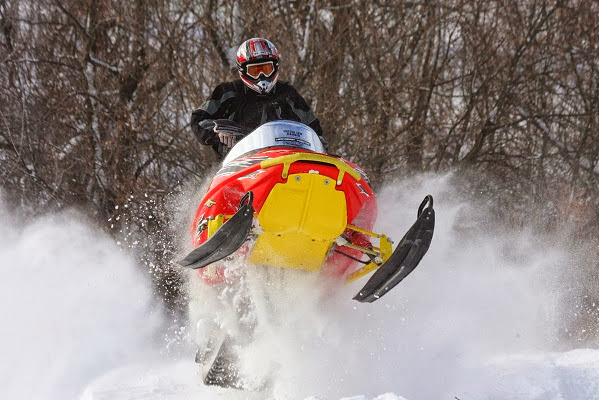 By Angela Holmes
angela@corridorbusiness.com
Although many Eastern Iowans are preparing to hibernate for the duration of winter, a large contingent of outdoor enthusiasts and business owners can't wait until the ground is covered with snow.
Several snowmobiling and ski clubs gather as social groups all throughout the year, but their real fun starts when the snow falls.
"As soon as it gets cold, I can't wait to get out and ride," said Iowa Snowdrifters Secretary Derrick Parker, of North Liberty. "In January, everybody else is stuck outside while I'm out riding all day."
Based in Johnson County, the Iowa Snowdrifters club has 100 members and maintains 250 miles of trails in Johnson, Linn, Iowa and Benton counties. The Frozen Few, based in Linn County, has 60 families and 220 miles of trails in Linn, Benton and Buchanan counties. Both groups are members of the Iowa State Snowmobile Association, made up of 61 clubs covering more than 8,000 miles of trails.
"Most people don't realize how big a sport it is," Mr. Parker said.
According to the American Council of Snowmobile Associations (ACSA), snowmobiling generates more than $26 billion on annual spending across the United States and is responsible for more than 100,000 full-time jobs in North America.
Snowmobilers not only pour money into their equipment – the average new snowmobile costs $8,000-$10,000 – but also support the local economy by patronizing businesses along the trails.
Snowdrifters member Steve Seelman started repairing snowmobiles in 1988. Soon after, he started selling them, as well as ATVs, at Fast City on IVW Road near Oxford.
"It was a passion of mine," he said. "We do well all times of the year."
Sales of Arctic Cat snowmobiles, of which he is an authorized dealer, have been brisk. He also sees a boost in ATV sales during winter among those who want to plow their own snow.
"A lot of people rely on snow for their business," he said.
For bars and restaurants along the trails, such as Bobbers Grill near North Liberty, Baxa's Sutliff Store and Tavern near the Sutliff Bridge, Jo's Roadhouse in Solon and Shuey's Restaurant and Lounge in Shueyville, the heavier the snow, the better the business.
"When we get a good snow, it's absolutely packed," said Michelle Houchin, bar manager of Shuey's. "We're out here in the middle of nowhere, so business really picks up."
And that's not only on the weekends or during an organized fun run. During snowy days, Shuey's averages 25-30 snowmobilers every day, Ms. Houchin said.
A core group typically comes in, and often brings friends who are introduced to the bar for the first time. In fact, Shuey's new owner, Jordan Caviness, came across the establishment while snowmobiling, Ms. Houchin noted.
At Bobber's, a popular place during summer boating season, an average of 200 people show up during the Snowdrifters' annual fun run.
Snowmobilers don't fit one particular mold, Mr. Parker said. The Snowdrifters is a diverse group, made up of construction workers, farmers, lawyers and doctors.
There are 1,560 registered snowmobilers in the registered trail area in Eastern Iowa. Those who ride on their own property don't need to register.
But Mr. Parker urges riders to explore the natural beauty along the trails, which are marked with signs provided by funds from the Iowa Department of Natural Resources.
"It's fun to get out in nature," he said.
Snowmobilers take safety seriously, he said, advising riders to wear a helmet and the proper clothing and always ride with a partner in case the machine breaks down.
"It's a very physical sport," Mr. Parker said. "You're literally moving the machine."
Hitting the slopes
While Eastern Iowa doesn't have majestic mountains, that doesn't stop area skiers from enjoying what winter has to offer.
The Cedar Rapids-based East Iowa Ski Club has its core group in the Corridor, but also has members sprinkled everywhere east of Des Moines, according to group Secretary Kim Betts, of Vinton.
Ms. Betts was introduced to skiing – and snow – 25 years ago when she moved to Iowa from southern Ohio.
Instead of avoiding the cold, white stuff, she "embraced it," saying it keeps her physically and mentally healthy during winter.
"It keeps me fit and changes my attitude," she said of winter activities such as skiing and snowshoeing.
When there is enough snow, the group meets on the weekends for cross-country skiing and snowshoeing at locations such as Morgan Creek Park in Palo, Wickiup Hill in Toddville and Jones and Ellis parks in Cedar Rapids. The club welcomes new members, especially those with little or no experience willing to learn.
"We have a variety of people to ski with, from beginners to advanced skiers," Ms. Betts said. "If somebody wants to join, we are patient and teach them."
For downhill skiing, the club makes frequent trips to Sundown Mountain Resort in Dubuque, where snow is produced with water and snow-enhancing additives. Each winter, the club schedules two weeklong ski trips each season. Generally, they travel west – in particular, to Colorado – but also visit other ski resorts in the Midwest, such as Granite Peak, Wis.
Dubbed as the "Outdoor Fun People," the group, made up of 120 members, also gathers throughout the year to bike, canoe and hike.