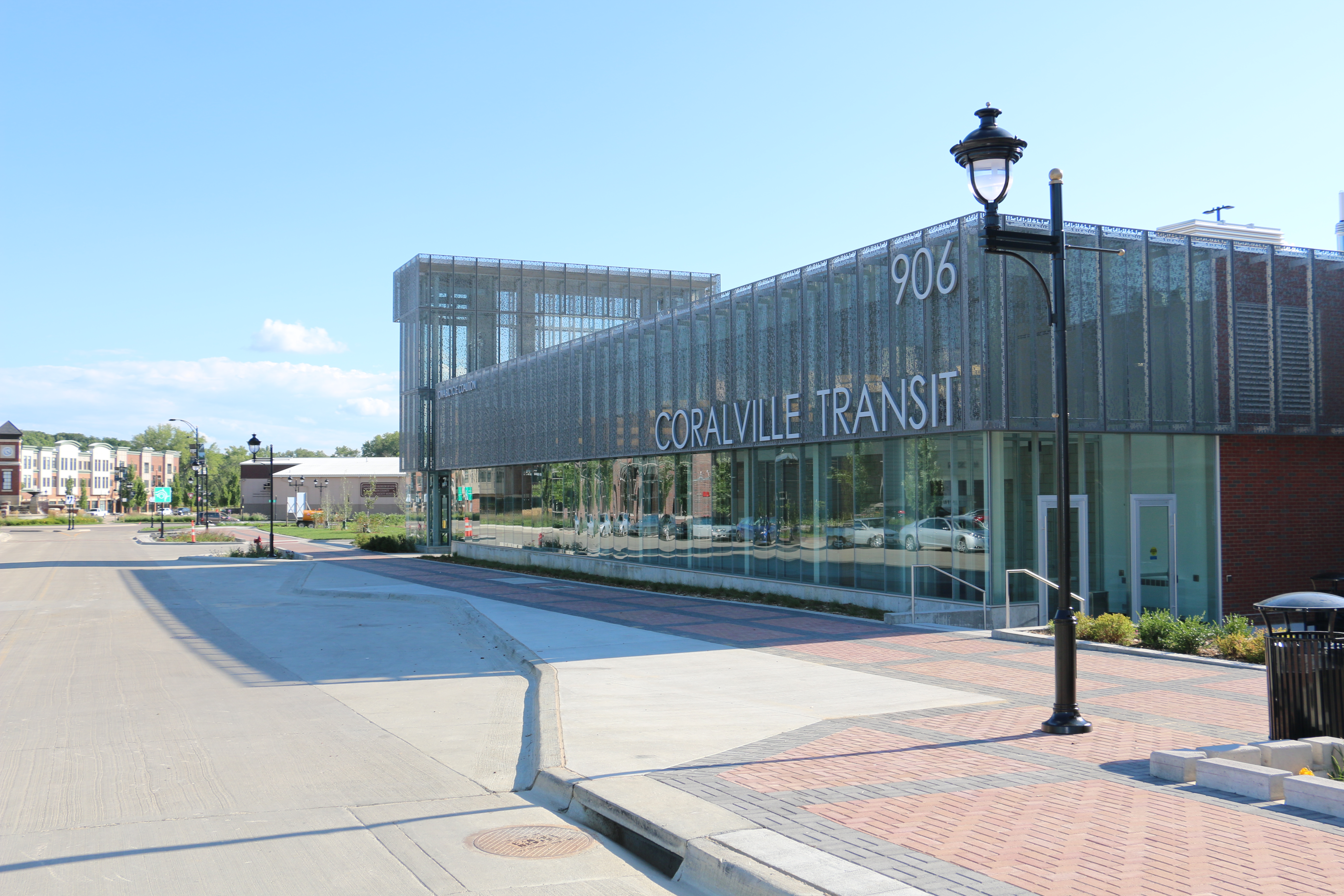 The Transit Intermodal Facility in Coralville, shown shortly before it started operations in August 2015. Last week, the Coralville City Council approved an agreement to rent space at the facility to Windstar Lines. PHOTO/CHASE CASTLE.
by Chase Castle
chase@corridorbusiness.com
Bus service to Chicago from the Coralville Transit Intermodal Facility may soon resume under an arrangement between Windstar Lines of Carroll, Iowa and Megabus, which recently ceased operations in the state.
The New Jersey-based bus line previously operated out of the Court Street Transportation Center in downtown Iowa City, just south of Burlington Street. In 2015, Megabus relocated to Coralville's newly built intermodal facility at the Iowa River Landing. The company stopped offering bus service statewide on Jan. 9, however, citing low gas prices that reduced demand for public transit.
Last week, the Coralville City Council approved a rental agreement for the city's intermodal facility, which would allow Windstar Lines to use the facility's terminal area for passenger waiting, pick-up and drop-off. The agreement is worth $750 a month, and would begin March 1. Subsequent renewals would annually increase the rental cost by 2 percent.
According to a memo by city staff, revenue generated from the agreement will fund both operational and capital needs of the city's transit services, which include municipal bus lines that extend to downtown Iowa City and the University of Iowa campus. City Parking and Transportation Director Vicky Robrock said the intermodal facility does not currently offer bus routes outside the Coralville area.
Whether Windstar offers that service, however, may hinge on a partnership with Megabus. Under a possible arrangement described by Windstar Vice President Pat Greteman, Megabus may soon book travelers' reservations for transportation provided by Windstar.
"We'd basically use the Coralville stop as our Iowa City-area pickup for to and from Chicago, as well as the Quad Cities and Omaha," Mr. Greteman said. "So we're operating the service and we're taking the risk, but we don't have everything signed and 100 percent agreed on yet."
Windstar presently owns approximately 100 motorcoaches, in addition to about a dozen mini-buses and other fleet vehicles. The company operates out of Cedar Rapids, Carroll, Dubuque and Des Moines, in addition to locations in Lincoln, Nebraska; Rockford, Illinois; Kansas City, Missouri; and Sioux Falls, South Dakota. Windstar has about 210 employees in all.
The company has completed close to a dozen acquisitions since 2001, including the purchase of Harms Charters of Sioux Falls, South Dakota in 2015.
Even with the expansions, the family-owned business remains close to its roots; Windstar Lines was founded by Mike and Cathy Greteman in 1995 as an informal spin-off of the couple's Carroll-based travel agency, Town & Country Travel. In 1997, son Jeff Greteman assumed control of the agency's motorcoach division, and brothers Pat Greteman and fellow Vice President Scott Greteman came on board soon after.
"At the time, it was … a new company and everything was sort of exciting," Pat Greteman said. "My two brothers and I are pretty close, so it was pretty natural."
If the deal with Megabus goes through, Mr. Greteman said he hoped to have the arrangement finalized by Jan. 27.
"They're all for us to do it, because they've had some restructuring gaps and basically closed their Chicago operations center, so making it all the way to Iowa from their other locations is very tough, so that's why they decided to pull the plug."
He also said Windstar has previously partnered with Megabus for vehicle maintenance services and equipment purchases when the company was oversold.
"We've worked with them quite a bit in the past seven years," Mr. Greteman said.
Megabus did not immediately respond to requests for comment.
Burlington Trailways continues to offer bus service between Iowa City and Chicago from the Court Street Transportation Center.