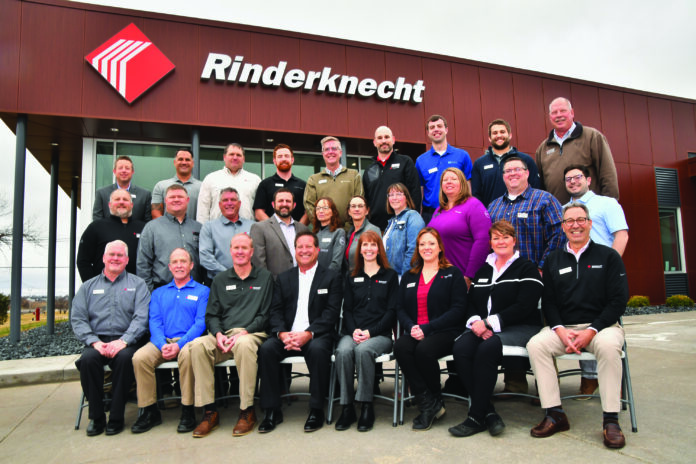 A drive through Cedar Rapids will give you a glimpse of Rinderknecht Associates' widespread imprint on the area's commercial, industrial, and institutional construction landscape. 
For the past 143 years, the company has had a hand in some of the area's most notable structures, including the Cedar Rapids Museum of Art, the National Czech and Slovak Museum & Library, and Mercy Medical Center.
Some may ask how they have been able to cement such a legacy. To the Rinderknecht team, their roots in employee ownership have given them a foundation to grow that legacy to new heights. 
As they celebrate 20 years of being 100% employee-owned, they reflect proudly on what they've built and look excitedly to the future.
"Being an ESOP is absolutely a part of our identity," said Bob Gaffney, Rinderknecht's Chief Financial Officer. "Even before the ESOP ownership, Rinderknecht was employee-owned, so the transition to 100% ESOP was a natural progression. It means we can trust our employees to do the right thing –always taking care of their customers to the highest degree. Their best interests are the company's best interests, which is a pretty cool environment to work in." 
As an employee-owned company with a union field force, everyone on the Rinderknecht team invests in the success of every project. They've built a reputation around their high craftsmanship standards, commitment to safety, cost control, and efficient project management. They take exceptional pride in their work—and it shows.
"Reaching this 20-year milestone of our ESOP only creates more drive and ambition to do better," said Scott Friauf, Rinderknecht's Chief Executive Officer. "All of our employee-owners will begin experiencing what it truly means to be 100% employee-owned as they witness our succession plan. We will have some exciting retirements in the near future, validating the success of our ESOP." 
Rinderknecht credits a lot of its success to their team's passion for the ESOP community. They are active members of The ESOP Association and their Iowa/Nebraska Chapter. Members of their leadership team and internal ESOP Communication Committee frequently attend ESOP conferences to enhance their knowledge and communication of the benefits of their ESOP to their approximately 32 employee-owners.
Looking to the future, Rinderknecht is eager to continue the legacy of employee ownership for the next generation, working to build a stronger community for their employee-owners and all those they serve.
"My hope for the company going forward is that our younger owners realize the true value of working for Rinderknecht and the benefit the ESOP will provide them as they reach retirement age," said Friauf. "It's pretty cool to know the company will take care of you if you take care of the company." 
To learn more about Rinderknecht Associates, visit their website at rinderknecht.com.