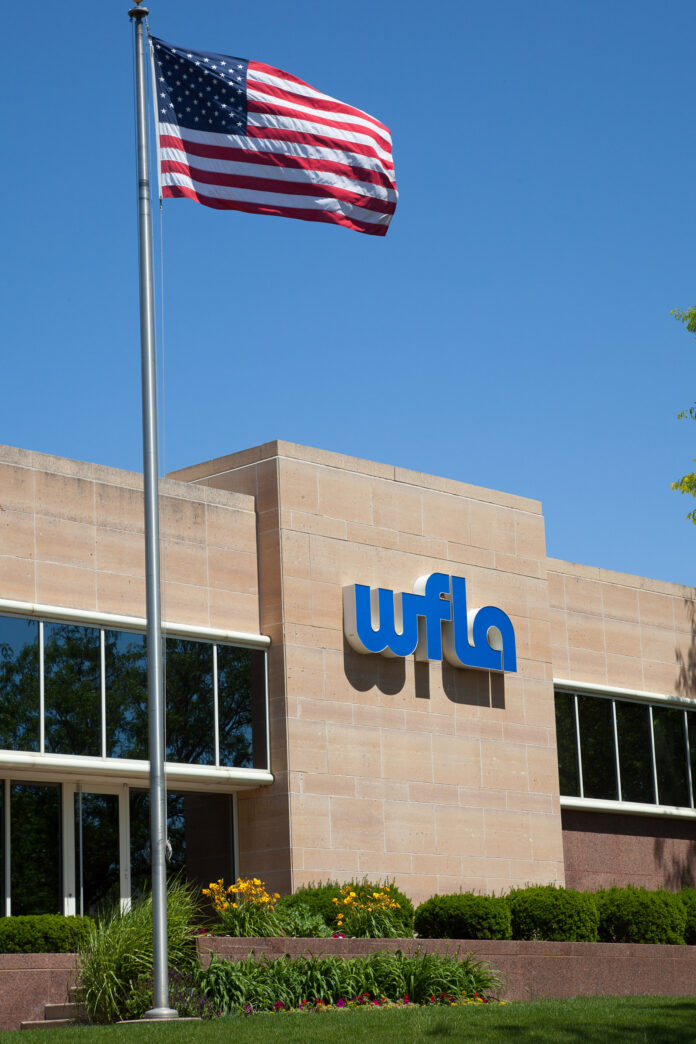 By Shannon Davis
CEDAR RAPIDS — Nearly 120 members of Western Fraternal Life Association were directly affected by the devastating flood that tore through Cedar Rapidsand much of Eastern Iowa in June of 2008.
It was enough to make any insurance and benefits organization sweat bullets, but it was a time that WFLA President Howard "Jim" Wolfe was most proud of his company. Not only were WFLA members assisted financially, but many employees and members provided valuable aid in the cleanup efforts – from handing out bleach to organizing fundraisers.
"Lodges throughout the organization contributed money to help those members financially," said Mr. Wolfe. "Our lodges raised money for the National Czech and Slovak Museum and Library."
The Cedar Rapids office even housed two partnering firms who had been displaced by the flood waters, rent-free. But these kinds of community involvements and efforts aren't unusual for WFLA. With lodges and offices in 18 different states across the country, the life insurance policies and annuity products available through WFLA are only part of the package.
The company's involvement and care for its communities and fraternal benefits are what set them apart from other insurance companies in the Corridor.
"When you call our office, you talk to a real person," said Mr. Wolfe. "You can talk to anybody in the office. And we support communities not only monetarily, but also with volunteers and community service through our lodges. I'm proud of the fact that if somebody is in need, we'll get together and help."
Western Fraternal Life Association has a long-standing history in theMidwest. Founded originally in 1897, WFLA was established as a Czech fraternal benefit society, providing its members burial insurance, social and ethnic activities and a means to preserve Czech heritage. At the time, a Czech or Slovak background was required for membership, but today, membership is open to any who are supportive of WFLA's purpose.
"You have to buy insurance to become a member, too," said Wolfe, "but if you don't believe in our purpose – in working in your communities – then it's probably not a good fit for you."
WFLA offers three types of annuity certificates and several types of life insurance, both permanent and term, as well as traditional and Roth IRA retirement plans for its members. Members can select from flexible or single payment deferred annuities, or a single premium immediate annuity. WFLA offers whole life, value life, and universal life insurance policies, as well as an acceleration of death benefit option for terminal illness. Term life insurance policies available include five and ten-year term certificates, providing insurance protection to age 70, as well as a single premium term to age 25. Fifteen, 20 or 30-year renewable term plans are also available, to provide insurance protection to age 95. But the real benefit for WFLA members comes after purchasing one of these products.
"Ultimately, we sell life insurance and annuities products, and the profit we make, we use to provide membership benefits," Mr. Wolfe said.
WFLA members can apply for family benefits, to help cover the costs of senior care, respite care or child care, as well as elementary and secondary education or extracurricular activities. Qualified members can also apply for orphan benefits, for financial aid in the event of parental death, or newborn child benefits, for life insurance in the event of infant death. WFLA can also provide a medical emergency card to any member requesting one, which contains vital health information that would help medical personnel during the first few minutes of treatment. Similarly, WFLA can provide child identification kits, to help parents assemble pertinent information that would aid in investigations in the event of a missing child. WFLA also recognizes the need for higher education, as well as the increasing costs of attending college, and so offers 25 national scholarships annually for up to $1,000 to qualified members attending colleges or vocational programs.
"If we didn't have a dedicated sales force, we couldn't continue forward," said Mr. Wolfe. "They're all great individuals. They get involved with their lodges and their communities, and that's really what we want. We have a great home office staff, and they take pride in the service they give our members."
At 115 years, WFLA's success comes from not only a dedicated sales force, but also their extremely loyal members. Each year, WFLA recognizes members with notable longevity in the society, and this year alone, across the nationwide organization, WFLA recognized 600 people who have been members for 75 years, Mr. Wolfe said.
"They are all loyal, they agree with our purpose, and their involved with their lodge as long as they can," said Mr. Wolfe.
Aside from lodge events and regular fundraising opportunities, all 120 WFLA lodges joined together on May 5, 2012 for their annual "Join Hands Day," a day where youth and adults join together for community service projects. WFLA has also begun working strongly on a youth movement to help WFLA teen members become involved in their communities at a younger age. Though this initiative – Young Engaged Lodge Leaders or YELL! – WFLA hopes these teens will grow into socially responsible adults who continue their community involvement in WFLA long past their teen years. Through this and a constantly growing sales force and membership, the future seems bright for Western Fraternal Life Association.
"As a membership organization, we help people," said Mr. Wolfe. "We've been doing this for 115 years, and we really do care… It's just a great organization."