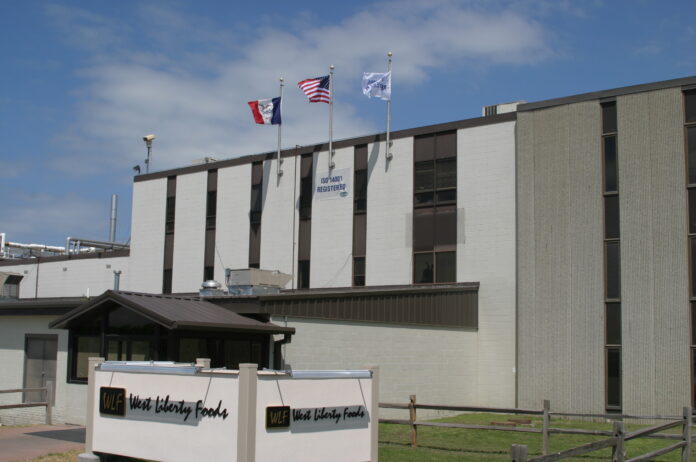 By Gigi Wood
WEST LIBERTY — It's rare for the industry.
Two West Liberty Foods facilities will soon become landfill-free, meaning 1 percent or less of the waste produced at those sites will be sent to the landfill. Instead, the waste will be recycled.
West Liberty Foods is a major player in the food packing and manufacturing industry. The company has three locations, its headquarters in West Liberty, as well as plants in Mount Pleasant and Tremonton, Utah. The sites can process up to 3.9 million pounds of turkey, pork, chicken and beef a week. It provides deli meats and other products to many well-known retail and foodservice chains nationwide.
The company is ISO 14001:2004 certified, which means it has met strict guidelines for managing its environmental impact.
"West Liberty Foods has always been focused on its impact on the environment," Gerald Lessard, West Liberty Foods' vice president and COO, stated in an e-mail. "The ISO 14001 environmental certification that we have at all of our facilities requires us to continue to find ways to reduce our impact on the environment. Moving to landfill-free status was a natural progression of the work that has already been accomplished by our team members. It is the right thing to do for today and for future generations."
The company decided about a year ago to become landfill free. The planning process for its Utah site took several months and it was verified as landfill-free by a third party in February. The Mount Pleasant site is landfill free and is awaiting its third-party verification. At the West Liberty facility, alternative technologies are being evaluated and implemented that would allow it to reach landfill-free status. While some of the materials at West Liberty are different from the other sites, the company is focusing on reducing, reusing and recycling, he said.
"Each facility was developing their specific alternative disposal plan simultaneously," Mr. Lessard said. "Our Tremonton facility was able to reach the objective first because the alternative disposal site was less constraining on the type of materials that could be disposed of at their site."
Several large corporations such as General Motors and DuPont have developed landfill-free sites, but it is rare for a food processing company to earn the certification. It is also uncommon for a company's landfill-free status to be verified by a third party.
"We've certainly seen some trending in the industry, more and more companies have talked about being landfill-free but few have allowed a verifier come in and do a verification on it," said Tony Giles, business development director for NSF International, the third-party auditor. "West Liberty is one of the first companies that has actually opened its doors and let someone actually confirm it."
While it's a positive for the environment, the move to landfill-free status has also reduced costs for the company.
"Anytime you can reduce the waste stream and find alternative disposal methods other than landfills, you are reducing the cost," he said. "The reduction in cost may not be apparent today but does provide cost avoidance in the future."
NSF International is an independent, not-for-profit organization in Ann Arbor, Mich., that provides standards development, product certification, auditing, education and risk management for public health and environmental standards and certifications.
Bryan Dayton, an NSF auditor who completed a three-day audit and eventual verification for West Liberty Foods, said 60 waste streams were identified at the Utah facility.
"Through a site tour we identified where those waste streams were and determined where they were going," he said. "And if they were going to the landfill, we tried to find people to recycle the materials, be it steel, paper, plastic, toner cartridges and try to get as much recycling going as possible. We then got something in writing from each of those recyclers describing what it is exactly they do with that waste."
West Liberty set up recycling containers for each type of waste and educated employees and contractors how to use them.
"The facility has to then ensure that they've set up the recycling containers so that all those waste streams can be properly segregated," Mr. Dayton said. "Then there's employee training and making sure the contractors coming on to the site are properly trained. What you don't want is contractors coming onto site and the guy throws his McDonald's bag into the scrap metal bin."
He said West Liberty was able to reduce waste to 0.3 percent and the remainder is incinerated and reused. To maintain its verification, NSF will continue to audit the company in the future.