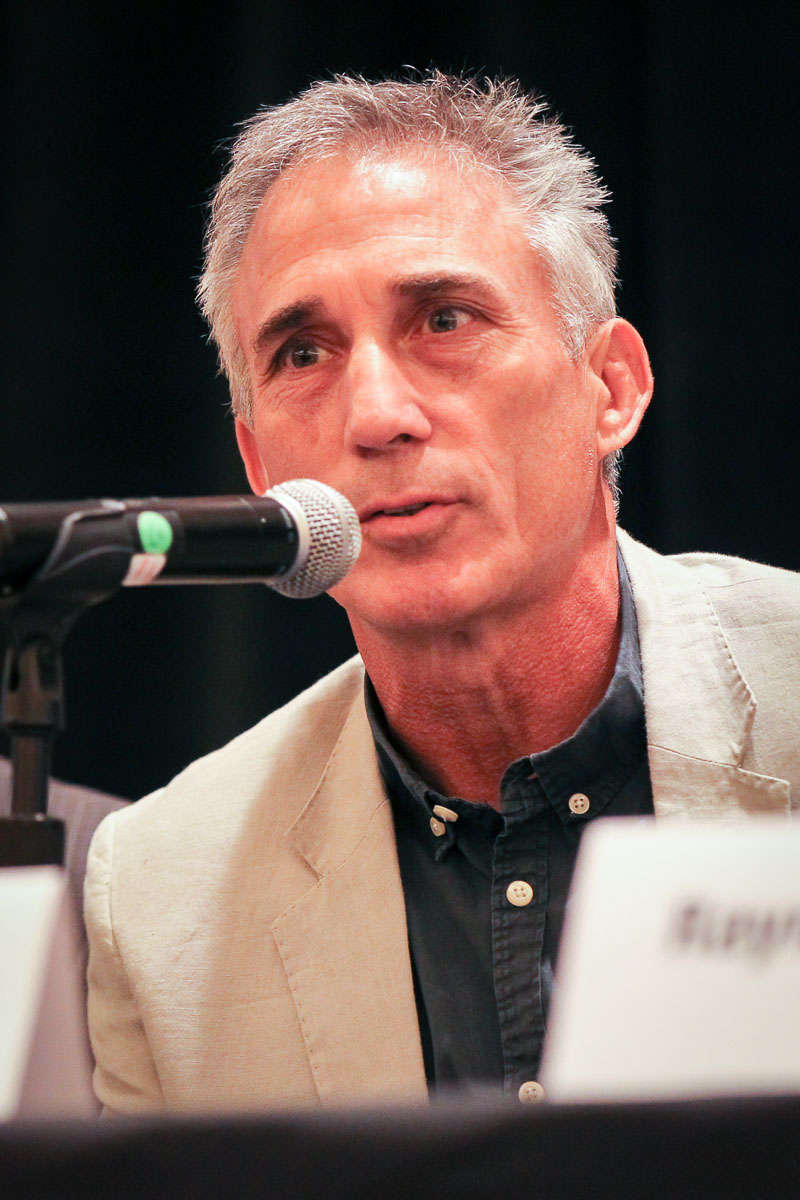 By Angela Holmes
CORALVILLE—While many businesses are implementing wellness initiatives by offering healthy foods at work or hosting weight-loss contests, the concept of well-being is still relatively new.
Panelists at the CBJ's Power Breakfast, "From Wellness to Well-Being," held Aug. 13 at the Coralville Marriott, discussed the differences between wellness and well-being and what businesses can do to promote the overall health of their employees.
While wellness can be described as the general health of a person often gauged by diet and exercise, well-being encompasses a holistic approach to a person's mind, body and spirit, explained Timothy Sagers, M.D., medical director of Business Health Solutions with Mercy Medical Center in Cedar Rapids.
Although it can be difficult to track the benefits or return on investment (ROI) of wellness programs, all of the panelists agreed that healthy employees are more productive and even cost less.
"Our business is built around our people," said Brad Baldwin, vice president of operations with MediRevv Inc., of Coralville. "Our key focus is our staff's health and well-being. Our work is difficult – we have to provide employees with balance."
MediRevv is very cautious about overtime, Mr. Baldwin noted.
"Because our work is difficult for 40 hours, an extra five or 10 could be unproductive," he said. "We want to meet professional goals, but not in a way to burn out the staff."
The company also has a strict – and at times controversial – policy about carrying over paid time off, or PTO. The policy encourages employees to take all of their PTO each year.
"It is a very specific policy with restrictions to make sure employees are taking care of themselves," Mr. Baldwin said. "You need to take time to recharge your batteries and take time away from our business."
The ESCO Group, an electrical contracting company in Marion, also has a vacation policy that encourages employees to take time off and slow down, said CEO Raymond Brown.
The company has focused on wellness and well-being for 15 years, he said. Its wellness program includes employees' families, including special off-site events such family day at a Cedar Rapids Kernels game.
"If you're happy at home, you're probably happy at work," Mr. Brown said.
Frontier Co-op, based in Norway just outside of Cedar Rapids, has also been focusing on wellness for a long time.
"Wellness is something Frontier was involved in before the term was cool," CEO Tony Bedard said. "We are in the natural food industry – people expect us to be healthy."
He admits that wellness programs have been simpler to start than well-being initiatives. The company offers a gym and organic cafeteria on-site for its employees.
"When Frontier first talked about wellness, we focused on such things as points and weight loss," Mr. Bedard said.
But he soon realized that workers who are on their feet during their entire shifts aren't always interested in exercising right after work.
"We have to figure out how to unwind," he said.
The amount of rest an employee gets significantly affects productivity, said panelist Scott Geisler, M.D., Physicians' Clinic of Iowa neurologist and sleep medicine specialist at the Eastern Iowa Sleep Center in Cedar Rapids.
"People spend one-third of their lives asleep. If that doesn't go well, it affects our daily lives," he said. "A well-rested employee is a productive employee."
Dr. Geisler also cited a study that found if an individual is awake for 18 hours, they are operating at a cognitive level as if they were legally drunk.
"If people aren't getting regular rest, they are not functioning well," he said. "If somebody is sleepy or fatigued, they are more likely to have an accident."
A 15-20 minute power nap can push off sleepiness for two to four hours, Dr. Geisler said. He encourages those who drive long distances for work to stop somewhere, lock their doors and take a nap when they feel fatigued. He also mentioned nap rooms, such as those used in many workplaces in China, as an option for employees to recharge.
Jon Werger, executive director community operations with Healthways and the Iowa Blue Zones Project, recommended companies form a wellness advisory committee to get the ball rolling.
"There are low- or no-cost things you can do as an employer," he said.
For example, according to Gallup research, it is vital to a person's well-being to be able to use their strengths every day, he said.
Wellness programs should include activities that are unrelated to work, such as book clubs, Mr. Baldwin said.
"If you do one thing, you are not going to get 100 percent participation or staff engagement," he said.  "You need to offer more diversity under the umbrella of wellness, not just focus on common health practices."
He added that MediRevv's wellness initiative is used as a tool to recruit new employees.
"Our primary recruitment is referrals from current staff," he said. "We focus on their best interests, both professionally and personally."
Dr. Sagers said there are low-cost or free technology apps that help to interface with employees no matter where they are.
"It's a data-driven world," he said, adding that physicians need to leverage technology to help patients take more control of their own health.
Dr. Geisler agreed that people like to look at the data themselves.
"People like to see progress," he said. "How do we engage people in their own health and well-being? It really has to be their decision."
Businesses need to make sure employees are aware of all the options available in a company's health and wellness plan, Mr. Baldwin noted.
"As an organization, you need to be very deliberate in communicating programs," he said.
The Power Breakfast was moderated by Scott Fisher, president of McCrossen Consulting, LLC, an employment benefit consulting company in Iowa City.
Kathy Keane, manager with MercyCare Business Health Solutions, spoke about wellness coaching, a topic she will go into greater detail at the CBJ's Health Care Summit next February.