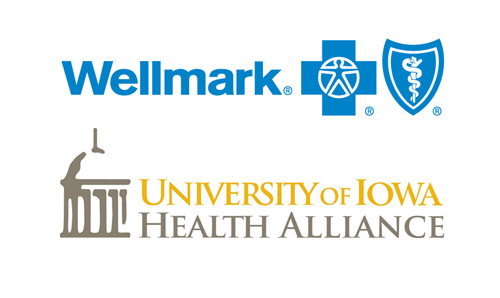 By Angela Holmes
angela@corridorbusiness.com
Wellmark Blue Cross Blue Shield, the state's largest health insurer, and the University of Iowa Health Alliance are joining forces to create a new health insurance company that will initially provide coverage for a limited number of Iowans.
Wellmark Synergy Health will offer individual and small group HMO plans both on and off the public exchange in Linn, Johnson, Scott and Des Moines counties beginning next January. The 2017 open enrollment period begins Nov. 1 and ends Dec. 15.
The new insurance option originated about a year ago after Wellmark reached out to the UI Health Alliance about exploring a joint venture, Tom Newton, Wellmark's vice president of network engagement, told the CBJ in a conference call.
The UI Health Alliance encompasses several health systems across the state, including UI Health Care, Genesis Health in the Quad Cities, Mercy Cedar Rapids and Great River Health System in Burlington.
"We've been working together for four years in creating an accountable care organization and developing data analytics tools and ways of understanding our performance and our populations and their risks to more effectively manage their care," said Jennifer Vermeer, COO of the UI Health Alliance. "This really builds on that accountable care organization foundation, where we're building coordinated care for patients and ensuring that patients receive the right care at the right place at the right time."
Members of Wellmark Synergy Health will use UI Health Alliance-aligned providers as their core network for health care services. Other providers, such as pharmacies and behavorial health providers, will also be included in the network to meet all federal Centers for Medicare & Medicaid Services (CMS) requirements, Ms. Vermeer said.
If a member has a rare medical condition and needs an out-of-network referral, there will be a process through they could get services, Mr. Newton said. Also, if they have an emergency situation and have to go to a provider that was not part of the network, those services will be covered as a benefit.
"This is our attempt to take a product to the exchange with a provider partner who is a joint owner in this insurance company, and work together to try to better coordinate that care, improve patient experience and manage total cost of care in a way that we can keep the premiums for these products competitive," Mr. Newton said.
Consumers can use an insurance agent to shop, compare and enroll for their plans, enroll directly using Wellmark.com or use the public exchange to enroll. Different tiers, such as bronze, silver and gold, will be available.
Initially, the company is hoping for about 2,500 members in the four counties it is offered, Mr. Newton said.
"We recognize we are in a limited geographical area and this is a new concept that's being floated out there and being made available," he said. "We're in this for the long-term and expect to start small."