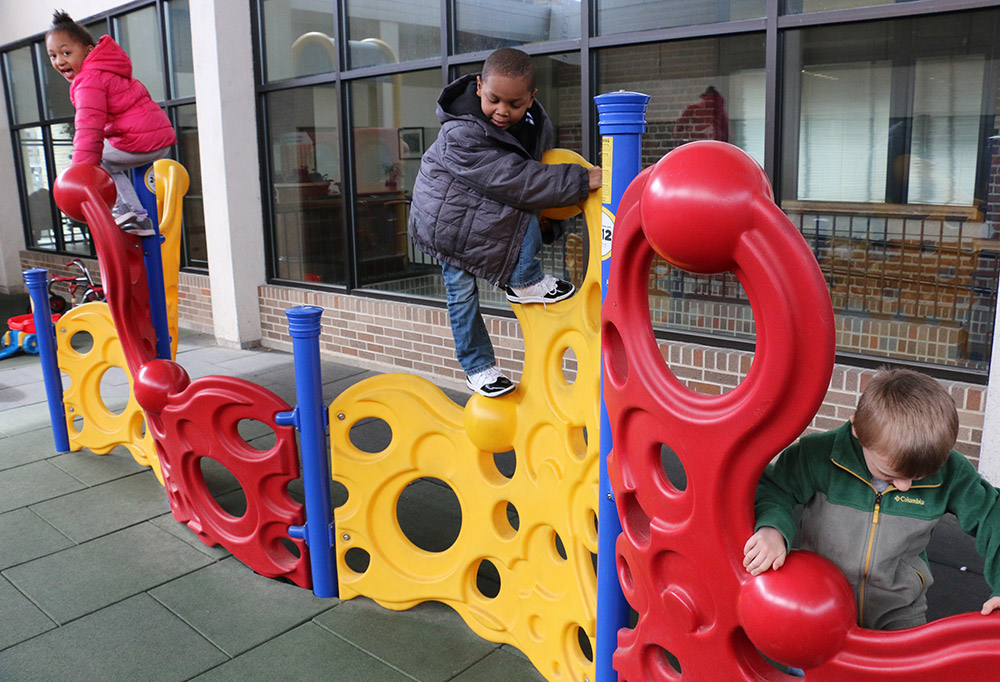 Kids enrolled in Waypoint's KidsPoint program play on equipment at the nonprofit's headquarters in downtown Cedar Rapids on a recent afternoon. The program serves more than 530 children in the metro area, and is open from 6 a.m.-6 p.m. PHOTO ADAM MOORE
By Dave DeWitte
dave@corridorbusiness.com
As the child care crisis deepens in Iowa, Waypoint Services has found a way to help employers recruit and retain workers with children, as well as show appreciation for the support it receives from the business community.
The 125-year-old nonprofit began offering child care discounts to employers with significant numbers of employees needing the service two years ago. It now works with five companies in the Cedar Rapids metro.
"When we started working on this concept two years ago, we wanted to be able to give back and support the community, rather than being the organization out there asking for something all of the time," CEO Jaye Kennedy said.
Waypoint provides child care and services to support women and families in crisis, including domestic violence advocacy services, shelter and housing. Needs are high in all three areas, Ms. Kennedy said, and the nonprofit's frequent asks are not unjustified.
Looking at what Waypoint could do to return the support it receives from businesses, day care assistance became an obvious area. The organization's licensed child care program, KidsPoint, serves about 536 children and infants at its main facility at 318 Fifth St. SE and a satellite space at 5830 C St. SW; it also offers before- and after-school programs at both centers and at nine Cedar Rapids public schools.
The cost of child care and the shortage of available spaces has become one of the largest impediments to employment for single parents and families of limited means. Iowa has lost 42 percent of its child care operations listed with Iowa Child Care Resource & Referral in the last five years.
"We're at that tipping point," said Chris Kivett-Berry, community project director for Linn County's Early Childhood Iowa program. "Even though the child care industry has been expressing their concern, now it's gone out into the business community, and it's become a serious concern because of the connection between the child care crisis and the shortage of workers."
The Iowa Women's Foundation (IWF) reports that families and single parents in Johnson County face a shortfall of 12,901 child care spaces, and that the county has lost 26 percent of its child care programs over five years. In Linn County, the shortfall is estimated at 24,557 spaces, with 41 percent of its programs closed.
At least 12,778 Iowa women reported in 2017 that they couldn't accept full-time employment because of child care issues, the group reports.
"We truly believe the shortage is now impacting the economy," said Dawn Oliver Wiand, executive director of the IWF. "It's not just a family crisis anymore – it is a business and a community issue."
Making the numbers work
Waypoint offers employers in the program a 10 percent day care discount. It's not enough to make it uneconomical for Waypoint to provide the service, but it does allow partnering employers to be able to say they work with a recommended child care provider and can offer employees significant savings.
Child care rates for a young infant at KidsPoint are $192 per week, or nearly $10,000 per year, making a 10 percent discount worth nearly $1,000.
While the money savings is easily quantified, there's another equally important benefit to having a relationship with a reputable child care provider, Ms. Kennedy said.
"You want to make sure your kids are in a place you feel good about – if you don't, it affects your productivity at work," she noted.
Ms. Kennedy said 98 percent of KidsPoint preschool graduates are developmentally on track for kindergarten based on assessments used by Cedar Rapids schools, compared to 51 percent of incoming kindergarten students from the community at large. The program also eases the schedule burden for parents, operating 12 hours a day from 6 a.m.-6 p.m.
Waypoint hasn't been in a rush to expand the corporate discount program because it doesn't have the resources to market the program extensively and is still feeling out how the program will impact its budget. So far, Waypoint CFO Mike Calef said, signs are positive.
"We want to do what we can to bring employees into the community, just like every business does," Ms. Kennedy said. The day care relationships with companies like Transamerica and UFG Insurance generate not only goodwill, but important referrals that bring in other day care clients.
Corporate discounts are not the largest element of financial help the nonprofit provides in the child care area.
About 160 children at Waypoint benefit from financial need-based scholarships to its child care programs, supported by the United Way, grants or private donations. Without them, the children's parents could not afford child care, and might not be able to hold employment.
"People will call and ask if we have more scholarships, but we don't," Ms. Kennedy said, adding there is always more need than availability.
Many children in the day care program also have their fees paid through public assistance. Ms. Kennedy said child care assistance through the Iowa Department of Human Services reimburses only about 70 percent of the market rate, and as a result, a growing number of service providers no longer accept clients under the program.
"We still take kids under public assistance and always will, because there is a need and that's part of our mission," she said.
Waypoint's wide reach
Outside of day care, Waypoint also works with Corridor employers to provide guidance on how to identify and support victims of domestic violence, and provides volunteering opportunities that businesses sometimes use as team-building exercises.
The nonprofit works with businesses every year as part of its annual May Basket project to collect household goods for clients of its shelter and housing services programs. Waypoint drives its blue school bus up to the curbside of the business, and employees are encouraged to "stuff the bus" with the many things clients need to live comfortably.
Waypoint housed 301 homeless individuals last year in its Madge Phillips Center, a shelter with 16 private living spaces where they can stay for up to 30 days. The nonprofit also operates a Rapid Re-Housing program, which provides assistance with things like rent and utility deposits to get homeless individuals into permanent living arrangements.
Over time, Waypoint plans to move toward the Rapid Re-Housing concept and away from the shelter concept, because of findings that homeless individuals have more overall success in permanent housing.
Advocacy and support services for victims of domestic violence remains a large area of service for Waypoint. Under a contract with the state, the organization offers those services across a seven-county region of Eastern Iowa from offices in Dubuque, Waterloo and Cedar Rapids. In 2018, the advocacy program assisted 2,800 victims and survivors. Ms. Kennedy said the numbers continue to rise, and probably reflect both growth in the need and awareness of Waypoint's services.   CBJ