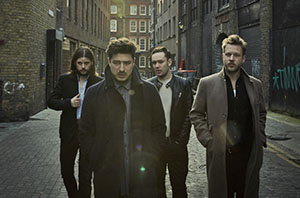 By Angela Holmes
angela@corridorbusiness.com
The stars aligned for Waverly last week, as organizers of Mumford & Son's Gentleman of the Road festival chose the Bremer County town as one of just four North American stops this summer.
An estimated 35,000 people will descend upon the college town of about 10,000 people June 19-20 as the British folk rockers headline the festival, which will also feature My Morning Jacket, The Flaming Lips, Jenny Lewis, Dawes, The Maccabees and The Very Best.
After months of planning, the announcement was made March 2 by representatives of Wartburg College, the city of Waverly and the Waverly Chamber of Commerce.
Organizers look for smaller communities that offer a variety of things to do, according to Travis Toliver, executive director of the Waverly Chamber of Commerce.
"They were attracted to the unique charm the city offers being on the banks of the Cedar River, and all kinds of recreational opportunities and charming shops and things we offer here," Mr. Toliver said. "It was a perfect fit for them."
Also high on the list for festival organizers was a community where all the key players worked together.
"They really like the fact that all the entities from the college to the chamber to the city itself had a strong relationship, which doesn't always happen in small towns," Mr. Toliver said.
The festival will be spread among Wartburg College's athletic fields. The main stage will be set up on the soccer fields, and camping and parking will be available along the cross country course and other areas, according to Graham Garner, vice president for marketing and communication at Wartburg College.
Although the effect a large festival could have on the college's grounds was considered, references from other cities that have hosted the festival spoke highly of how the area was maintained and restored, Mr. Garner said.
Mr. Toliver agreed that Woodstock-type debauchery is not a concern.
"It's not that kind of crowd," he said. "Their demographic is people in their late 20s into their early 50s – people that really want to enjoy good music and great shopping experiences. That's why the band was really adamant that the community was the right fit for the type of experience they wanted to create for their attendees."
Other cities similar in size to Waverly that have hosted the festival have reported an economic impact of anywhere between $20 million-$30 million, Mr. Toliver said. The impact should also trickle to the Waterloo/Cedar Falls area, which is just 16 miles away.
A second stage will be set up in downtown Waverly to draw people to its retail areas in between sets on the main stage.
"That's a really cool aspect of this – it's not just going to be at Wartburg, it's going to be on a second stage featuring local music," Mr. Toliver said. "It's a chance for Iowa music to get out there, too."
Tickets are $199 for a two-day pass that includes parking and camping, and went on sale March 6. Although tickets for other festival events have sold out within days, Mr. Toliver said there will be plenty of volunteer opportunities.
"The production company does a lot of the footwork. All they've asked us to do is to gather around 1,000 volunteers spread over the two days," he said.
An email, waverlygotr@gmail.com, has been set up for general inquiries and questions about volunteering and vendor specifications.
Mr. Toliver doesn't anticipate having more volunteer inquiries than needed.
"There's no cap on the number," he said. "It's an aggressive number, but achievable. If we get more than that, the more the merrier."
The chamber plans to meet with college representatives and service organizations to put together a similar system that was used when Waverly hosted an overnight RAGBRAI stay last summer.
The community is anticipating visitors from all over the Midwest region, Mr. Toliver said. He hopes that visitors discover the area is a "hidden Iowa gem."
"Waverly is a great town full of great people and great places to shop, eat and have fun," he said. "We also hope it's some place that they could come back to and enjoy again when it's not so crowded."
The long-term plan for the festival is to hold a stopover in all 50 states over the next few years. This will be its only Iowa appearance.
"It's a really exciting event not only for Waverly, but for Iowa in general," Mr. Toliver said. "This festival will never be back here again."