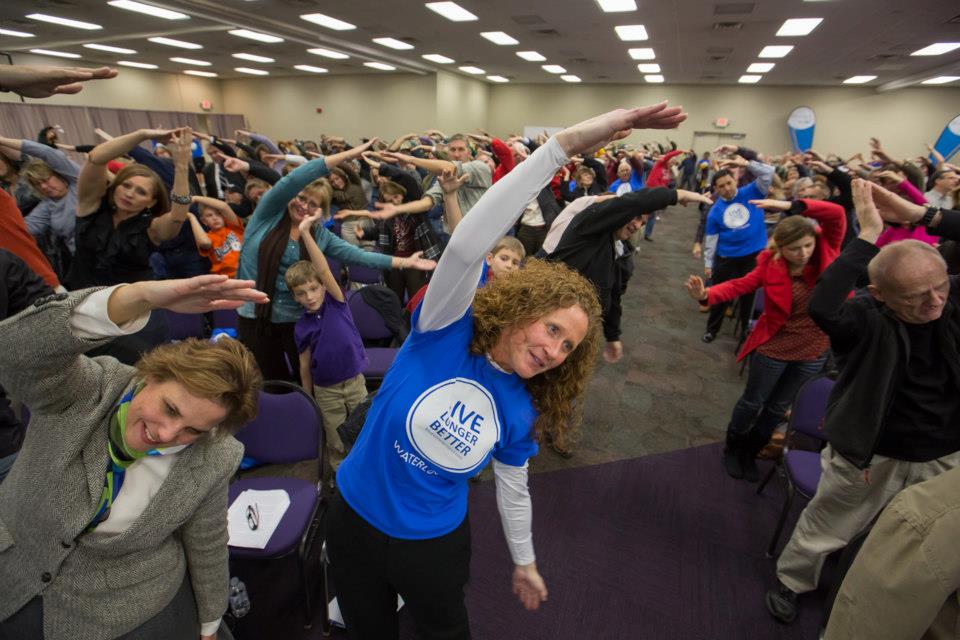 By Angela Holmes
BLACK HAWK COUNTY — While the leader of both the Waterloo and Cedar Falls Blue Zones projects admits it hasn't been easy to be in the inaugural round of the state's wellness initiative, she's glad to make a lasting impact on her community and pave the way for other cities.
"It's fun to be the first, but you do go through trial and error," said Sue Beach, community program manager of both Blue Zones projects.
In the spring of 2012, Waterloo and Cedar Falls were each selected as pilot Blue Zones demonstration sites, along with Mason City and Spencer. The Blue Zones Project by Healthways is a community well-being improvement initiative designed to provide healthy choices through permanent changes in environment, policy and social networks.
The Blue Zones Project is based on Dan Buettner's book, "The Blue Zones: Lessons for Living Longer from the People Who've Lived the Longest." Gov. Terry Branstad announced the initiative in Iowa in 2011 to help make the state, currently ranked 16th, the healthiest in the nation by 2016.
As the second round of cities selected to participate in the Blue Zones Project – including Cedar Rapids, Marion and Iowa City – begin their journey in the two-year initiative, the Cedar Falls and Waterloo projects are at the halfway point of the process.
Last May, staff was hired for each of the projects in the Cedar Valley. Ms. Beach was named community program manager of the Cedar Falls project, while Felicia Cass was hired as Waterloo's project manager.
When Ms. Cass resigned late last year, Ms. Beach was asked to lead both projects. Her background as executive director of the American Red Cross, covering 13 counties in Eastern Iowa, gave her a leg up on the knowledge and relationships necessary to run the projects in both cities. Although the projects remain separate, several of the committees have combined.
In order to be a certified Blue Zones Community, each city, by May 2014, must meet the guidelines of six sectors: citizens, public schools, worksites, restaurants, grocery stores and public policy.
Waterloo has already met its engagement of citizens guideline, with more than 11,000 residents taking the pledge. It has also met its goal in grocery stores and worksites. It has two of the four schools needed and is working with the city on public policy, such as making roads safe for all users, changes in the smoking policy, providing healthy vending choices and support for community gardens and farmers markets.
The struggle so far in Waterloo has been designating restaurants, Ms. Beach said. The city only has one of the needed 10 restaurants. That restaurant, Newton's Paradise Café, became a Blue Zones restaurant in April.
"There's a set number of requirements you must meet or exceed to become certified,"   Kristina Miller-Bergman, general manager of Newton's, stated in an email. "For example, we must offer so many meals under a set amount of calories, both kids' meals and regular breakfast, lunch and dinner options. We have to offer healthy side options. Another example would be providing water immediately when the customer sits down.
"These things we were already doing, however we needed to highlight these items and we did this by providing the Blue Zone-approved items on a table tent," Ms. Miller-Bergman continued. "This allowed us to not have to completely reprint our menu and have the items stand-out."
Ms. Beach said now that the school year is ending, the Blue Zones staff can focus more on restaurants.
"Because there are so many sectors, timing is of the essence," she said.
In Cedar Falls, about 5,600 citizens have pledged to the program, which is roughly 1,100 short of the requirement.
"We had so many great things going in Cedar Falls, we are pushing it to get over the top," Ms. Beach said.
Cedar Falls has two of the three needed schools and has already hit the mark with restaurants, grocery stores and worksites.
ME&V Advertising and Consulting was one of the first workplaces to be designated a Blue Zones Worksite in Cedar Falls. According to ME&V partner and president Bryan Earnest, the company already adopted many of the Blue Zones principles.
"We've always tried to keep a nice balance of work hard-play hard," he said. "It (the Blue Zones Project) looks at all aspects of each person."
Last fall, the company quickly reached a certain percentage of employees to commit to the pledge. An internal committee was then formed with a cross-section of employees. Since receiving its designation, ME&V has healthier snacks brought to the office, walking groups have been formed and a community garden was planted a few weeks ago. For those companies considering participating, Mr. Earnest advises to find internal champions, employees who are excited about the Blue Zones Project.
Like in Waterloo, Cedar Falls' city policy requirements are taking shape. The city already had a bicycle plan in place which can be used in the Blue Zones requirements.
"Blue Zones mirrors some things already out there," Ms. Beach said. "Hopefully, it will give the nudge to make it happen."
Participating in the project has already had positive effects on the area's economic development, Ms. Beach said.
"We are beginning to get looked at as cities where people want to work, live or play," Ms. Beach said.
She hopes both communities continue the initiative after the May 2014 deadline.
"Sustainability is very important to us," she said. "We want to embed this into the community."
Whether or not the cities reach certification, Ms. Beach's job will end in May 2014.
"I knew that coming in," she said. "It was the opportunity of a lifetime. I love the Cedar Valley. It's been home for 20-plus years and I hope to make it better. Some people build buildings as a legacy; I hope this will be mine."