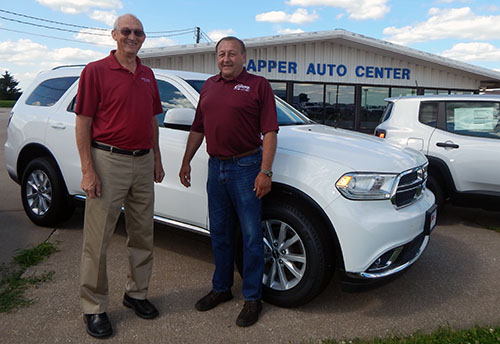 By Emery Styron
news@corridorbusiness.com
Competition for new vehicle sales in the southern end of the Corridor is heating up.
Capper Auto Center, located at 1738 E. Washington St., added a Chrysler, Dodge, Jeep and Ram franchise to its existing used car location on July 1.
"Right now we're the only operating dealership in Washington County," said Capper Auto Center partner and general manager Rande Stauffer (shown, right, with Charlie Capper).
But Capper won't be the only operating dealership for long, predicted John Anderson, general manager of open-for-service-only Gretter Autoland across the highway.
"We want to assure the community that Edwards Auto Group is definitely purchasing Gretter Autoland as soon as we get final approval from the court," he told the Corridor Business Journal.
Gretter Autoland and Gretter Ford Mercury filed Chapter 11 bankruptcy last December, seeking to reorganize more than $16.5 million in secured and unsecured debt. Edwards Auto Plaza was selected as the winner in a bankruptcy autction of the Gretter dealerships' assets on April 1 with a bid of $1.56 million. The sale is expected to net $145,000 for the bankruptcy estate.
Ron Fortenbury, comptroller for the Edwards Auto Group, headquartered in Council Bluffs, declined to comment on the purchase, but confirmed the Gretter dealership is open.
Mr. Anderson said the Gretter facility at 201 S. Airport Road can't sell vehicles until it receives clearance from the court, the state of Iowa and Iowa Department of Transportation.
"Things are coming around. I anticipate it being in short order," he said. "Then we can start doing business again."
Charlie Capper has competed head-to-head with the dealership he sold to Tom Gretter since 2007, when he bought the former Buckwalter Motors property at 1738 E. Washington St. His family also operates a Ford dealership in Williamsburg and a GMC dealership in Marengo as part of the Capper Auto Group.
"We're just the locally-owned, hometown dealer. That's the way we'll always be," Mr. Stauffer said. Capper is starting with a small inventory of 40 to 50 Chrysler-related vehicles and would add more over time. The Ram and Jeep lines "are a big deal" for the community, he added.
The company had wanted to add a new vehicle franchise for some time, he said. "It's taken a lot longer than what we thought," he added.
Capper in Washington has had a full-service automotive shop all along. Mr. Stauffer said the addition of the Chrysler franchise will keep the shop even busier. Experienced Chrysler mechanics are already on staff, he said.
Both Capper principals are long-time Washington residents and auto industry veterans. Mr. Capper has been in the car business for almost 50 years and Mr. Stauffer for 30.
Mr. Anderson, who moved to Washington this summer, said he brought three transport loads of quality used cars with him from Council Bluffs and is eager to start selling them.
"We will be a major player in the community, and contribute to the economy with our vehicle sales and service and employee payroll," he said.
He noted that Travis Cave continues as service manager and Sharlene Bos as bookkeeper.
"As soon as we officially take over as Edwards Auto Group, we will attempt to hire many of the former employees," Mr. Anderson said.
Edwards Auto Group operates 10 franchise dealerships in western Iowa and Nebraska, selling Chevrolet, Buick, GMC, Cadillac, Ford, KIA, Nissan, Subaru, Mitsubishi and Hyundai.
"Ultimately I think it's great that Washington has been able to maintain the dealerships in the community as well as grow them recently," said Michelle Redlinger, executive director of the Washington Chamber of Commerce. "We've got great partnerships with the dealerships. We want to be a resource to both in the community."