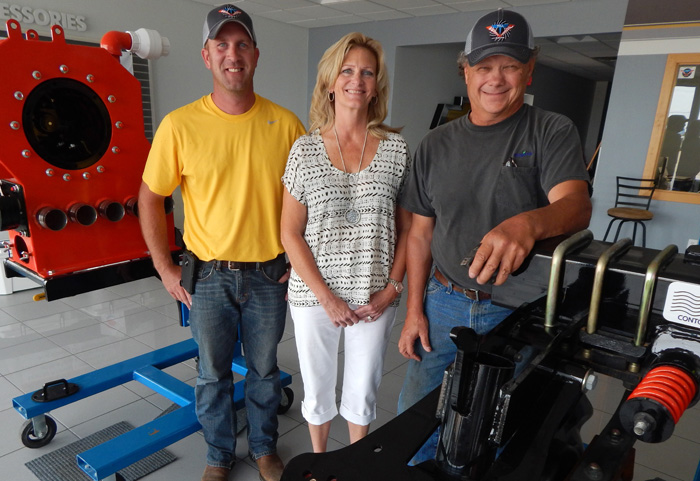 Phil Reed (right) and his wife Rhonda stand inside VTI's new location in Washington with her son, Matt Bonebrake, who serves as operations manager for the company.   PHOTO/Emery Styron

By Emery Styron
news@corridorbusiness.com
"That's where the manure goes in," explained Phil Reed as he clinked his metal tape measure blade on the chrome pipe of a unit in the sunny showroom of the former Gretter Automotive dealership in Washington.
The black and orange assembly of thick metal flanges, blades, notched disks, springs and hydraulic hoses, bolted to a heavy square tubular steel frame, is called the Vertical Till Injector. His company, VTI, has been making life easier for farmers since 2010.
Mr. Reed was so frustrated with the clog-prone manure injector he used on his 2,000-acre, 33,000-hog operation that he tinkered for two-and-a-half years to build a better one. Now the no-till farming world is beating a path to his door.
"I wasn't happy with what was out there. I was always working on it," recalled Mr. Reed, who also runs a custom manure hauling service. "Years of farming and raising hogs" gave him the skills needed to create VTI, he added. "We rigged up a prototype, changed this and changed that. It just went from there."
Pleased with his new injector, Mr. Reed put his old one up for sale. When farmers came to look, they wanted to buy the new one instead. He went on to patent two of its features and for the past five years, he's been manufacturing and selling his durable, clog-free VTI to other farmers through a national network of distributors.
No-till challenges
Mr. Reed started no-till farming in 1985, a method that leaves crop residue on the fields to hold soil in place, reduce cultivation costs and capture nutrients. Seed and fertilizer are applied directly through the residue. Mr. Reed said the majority of Washington County farmers use the no-till method rather than turning over all their soil with plows each year.
The uninitiated may associate hog manure with foul odor and waste, but the liquid stored in lagoons is gold to many farmers.
"Many people don't realize it's an organic source of fertilizer," Mr. Reed said.
That's not to say that no-till farming is easy. One challenge of the approach is getting the manure deep into the soil, where its nutrient value can be maximized and odors retained. Another is the tough cornstalks, grasses and other crops that snag in conventional injection systems, which rely on shanks drawn through the ground to cut trenches for the manure.
Mr. Reed's VTI rolls on the surface, using a pair of 22-inch waved 'coulters' on each row unit to slice six to eight inches into the soil. Pump pressure injects manure deep below the surface and adjustable containment wheels catch the displaced soil and lay it back over the top of the furrow with minimal surface disturbance.
Because all the components that touch the soil rotate, the unit doesn't clog, Mr. Reed said.
"Corn, wheat and standing grass all go through it."
The VTI system can run up to 12 miles per hour, move through heavy cornstalks easily, even in frost conditions, and inject up to 15,000 gallons of manure per hour. The VTI pulls 50 percent easier than shank draft units and reduces fuel costs for the pulling vehicle, according to the company.
Moving to town
Mr. Reed co-owns his company with his wife, Rhonda. Her son, Matt Bonebrake, is operations manager. Mr. Reed's son, Cameron, manages the farm.
Fifteen employees have been building VTIs in two machine shops on Mr. Reed's farm east of Washington. Some operations are coming to town, however, following the company's April purchase of the Gretter building on Highway 92 East. Mr. Reed said he was attracted by the building's price, along with its tall overhead doors, high ceilings and large, accessible paved area.
The company maintains a parts warehouse and offers injectors in 4-, 5-, 6- and 8-row configurations. They are typically clamped on a toolbar pulled behind a manure wagon. VTI sells about 500 rows of equipment per year. It's up to dealers and distributors how they price VTIs, but a tank model typically sells for about $30,000. A VTI with a hose drag system runs up to $100,000.
Farmers hate breakdowns and delays, so components are built to last. That "farmer mentality" is the key to VTI's success, Mr. Reed said.
"I didn't have an engineering degree to hold me back."