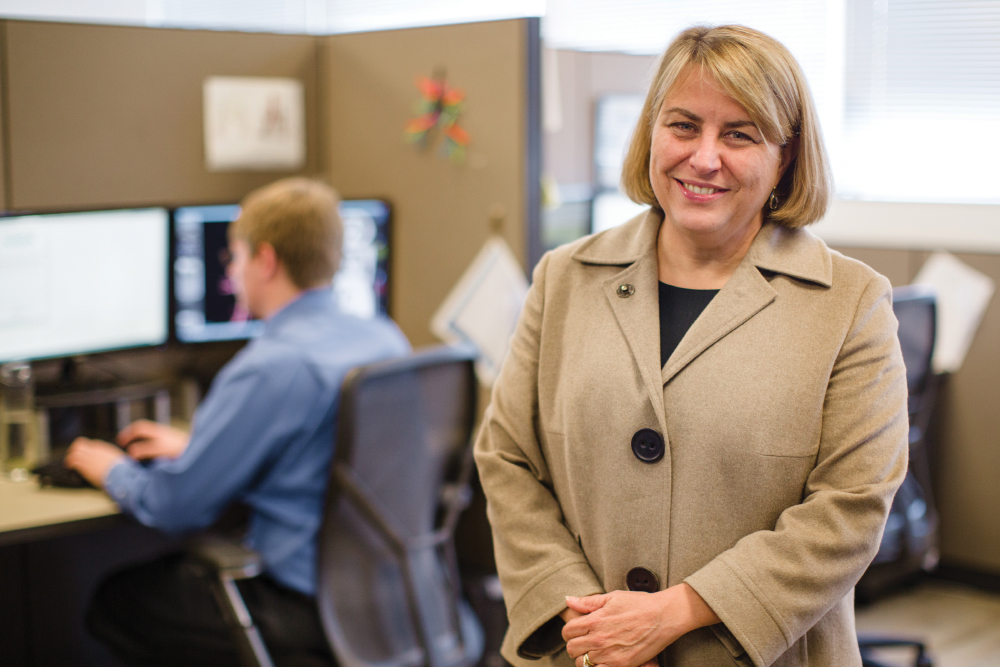 By Chase Castle
The challenges of navigating a continuously changing health care landscape are formidable for any CEO, but good timing, prescient advice and hands-on experience have helped Susan Wood navigate the ups and downs of running a promising biotech company.
"I went into graduate school and said 'I wanted to study the heart,' and my adviser said 'No, go to the lungs, because it's virtually untouched land and you can write your own ticket there' – and he was right," Ms. Wood, president and CEO of Coralville-based VIDA Diagnostics, recalled.
Although VIDA Diagnostics was officially established in 2003, the advanced pulmonary imaging company's roots were planted more than a decade earlier, when the company's founders and Ms. Wood first crossed paths.
In 1987, company co-founder Dr. Eric Hoffman was acting as director of the Cardiothoracic Imaging Research Center at the University of Pennsylvania, where he and a team of engineers created the integrated software package, VIDA, which stands for 'Volumetric Information Display and Analysis.'
As a graduate student at the time at Johns Hopkins University, Ms. Wood collaborated with Dr. Hoffman's team before taking on marketing and development work for other health care imaging companies, such as Dallas-based R2 Technologies and Vital Images of Minnetonka, Minn.
"We mostly stayed in touch not because we were doing any specific scientific collaborations, but just [because] the medical imaging computer and image processing community is fairly small," Dr. Hoffman recalled.
Dr. Hoffman said VIDA's founding investor and former CEO John Garber helped increase demand for pulmonary analysis, but ultimately lacked the biotech industry expertise that was sought when the company hired Ms. Wood as president and CEO in 2009.
"I don't think there could have been anybody that was more well-groomed and well-suited for this position," Dr. Hoffman said. "Just her unique ability to keep the whole act together has really helped us along. There are many points at which someone could have given up, and she didn't."
Some of those challenges include a recent decline in profits at medical imaging companies nationwide, he said.
A 2012 report from the Neiman Health Policy Institute said that during a "boom" in advanced medical imaging from 2000-2005, computed tomography (CT) grew annually by 14.3 percent. That growth declined in subsequent years, however, and by 2010, the total utilization of medical imaging was 4.5 percent less than it was in 2006.
With health care spending in the U.S. predicted to soon exceed 20 percent of the gross domestic product, the report said, many policy makers believe current health care practices are unsustainable.
"There's been times when, financially, the medical area is in a crisis," Dr. Hoffman said. "But that hasn't hindered her. She's kept it all going."
Currently based at the University of Iowa Research Park, VIDA has 25 full-time equivalent employees who assist with the company's pulmonary analysis services, which are used by clients in 35 countries. Those clients submit patient data and imaging information organized into a standardized format designed by VIDA, which is transmitted over a secure IT line to the company's office in Iowa. VIDA then processes that data and returns it to the physician in order to help them determine, for example, a patient's appropriateness for a specific medical procedure.
"A lot of what happens in clinical medicine now is very subjective … and therefore the response rate is also variable," Ms. Wood said in an interview. "We want to know ahead of time if the patient is appropriate for that therapy. And that means that that patient is better served."
In addition to its benefit to patients, Ms. Wood said the company is working to establish and maintain a comprehensive outline for pulmonary care procedures, which promises to help care providers.
"That's sort of the 'holy grail.' We want to have a list-based approach to managing patients through their care protocols, because you want to be sure as you can that you're right the first time," Ms. Wood said. "So every voxel in that image, we're able to analyze. There's not a human brain that can do that. Humans are very good at judgment, but they're not good at repeatable tasks. And that's what we're able to do."
For all of the company's advanced abilities, however, fundraising remains a challenge. Last fall, VIDA secured a $500,000 "acceleration loan" through the Iowa Economic Development Authority, as well as a $2 million investment from the Des Moines venture capital firm, Next Level Ventures, but it continues its search for additional investors.
"To continually capitalize the company is going to be essential," Ms. Wood said. "And it will take a network from within the state, as well as from external [venture capitalists], because there aren't that many funding opportunities at the level we would be talking about … for a health care company."
Although the company is not yet profitable, Ms. Wood said VIDA is producing revenue. The company to date has approximately 120 different customers internationally, which includes interventional pulmonologists, thoracic surgeons, radiologists and others. Ms. Wood said that for regulatory reasons, most distribution partners that offer VIDA's services are located outside the United States, with most clinical cases based in Europe, particularly Germany.
"The impact that VIDA has made on a national and international scale as been humbling," Ms. Wood said. "It's really a small company in Coralville, Iowa, [but] everybody in this business knows who are we."