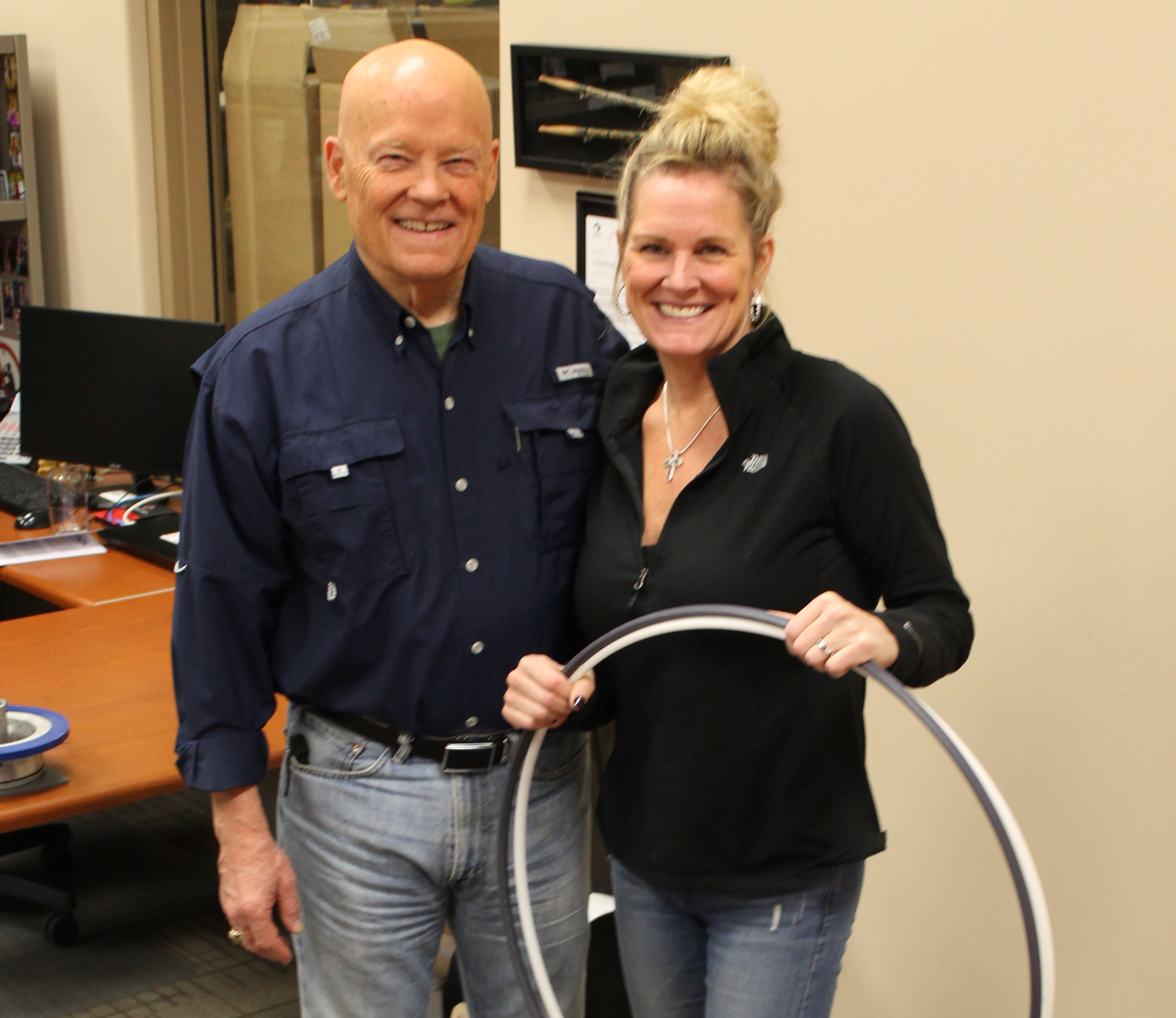 Robert Ridgway, president and CEO of Master Packing & Rubber, and daughter Camee Ridgway, an outside sales representative for the company, pose with a large "hula hoop" seal at the manufacturer's office. PHOTO DAVE DEWITTE
By Dave DeWitte
dave@corridorbusiness.com
"I'm really blessed," says Robb Ridgway, sitting in an office at Master Packing & Rubber Co. in Cedar Rapids decorated with paintings of his own creation.
There's a life-like depiction of a shark swimming menacingly toward the viewer, and a painting of two mallards taking flight in a marsh. Both are surprisingly realistic depictions.
"Keeps me out of the bars," Mr. Ridgway says, shooting a grin from behind his desk.
At 73, the Vietnam War-era Marine Corps veteran and founder of multiple businesses isn't coasting. Even though he does a lot of his work remotely from his home in Northbrook, Illinois, he's still the driving force behind the company he founded 36 years ago, and excited about the next steps ahead.
From its plant at 6430 Fourth St. SW, Master Packing cuts seals and gaskets from an enormous variety of materials using computerized cutting tables. The company also manufactures packings and seals with a rounded cross-section, using an extrusion and curing process.
The products are sold to pump and valve manufacturers, locomotive engine manufacturers, and a broad assortment of chemical, food, pharmaceutical and biorefinery plants, including most of the ethanol plants in the United States.
While fluid sealing stirs little interest in the general public, Mr. Ridgway has found the field filled with opportunities. Even though gaskets, seals and packings rarely get a lot of thought, the longer a seal lasts between replacements, the fewer costly maintenance shutdowns are required.
"My main issue is life-cycle costing," he said. "We more and more are trying to get away from just the junk, cheapest-possible mentality. We've turned down business away for that reason. It just doesn't hold up."
Beyond providing quality, Master Packing has become increasingly innovative. The company is now creating new parts and has delved into redesign work, which involves modifying seal designs to make them more effective or longer-lasting, he said. It's something most of Master Packing's competitors don't even attempt.
Business success was a slippery goal for Mr. Ridgway, however. In 1969, he came out of Vietnam with post-traumatic stress disorder (PTSD) after serving as a structural engineer on the crew of a huge C-130 cargo plane that performed supply missions and dropped flares in combat areas at night. The work involved structural repairs to aircraft, and even dismounting and remounting its huge engines.
Mr. Ridgway had multiple brushes with death. At one point, he was bumped from a flight during the heavy combat of the Tet Offensive. The flight was strafed going into Khe Sanh, and his replacement on the flight was among those killed when it crash landed. Later, on a transoceanic flight, three of the huge airplane's four engines failed, and it was barely able to make it into Okinawa.
All the while, Mr. Ridgway and his fellow Marines were aware that they were fighting a controversial war in an increasingly divided nation. After reading news reports about the assassinations of the Rev. Martin Luther King Jr. and Robert Kennedy, "it was kind of scary thinking about going back home," Mr. Ridgway re-called. "Some of the guys said, 'maybe it's safer over here.'"
After his tour in Vietnam, Mr. Ridgway reentered the United States through Norton Air Force Base in San Bernardino, California.
"There was a corridor of chain link fences, and we had people yelling and spitting and saying all kinds of things," he said. "It was really kind of a shock."
He was glad to be going home to complete his service in Minneapolis, his hometown. There, he was assigned to funeral detail, working with widows and parents to arrange and conduct funerals for their loved ones.
The nine-month detail took a heavier emotional toll than combat duty, Mr. Ridgway said, as he handed over one coffin flag after another to the grieving wives and parents of dead Marines.
When Mr. Ridgway went to apply for civilian jobs after the end of his four-year stint, he had to tell potential employers about his need to take off two afternoons per week for counseling to address his PTSD and depression.
"We'll let you know," they would say, and that would be the last he'd hear from them.
Mr. Ridgway eventually found an employer who wanted him to sell industrial products. He jumped at the chance and performed well, leaving the company a few years later to form his own gasket and seal venture with two partners.
After the business became solidly established, Mr. Ridgway said he discovered his partners were "cheating our customers," and unwilling to change their practices. He eventually agreed to have his ownership interest bought out for $330,000, but they ultimately paid him only $15,000, most of which went to the attorney he had to hire to collect it.
Master Packing is the second of two companies Mr. Ridgway has formed since then. He sold the first company to a St. Louis-based firm, and after becoming disillusioned with some of the practices of the new owner, went to work in sales with a friend's company for several years while launching Master Packing in the Chicago area.
The business operated out of Mr. Ridgway's home until he got a phone call from ADM in Cedar Rapids, a regular customer, requiring an immediate in-person meeting. He drove to Cedar Rapids expecting to hear bad news; instead, ADM's buyer said he was so happy with Master Packing's service that the company would be awarded with more business if it opened a location in the city. Within two months, Mr. Ridgway had moved to Cedar Rapids.
He initially brought in one of his brothers, Robert, as a partner, and later brought in Ted Wilhelm, a Vietnam veteran who was also like a brother to Mr. Ridgway. Robert has since retired, but Master Packing has grown to 19 employees, and continues to add staff. In 2012, driven by sales growth and development of new products for specific applications, the company built a 7,300-square-foot addition at its plant on Fourth Street SW.
Leadership lessons
Mr. Ridgway has applied some of his military training to the business. Marines were instructed that "when you're under extreme duress in the heat of battle, you can always focus on three things," he said. "Ever since, I've always tried to have three objectives."
Besides holding himself to that goal, he instructs his sales staff to "just cold-stone know" the pitch on three of Master Packing's products when they meet with clients.
While he jokes that his political views are "probably somewhere to the right of Attila the Hun," Mr. Ridgway finds the hatred and distrust in today's political environment discouraging. He believes everyone should be tolerant enough of each other's political views to have respectful political discussions. He learned early in life that good people can see the same situation from different perspectives.
Growing up, Mr. Ridgway's father talked about his experiences as a B-24 bomber pilot in World War II, and told his sons that a man should serve his country. But Mr. Ridgway's older brother Dave was a conscientious objector who refused to serve when the military draft was enacted during the Vietnam War.
Mr. Ridgway was in his second year at the University of Minnesota when his fraternity brothers asked him if he was going to an anti-war rally. He declined, questioning whether they really understood what they were protesting against.
A short time later, Mr. Ridgway attempted to enlist as a Navy Seal. He was rejected because of his eyesight, but was accepted into the Marines. He broke the news to his father, who asked "why on earth did you do that?" He reminded his father that he had always taught about the duty to serve.
"I didn't mean you!" was his father's response. Neither Mr. Ridgway nor his father condemned his brother for refusing to serve in the war.
Although Mr. Ridgway left the Marine Corps after one tour, it wasn't a decision made lightly. His commanding officer, the son of a celebrated WWII Marine pilot, encouraged him to re-enlist with a $7,900 bonus, support to complete his college degree and an invitation to attend officer candidate school at Quantico, Virginia.
He was ready to sign on the line, but his young wife had already spent too many nights worrying about him. When asked what she thought, "she said, 'It's either me or the Marines,'" he recalled.
The idea of starting a business was something that came naturally to Mr. Ridgway. An uncle owned Master Paper Box, a Twin Cities company that made the boxes expensive ink pens and gift candies were sold in. He described the office as a magical place filled with interesting things.
"I remember sitting at his desk, thinking, 'this is cool – I want to have my own business someday.'"
Now that he's had the majority ownership of a successful business for many years, Mr. Ridgway isn't disappointed. Perhaps the best part of it is the ability to create jobs that provide a livelihood for the company's team members. They include Camee Ridgway, his daughter, who works in outside sales with railroads.
The experiences of Mr. Ridgway's Marine Corps years have stayed with him after more than a half century, as have some of the psychological effects.
"It's not something I dwell on, but I clearly struggle with PTSD," Mr. Ridgway said. He's long been unable to attend funeral services, and he once walked out of a showing of "Forrest Gump," the beloved 1994 romantic comedy set partially during the Vietnam War, because of the anxiety the combat scenes provoked.
Mr. Ridgway looks back at his journey without regrets, however.
"I wanted to be there," he said. "I wanted to serve. I thought it was important, and I still do."