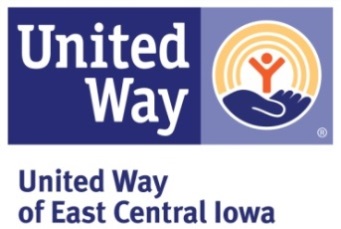 United Way of East Central Iowa (UWECI) is opening a United Way Volunteer Center in Benton County through a partnership with the Benton County Volunteer Program.
Benton County's Volunteer Program brings years of pivotal work and community relationships to this partnership with United Way. With its expertise and status in the community, UWECI can further support its capacity to meet community needs with volunteers and connect community members to volunteer opportunities that suit their interests.
Roxanne Fuller, community resource and volunteer engagement specialist, said merging the Volunteer Program's resources with United Way's resources creates more support for local non-profits and connections through continued relationships in Benton County.

"I believe with our combined resources, we can make a larger impact and provide more services to the entire county," Ms. Fuller said in a statement. "We need each other to meet our individual goals as organizations, and with this merger, we can support the growing volunteer needs in Benton County."

Under the United Way umbrella, the Benton County Volunteer Center will continue its work  in the Benton community through programs, such as the volunteer center's transportation program that supports individuals with rides to and from non-emergent medical appointments.
"The transportation program in Benton County fits perfectly with our current Unite to Inspire strategy that includes improving access to healthcare," said Karey Chase, UWECI's vice president of community impact, in a statement. "With this new partnership, we are reaching our goals, specifically in rural counties."
The Benton County Volunteer Center offices in Belle Plaine and Vinton will remain open 8 a.m.-noon Monday-Thursday to serve Benton County.
UWECI has four volunteer centers in Linn, Jones, Cedar, and Benton counties.