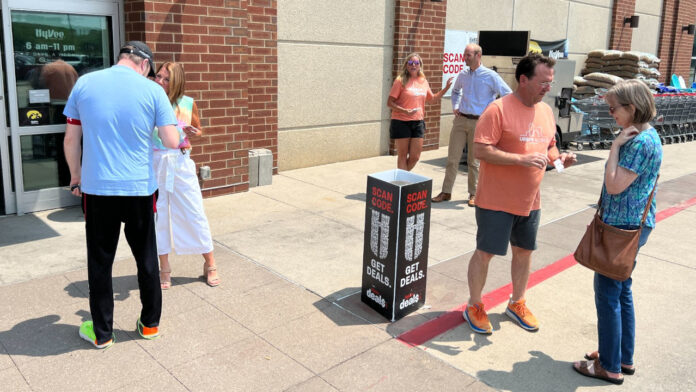 As part of Urban Acres Real Estate's "It's So Refreshing" campaign and the launch of their new website and refreshed brand, the company gave away $6,000 in grocery gift cards Thursday as part of a campaign to give back to the community.
Urban Acres agents and staff surprised 240 shoppers at four locations with grocery gift cards of $25 each, seeking to lighten the burden of extra expenses.
Agents visited Fareway stores at 615 Westwood Drive in North Liberty and 2530 Westwinds Drive in Iowa City and Hy-Vee stores at 812 S. First Ave. in Iowa City and 1914 Eighth St. in Coralville.
"We expected this to be a very heartwarming experience," said Phil O'Brien, broker and Realtor at Urban Acres Real Estate. "But to see the reactions that ranged from delight to tears and hugs, it was amazing."
Mr. O'Brien said agents at Urban Acres recognize the difficulties people are currently facing and wanted to give shoppers a little relief and something small to smile about.
Urban Acres marketing director Sarah Davelaar, who was at Hy-Vee on the Coralville Strip, said their team gave away more than 60 gift cards in less than 15 minutes.
"A grandmother who was shopping for her granddaughter was running out of money and was very grateful," she said. "Some people were a bit apprehensive at first, but once they understood what we were doing, they were very thankful to have the help. We also had people who asked us to give (the gift cards) to someone with greater needs. That was really wonderful to see."
According to the Bureau of Labor Statistics, food costs have spiked over the past year, with the most significant annual increase since May 1979. At their height, egg prices were up 39.8%, flour 23.3%, milk 17%, and bread 16.2%. While prices are showing minor signs of improvement, the rising costs are having a big impact on shoppers in the Corridor.
Established in Iowa City in 2015, Urban Acres is the first and only member-owned real estate firm in the Corridor. The company, which specializes in residential and commercial real estate, employs more than 60 people and has earned accolades including Best of the Area, #1 Real Estate Company by Locals Love Us, and the CBJ's Best of the Corridor.