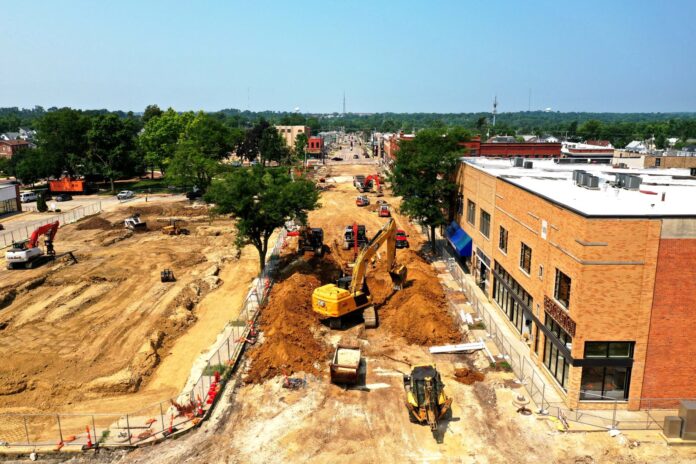 Uptown Marion Main Street hosted Kathy La Plante, senior program officer and director of coordinating program services at Main Street America to review the Main Street program's progress and provide recommendations for the Uptown district. 
Main Street America is a national organization that seeks to revitalize downtowns through preservation-based economic development, and this visit is part of a partnership with Main Street Iowa. As part of the partnership visit, Ms. La Plante toured the downtown and met with Main Street Board and committee members, as well as local elected officials.
"I was impressed with the caliber of staff, board members and volunteers who are working extremely hard for Uptown Marion and the entire city.  The resiliency of this city is so impressive; to get through the COVID-19 pandemic and the derecho with new businesses opening, events happening and tackling a huge streetscape project," she said. 
The purpose of the Main Street Iowa Partnership Visit is to give the local Main Street Board of Directors and staff and other community partners an opportunity to celebrate the progress and accomplishments of the past year; evaluate the efforts made to implement the Main Street program; determine necessary steps to maintain Main Street America Accreditation; and discuss any technical assistance needed from the state Main Street Program.
The Uptown Marion Main Street Organization is an accredited Main Street America program. Uptown Marion's performance is annually evaluated by Main Street Iowa, which works in partnership with Main Street America to identify the local programs that meet 10 national performance standards. Evaluation criteria determine the communities that are building meaningful and sustainable revitalization programs and include standards such as, fostering strong public-private partnerships, documenting programmatic progress and actively revitalizing historic buildings.
"The ability for a local Main Street program to consistently incorporate fresh ideas and new leadership perspectives into the revitalization process helps ensure a vibrant future for the community's economic opportunities," said Michael Wagler, Main Street Iowa State Coordinator. "This visit focused on partnerships and enhancing local communication that are the foundation for a strong local development effort."