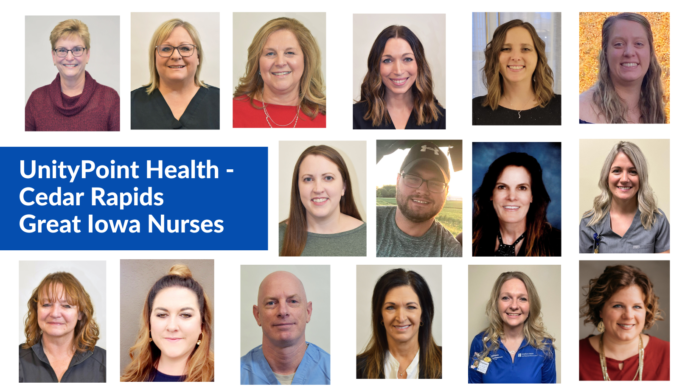 Fifty nurses at UnityPoint Health were named to the 2023 Great Iowa Nurses list including 16 from UnityPoint Health – Cedar Rapids. 
The award annually recognizes nurses at health care organizations across Iowa for their outstanding contributions to their patients, team members, and the nursing profession.
"I am thrilled to see our exceptional nurses receive this recognition," Carmen Kleinsmith, UnityPoint Health – Cedar Rapids senior vice president and chief nurse executive, said in a news release. "Our nurses give selflessly to our patients and team members. I am grateful for their dedication to patient care and improving the health of our community."
The honorees are from multiple locales in Eastern Iowa. The award recognizes nurses from many sectors of health care, according to the Great Iowa Nurses website, including hospitals and long-term care facilities. The awardees will be honored during a virtual ceremony in February. 
"I'm inspired by and extremely proud of all our nurse honorees this year," UnityPoint Health Chief Nursing Officer and Senior Vice President D'Andre Carpenter said in a statement. "Their skill and passion for nursing shows in the high-quality, compassionate care they provide every day to our patients and communities. Each one of these nurses is deserving of this recognition, and it's a privilege to have them represent the exceptional hospital, clinic and home care nursing teams at UnityPoint Health."
The 16 UnityPoint Health – Cedar Rapids award recipients are:
Kelli McAfe of Marion

Laura Barner of Springville

Peggy Bragg of Mt. Vernon

Mark Butschi of Robins

Penny Dullea of Swisher

Jordan Hagarty of Cedar Rapids

Paige Holland of Monmouth 

Jeremy Gardemann of Independence

Jessica Newsom of Cedar Rapids

Jayne Nirschl of Cedar Rapids

Kim Mente of Tipton

Maureen McEvoy of Coggon

Rachel Petersen of Alburnett

Michelle Ross of Urbana

Stephanie Voss of Tipton

Holly White of Marion