EAST MOLINE, Ill.  — A steady stream of striking workers from four Illinois Quad-Cities UAW locals crowded into the Richard Shoemaker UAW Hall Tuesday morning to vote on an enhanced six-year contract with Deere & Co.
They were among 10,000 United Auto, Aerospace, and Agricultural Implement Workers (UAW) from Illinois, Iowa and Kansas eligible to vote on whether or not to accept the latest contract offer from Deere & Co. Voting closes at 7 p.m. in the Quad-Cities. Voting also was taking place in Milan, Ill., and Davenport, Iowa. 
Union workers went on strike on Oct. 14 after 90% of the membership failed to ratify the global implement makers' initial offer.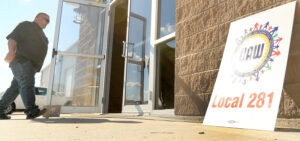 Striking workers in East Moline and Davenport declined to comment this morning on the new proposed deal that calls for a 10% pay increase in the first year – double Deere's initial offer. It also allows Deere workers, including post-1997 employees, to opt for traditional defined-benefit pensions, which guarantees a monthly payment for life. Or they can opt instead for an enhanced 401(k) plan that increases the company's contribution. The deal also calls for a new retirement bonus and cash pension benefit at retirement.
In the proposed deal, workers also will retain their no-deductible, no-premium insurance over the life of the contract. Meanwhile, Deere said in a statement, it expects health-care costs to rise from $12-$17 per hour in the next six years.