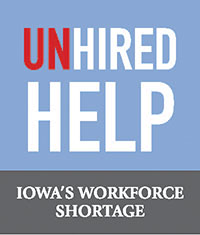 The American economy has roared back to life since the Great Recession more than a decade ago, but the crisis also left a permanent shadow over the working world, changing the types of jobs available and the expectations attached to them. 
By Katharine Carlon
katharine@corridorbusiness.com

In the years since the Great Recession, in which nearly one in five Americans lost their jobs, the stock market has roared back to life, unemployment has bottomed out and, according to the financial press, the good times are rolling like never before.
For many on the ground though, like 45-year-old Mark Frederick of Iowa City, who drives for Uber and Lyft on evenings and weekends to supplement his income, the broader recovery has been little more than background noise.
"It's definitely nothing I'm feeling," said Mr. Frederick, one of the estimated third of Americans who work at least one "side hustle" to pay the bills each month. "I feel like I'm scrapping to get by."
A just released Monmouth Poll suggests Mr. Frederick is not alone. Just 12 percent of Americans say their family has benefited a great deal from the economic recovery, with the majority — 54 percent — saying they have been helped either "not much" or "not at all." Only 34 percent of those earning less than $50,000 a year say they have benefited even "somewhat" from the strengthened economy, versus 58 percent of those earning more than $100,000.
Despite a statewide unemployment rate of around 2.4 percent, wages have mostly not kept pace over the past decade. Recent gains have been at the very top and bottom of the job market, according to Iowa State University economist Dave Swenson, who says the state's recovery has almost entirely left out the rural and middle-skill workers most prone to being replaced by technology.
Indeed, this economic recovery has played out like no others in history, shaking up the way Iowans work, the jobs they do and the stability of the corporate ladder.
The "big background story" of jobs since the recession "is the collapse of job security and job quality," said Colin Gordon, a University of Iowa history professor and author of the "2019 State of Working Iowa" report for the left-leaning Iowa Policy Project. The report finds that "the policies and institutions that once ensured shared prosperity" have largely broken down.
"What is remarkable, especially in this part of the country, is that very low unemployment rates are not leading to wage growth," it notes.
To combat that, workers have gotten creative: moonlighting after regular hours to stretch their budgets, and stringing together part-time, freelance and short-term contract "gigs" that offer freedom, but few benefits.
On the employer side, filling positions with contract and temporary workers as a bulwark against uncertainty has now become a long-term trend, with the vast majority of new jobs created in the past decade falling into the "alternative work" category — temp, on call, contract and freelance — according to an recent and oft-cited study from Princeton University.
For both groups, new technologies are accelerating workplace changes, eliminating some jobs while creating entirely new ones. The shift is forcing employers to face the reality they can't just hire their way into the future, but must instead devote significant resources to upskilling employees. Workers, by extension, can no longer depend on learning a specific skill, then moving along an orderly and predictable path.
"We are in an environment of continuous learning, so it is important for employers to continue to train their employees, so they have up-to-date skills for the constantly changing work environment," said Katherine Pine, business marketing specialist for IowaWORKS. "The days of an employee doing the same job for the same way for years is over."
In a nutshell, the post-recession jobs landscape has been defined by two words: instability and change.
Read the full, members-only feature in the June 17 print or digital editions of the CBJ. Not a member? Join today.