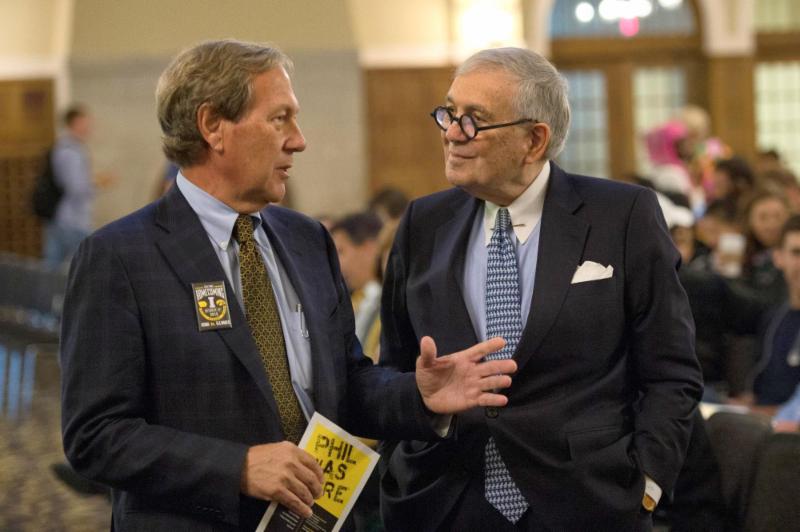 UI President Bruce Harreld visits with philanthropist and UI donor John Pappajohn at a "Life with Phil" event on the UI campus last school year. PHOTO/IowaNow.
By Chase Castle
chase@corridorbusiness.com
University of Iowa President Bruce Harreld said that to compensate for historic lows in state funding, the university is likely to pursue more research partnerships with corporations, and may concentrate resources internally toward select areas such as big data, hydraulics and professional education.
Since 1992, overall state expenditures marked for higher education in Iowa have dropped from about 12 percent to 6 percent, with current state funding levels at their lowest since 1962, he said.
"The state of Iowa is basically right in the middle of the pack," Mr. Harreld said of universities' state funding levels nationally. "So it's the whole country that's actually disinvested from higher public education."
He also defended the University of Iowa's annual tuition rates, which the state Board of Regents has proposed raising by about $300 for in-state undergraduates for the upcoming school year.
When compared to peer institutions identified by the regents, which include University of Arizona, University of North Carolina, University of Texas and several Big Ten schools, Mr. Harreld said the UI's annual in-state tuition is the least expensive by more than $1,400.
"That gives you a sense of what's going on," Mr. Harreld said Monday during a speech at a Cedar Rapids Downtown Rotary meeting. "We need to get from a world of dependency to one of more control over our own destiny, so that suggests we need to be doing a lot more to think about new, 21st century ways of finding revenue and building new programs."
Mr. Harreld noted that UI programs such as the renowned Iowa Writers' Workshop may not produce a favorable "bottom line," but are central to the school's identity and should be supported in kind. He also said about half the university's two-year MFA writing students require financial support, either through internships or scholarships, and that the university plans to "double down and protect the best writers."
"We're going to continue investing behind that," Mr. Harreld said. "Our values are going to drive a big hunk of what we're investing in."
Exactly how the university invests funding, however, may be changing. Mr. Harreld said the university may start to internally administer funds by concentrating on key programs, opposed to across-the-board appropriations of new revenue.
"I often joke about 'spreading the peanut butter,' because whatever resources we get, … we take them and spread them across the entire institution at the same level," Mr. Harreld said. "So there hasn't been a sense of priorities."
Aligning focus to research and applied science appears may be a response to a larger trend. Last summer, the online education journal Inside Higher Ed examined a study concluding that students exposed to higher unemployment rates typically seek jobs with higher wages and stronger job prospects, including those in STEM fields.
"Prepare for a world where people say 'no,' and what that means is we're going to continue to look for new sources of revenue," Mr. Harreld said. "We're exploring dramatically relationships with new corporations for research, [and] we're stepping out and looking at new programs that create revenue-certificates, executive education and the like."
Mr. Harreld said he's fielded inquiries about the university's 'big data' studies, and specifically identified the Stanley Hydraulics Laboratory as one asset with noteworthy commercial potential, but declined to give details about any specific partnerships.
"I know a lot of people in corporate America, so I've asked them to come and take a look at what we're doing, and see if it might play a role, and if they're looking for a partner," Mr. Harreld said. "This is going to lead to some pretty interesting potential relationships, so we're launching some of those."
For more stories like this, read the Corridor Business Journal's free Education Newsletter. To sign up, click here.