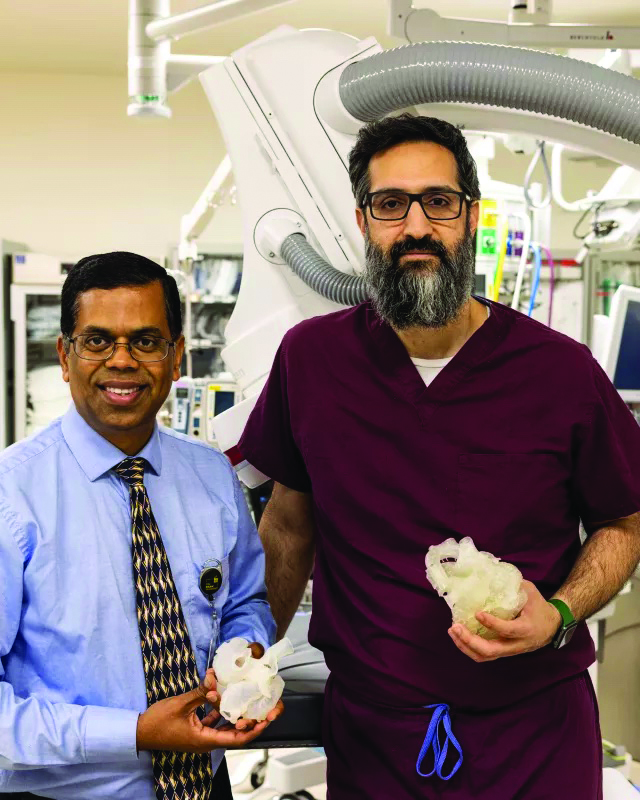 A cardiology team at the University of Hospitals & Clinics completed the first-in-state transcatheter procedure in place of open-heart surgery for a sinus venosus atrial septal defect (SVASD) patient in December 2022.
UIHC Cardiologists Dr. Ravi Ashwath and Dr. Osamah Aldoss coordinated with dozens of health care workers in the cardiology department to find a solution for their patient, Maria Andrade, who could not have surgery.
"(The patient) presented heart failure symptoms and they were doing some tests to evaluate that and found a hole in her heart," Dr. Aldoss said. "So they referred her to my clinic and … unfortunately, this patient is older than our typical patient and she had some other medical issues which made her a very poor candidate for surgery. We discussed her with our surgeons and they declined to take her to the OR to fix the problems  knowing what the potential risks were for her."
Dr. Aldoss the medical director of UIHC's Pediatric & Adult Congenital Cardiac Catheterization Laboratory, said the team then decided she was a better candidate for a transcatheter approach, which required the most analysis possible.
Dr. Ashwath, the director of the Non-Invasive Imaging and Cardiac MRI unit at UIHC, used advanced imaging technology to take information from the CT to create a 3D heart model for doctors to see the defect and hold it in their hands.
"Models are very helpful because they aren't the two dimensions that we are used to showing people and asking them to reconstruct in their own mind in three dimensions," he said. "That is extremely difficult. There's a big disconnect between 2D and 3D models. But with this new technology, once it's printed, there is no real doubt or guessing anymore."
A new procedure
The procedure has gained more popularity elsewhere, Dr. Aldoss said, but not in the U.S., due to different regulations.
He said one of his main concerns was ensuring the standard of care continues to be met regardless of a patient's past medical history.
"Up until this point, the standard of care is surgery, but unfortunately there are going to be patients who are not a candidate for surgery," he said. So, these are the people we will likely use this procedure with, assuming they'll be a good candidate for it. It's like any other new procedure. It takes time for this to be approved and to become a popular thing to do."
Most hospitals don't have the ability to print a 3D heart, Dr. Ashwath said, and even fewer have the capacity to put it into virtual technology and see the heart in a new way like these UIHC doctors did. 
He said the use of VR technology can be expensive, and tend to be reserved for more high-risk cases.
"This is a very complex case," he said. "This is not something that we see everyday and we need to understand."
Usually the team will only print the 3D heart, Dr. Ashwath said, since it is a fraction of the cost. 
Connecting with other teams
Dr. Ashwath and Dr. Aldoss met with a team in the United Kingdom who were more familiar with the procedure before taking on the transcatheter.
"Given that was the first time we were doing this procedure, we needed to be extra cautious," Dr. Aldoss said. "We did our initial analysis and we thought that this patient was a good fit. I think for the extra step, we needed to have meetings with the person or the team or the institution who does this the most, and that was a group in the UK."
Dr. Aldoss said the team won't always meet with teams who have completed the procedure now that they have successfully completed one. The meeting, however, did allow the doctors to ensure the procedure was the best option for the patient.
The United Kingdom team, Dr. Aldoss said, answered questions and helped the doctors and their teams feel more comfortable and confident in the procedure.
"This was a good step and it gave us confidence in what we're doing," Dr. Aldoss said. "We don't need to do this every time, but it's the first case and it was very helpful to share this with people who have done this more often than we have."
Improving patients
 

and doctors understanding

Dr. Ashwath said the team is working on printing 3D hearts with all the common lesions and defects so doctors can readily see and understand more common cases. 

"What we want to do is try to get more models and get them into VR and have patients experience this care on a regular basis," he said. "It should not become some special thing that only certain people can do. We want to make this mainstream. When you come to your visit, we want you to be able to access your own heart lesions and say what's exactly wrong." 

This will help the cardiology department and their patients better understand their care, he said. 

The new procedure, Dr. Aldoss said, was only made possible because of the team and technology at UIHC — something patients don't always see.

"With all this technology, we are doing some cutting edge procedures and interventions and we have been pioneers in certain other procedures as well," he said. "… This particular procedure, it's only been done in a few places in the world and we have such a comprehensive team with a lot of specialists that we can make such a complex procedure happen."

The technology will also help determine alternative options in other procedures. Open-heart surgery, Dr. Aldoss said, has a 8-week recovery period compared. Ms. Andrade was home almost immediately, he said, something that improved her quality of life as a grandmother.

"If they accepted this case for surgery, we're talking at least staying in the hospital for a week if she does well," he said. "Then, at least six to eight weeks of precautions and activity limitations because of opening the chest. That would've been a much, much longer recovery. Doing this in the cath lab, she went home the next day and she resumed her normal activity within a day or two."

Moving forward, the two cardiologists — who have been with UIHC for a combined 17 years — are ready for any other patients who may need similar treatment and to teach the next generation of experts. 

"The way we envision this program, the 3D program and advanced imaging, we started seeing the program benefiting the clinical needs of patients," Dr. Ashwath said. "So the patients will come, we will do the printing, we will help the procedure in terms of reduction of time in surgery or in the cath lab and less complications. Once we are able to achieve this, we always wanted to use it to educate people."