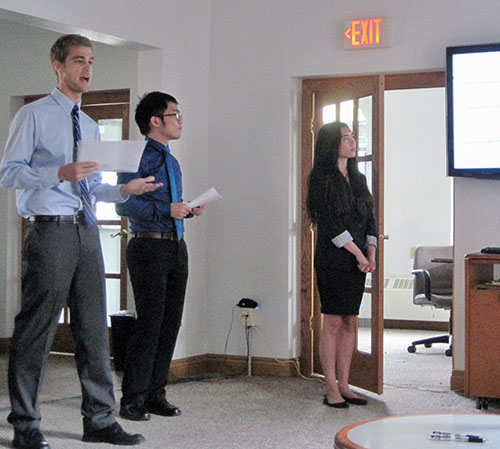 By Dave DeWitte
The emergence of China's middle class is attracting export interest from small Iowa businesses, causing them to ask whether they have the resources and know-how to jump aboard the country's rapid rise.
The country represents a compelling opportunity for entrepreneurs willing to take a chance. In 2000, just 4 percent of China's urban households qualified as middle class, with annual incomes of $9,000-$34,000 per year. By the year 2012, 68 percent of China's urban households were considered middle class, according to a report by McKinsey & Co.
What's more, the trend shows no sign of slowing down. Urban household income will at least double by 2022 if current economic trends continue, according to the McKinsey report.
That was the backdrop for business law students at the University of Iowa, who recently presented the findings of case studies examining whether the Chinese market offered an opportunity for small Iowa companies. What made their research particularly interesting was that every team included students from China.
Many students knew even before beginning their research that American exporters face a good number of hurdles in the Chinese market, including tariffs, tough inspections on food imports, and stark differences in culture that require different sales and marketing approaches.
More surprising were the comments by Chinese students that consumers in their native country are often willing to pay a premium for American consumable goods, primarily because they are considered safer and healthier.
"Having American food is considered very reliable in many Chinese peoples' lives," said Tianqi Yang, a junior majoring in finance from China.
Mr. Yang was part of a three-member group presenting a case study analyzing the prospects for Bettendorf-based Happy Joe's Pizza. The team came to the conclusion that Happy Joe's could do well in China, where much bigger American food chains such as Pizza Hut and KFC are thriving.
The team's advice took aim at the differences in the Chinese market, where eating out in an American restaurant is not only a larger part of discretionary income, but also more of an event.
The team said Happy Joe's should open corporate-owned locations rather than franchising into China initially, going into the most populated cluster of coastal cities and making its restaurant build-outs more "high end" to create a destination dining experience.
Social media is a common way of sharing dining-out experiences among China's consumers, reported Dominic Gabuzzi, a sophomore in accounting. He said it's common to see social media images of plates of salad bar ingredients stacked up high at a Pizza Hut or Papa John's pizza in China, and Happy Joe's should be prepared to retweet or share those images to raise the excitement level about their restaurants.
One student team evaluating the market for Iowa-grown organic honey also concluded that China presents a worthwhile opportunity.
"How to promote your product in China will be the key to success," said Runqi Huang, a sophomore in health and human physiology. The team recommended promoting the wholesome goodness of honey from Ebert Honey Co. of Lynnville, and packaging it in the clear plastic bear-shaped containers common in the United States, as they would set the product apart in China.
Another team's analysis did not recommend China for Prairieland Herbs of Woodward, which manufactures natural and organic personal care products including shampoos, body scrubs and lotions. While there's a potential market, Prairieland is not ready to undertake major changes such as having its products made in China and having all new labels created for its product, explained Abby Krantz, a sophomore in marketing.
The 'winner' of the case study competition was the team that tackled the most unlikely Iowa-made product – pork marrow bones from Premium Iowa Pork LLC, a Hospers-based producer of antibiotic-free pork.
Chinese consumers typically pay 1.6 times as much for pork marrow bone as for common cuts of pork, believing that it is richer in protein and calcium, according to Nicole Rhim, a UI senior on the team with senior Neil Zhang, juniors Melanie Miller and Dawn Ehrman, and sophomores Nicholas Leinen, Jason Woodruff and Russell Henkel.
Pork marrow bones are currently a waste product for meat processors in the United States because there is no consumer demand, according to the team. They said pork marrow bone is a key ingredient in some traditional Chinese dishes.
The students even recommended that marketing of the pork marrow bone be tied to the consumption of pork tenderloin by Chinese President Xi Jinping during a 2013 visit to Iowa. Products connected to the Chinese president tend to get a lot of attention in the Chinese market, the group noted.
One of the judges of the presentations was Lin Liu, an IBM employee from China who is on education leave at the UI while wife is working on a temporary U.S. assignment for Deere and Co. He told the students his own family back home in China went to market every single week to buy pork marrow bones.
The success of the pork marrow bone team in the case study competition illustrated a key point about the viability of exporting to China for a small business, according to Dimy Doresca, director of the UI Institute for International Business and a judge at the event. He said the opportunity is different for every company.
"For some companies, like the pork marrow, it's worth trying even if the obstacles are high," Mr. Doresca said. "You see the opportunity is high, and the chance of success is a lot better."
Mr. Doresca recommended that small companies first evaluate their own export-readiness, including whether their products or service are "ready to go global."
Small companies also need to have the financial resources to handle the legal and regulatory requirements of entering the Chinese market, and must make sure they have the right market consultants and other key people in place to handle the cultural differences.
At least as important as the other factors is management's commitment, Mr. Doresca said. The U.S. company must have the full backing of top management in order to approach the considerable challenges of the Chinese market.
Mr. Liu said China's emerging middle class consists primarily of professionals such as doctors, and lawyers, along with some entrepreneurs, government officers and mid- to upper-level business managers. He said it's important to understand that American products are more expensive in China because of tariff protections, meaning that some American-made products that a typical middle class American consumer can afford would be unaffordable to a Chinese consumer.
The students were all members of an online business law class taught by Prof. Jay Christensen-Szalanski, and some of the students had never met before preparing the presentations. Last year's winner was a team examining Laura Soybeans, which sells non-GMO (genetically modified organism) soybeans for sprouting and in trail snacks, along with other products, from its home base in Corwith, Iowa.
Mr. Doresca said he hopes to meet with Happy Joe's and Premium Iowa Pork to assess their interest in exporting to China after receiving the student reports, and offer further assistance.