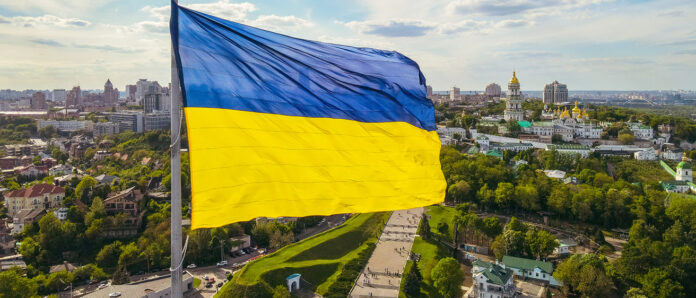 The UI Tippie College of Business is helping an American University Kiev professor pursue economic research in the face of Russian attacks.
After opening its doors in February 2022, just two weeks before Russia invaded the country, the American University Kiev (AUK) has stayed open through the war and its faculty continue to teach and research. The AUK is under a long-term partnership with Arizona State University.
The Tippie College of Business and UI International Programs office have partnered to help Volodymyr Vakhitov and his colleagues by providing virtual support opportunities so they can continue their research, according to a news report. Ken Brown, Tippie children professor of management and entrepreneurship, who is coordinating the initiatives, said it's a small thing the college can do to help colleagues in very dangerous circumstances.
Mr. Vakhitov joined AUK last July, five months into the war, as associate professor of economics and director of the Behavioral Science Institute.
Teaching economics at a university in a war zone is, to put it lightly, a challenge.
Mr. Vakhitov says they have water and heat most of the time, and for awhile in 2022 had to fit their work in around blackouts that could last half the day. But they're still able to do their jobs despite the conditions.
"If you are in Kiev, you wouldn't always know there's a war going on," he said in a statement. "Life is pretty normal. Except when there is shelling."
As part of the partnership, Vakhitov will talk with Tippie faculty about his research during a Zoom presentation on Mar. 9. A second presentation about the situation in Ukraine may be held in April.
He will discuss research that his network of behavioral economists around the world conducted about evacuation behavior and intentions last summer. They found that people do not differentiate between the causes of evacuation during the war. However, people seem to be more responsive when a plan is either proposed by the local authorities, or even if they had had their own escape plan.
He said the research is important for all war-torn countries, since it shows that people in stress might still follow simple instructions and save lives. However, older people and pet owners seem to be more reluctant to leave. Car ownership is among the most important predictors of probability of evacuation.
"His research productivity in the face of such impediments is truly incredible," said Mr. Brown in a press release. "We're delighted to have him with us and support his research as we go through the semester."
Mr. Vakhitov has been spending much of his work time developing the Behaviorial Science Institute, applying for grants and finding research projects. They have numerous grants already, including one from UNICEF to study how COVID-19 spread in Ukraine.
He said they're also working with the Ukrainian military to develop education programs that use business school methods to teach training and operations.
And he always takes opportunities to tell the world about the injustices happening in Ukraine.
"We're scholars, we don't have weapons," he said. "Our voice is the only weapon we have. We have to talk about this as loud as possible."
American University Kiev is based on U.S. educational standards and has a mission of growing the future professional leaders of Ukraine. The virtual visiting scholar is funded by a U.S. Department of Education Business and International Education (BIE) grant.
Mr. Vakhitov earned a PhD in economics from the University of Kentucky.