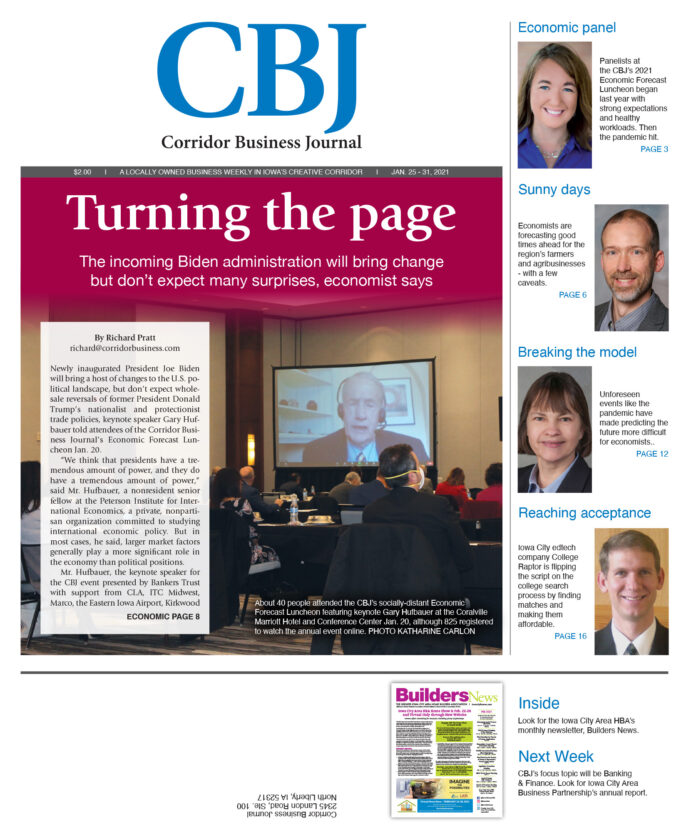 Newly inaugurated President Joe Biden will bring a host of changes to the U.S. political landscape, but don't expect wholesale reversals of former President Donald Trump's nationalist and protectionist trade policies, keynote speaker Gary Hufbauer told attendees of the Corridor Business Journal's Economic Forecast Luncheon Jan. 20.
"We think that presidents have a tremendous amount of power, and they do have a tremendous amount of power," said Mr. Hufbauer, a nonresident senior fellow at the Peterson Institute for International Economics, a private, nonpartisan organization committed to studying international economic policy. But in most cases, he said, larger market factors generally play a more significant role in the economy than political positions.
Mr. Hufbauer, the keynote speaker for the CBJ event presented by Bankers Trust with support from CLA, ITC Midwest, Marco, the Eastern Iowa Airport, Kirkwood Community College and UFG Insurance, began by describing the macroeconomic forces that determine trade balances.
Keys to the export market, he said, are growth in major economies abroad, especially Canada and Mexico, and the exchange rate of the dollar relative to other currencies.
When it comes to the import market, the major drivers are growth in U.S. gross domestic product and domestic savings investment, including what the government saves and what private firms and households invest in projects.
"That's the big determinant," he said, "not really the president's rhetoric or what he wishes.
"Political rhetoric tries to tell us that by turning the dials on trade policy, the United States could greatly increase employment, particularly in manufacturing, or raise the general wage level," Mr. Hufbauer noted. "The truth is that the connections between trade and employment and wages exist, but they're weak – much weaker than the political rhetoric."
Gross domestic productivity of the world's 20 largest countries, which account for about 80% of the world's economy, dropped sharply in the first two quarters of 2020 in the wake of the COVID-19 outbreak, then rebounded dramatically in the third quarter. The same was largely the case with U.S. manufacturing exports. But U.S. agricultural exports were much more resilient to the economy's turbulence, Mr. Hufbauer said.
"Agriculture is an essential part of any economy," he noted, so despite the overall economic downturn, "agricultural exports didn't drop very much. People still need food, cotton for clothing and so forth. And they revived in the third quarter, partly because some of our agricultural competitors weren't doing so well from a production standpoint."
Recent trends in exchange rates have also dramatically impacted the trade economy, Mr. Hufbauer said. As the trade-weighted dollar rises relative to foreign currencies, agricultural prices tend to drop, he said. When the dollar is weak, as it has been lately, commodity prices tend to rise. The same tends to be true with manufacturing exports – exports trend down as the dollar gets stronger and increase as the dollar gets weaker.
"And that's true whoever's in the White House," Mr. Hufbauer added.
On the import side, when the U.S. economy is performing well, as it did until early 2020, consumers tend to buy a lot from foreign countries, he noted, and when the economy stumbles, the U.S. import market falters as well. Overall, the U.S. trade deficit has grown in recent years, indicating we are borrowing more from abroad.
"That was a big worry for President Trump," Mr. Hufbauer said. "But it's not a big worry for economists, who think that the U.S. trade deficit is not a major feature that should be targeted by economic policy."
Looking ahead, Mr. Hufbauer said that presidential policies affect trade primarily via the federal budget balance and how the Federal Reserve deals with interest rates and monetary policy.
"Those (economic trends) are hard to change," he said, "but they do change. Presidents have some effect on them. But presidential policy affects trade by either extending or enlarging the amount of trade that the U.S. does with the world, both exports and imports, or flattening it out, retarding the globalization process."
Dialing back globalization was a primary goal of the Trump administration, Mr. Hufbauer noted.
"But if you go back to the presidents from Truman to Obama, generally their policies were on the globalization agenda," he said. "And U.S. trade with the world increased very substantially as a portion of our gross domestic product. When I started in the business, back in the 1960s, 10% to 12% of our economy was either export or import. And now it's about 25 to 30%. So it's a big change over 60 years."
Mr. Biden has said that he wants to focus on domestic issues, particularly curbing the pandemic via an aggressive vaccine rollout and pushing for the $1.9 trillion stimulus program.
But there are many trade issues that will require attention, "that he can't duck." Among them: Addressing U.S. tariffs on steel and aluminum imports imposed by Mr. Trump, which "really irritated our military allies"; the Digital Services Tax, which Mr. Hofbauer said was implemented in a "discriminatory fashion against tech giants"; the ongoing Boeing-Airbus trade battle; the possibility of a free trade agreement between the U.S and the United Kingdom; the expiration of the trade promotion authority on July 1, which must be renewed by Congress before the United States can enter into trade agreements with any other country; the World Trade Organization, which is in disarray; and above all else, trade and investment relations with China, which are "very adversarial" and leave a two-way trade figure of $500 billion range hanging in the balance.
Seventy percent of Americans now see China as an economic and political adversary, Mr. Hufbauer said, so there's a strong likelihood that tensions with China will continue well into 2021.
Adding to those international issues, Mr. Biden also faces domestic political trends, Mr. Hufbauer said, including progressive Democrats who don't necessarily believe in trade liberalization or making goods cheaper for American consumers and business. They would rather protect American jobs where they're threatened and advance labor, environmental and human rights, he said.
Looking ahead more broadly, Mr. Hufbauer said he believes:
• The trade agenda "will have the headline of being a tonic for employment and wages," he said. "That'll be the advertisement, whether it actually is or not."
• Mr. Biden will compromise on the tariffs that particularly impact Europe and the World Trade Organization, and will issue an executive order to broaden the scope of Buy America. "He's going to give organized labor a pretty big voice in any new trade agreements or big changes in trade policy," he said.
• The United States will revive its membership in the so-called Trans Pacific Partnership as a geopolitical counterpoint to China, which has its Regional Economic Partnership with some overlapping countries. At best, Mr. Hufbauer said, "I think relations with China will be testy. There'll be irritating issues. But maybe the administration will try to find the areas of compromise or cooperation with China, on the climate and maybe other areas as well. They may find some areas of cooperation. But if things go south in the South China Sea, for example, or Taiwan or Hong Kong, then I think we can see even an increase in confrontation with China."