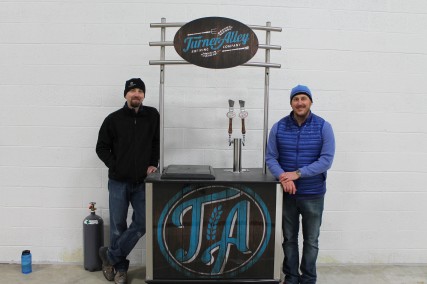 Brewer Travis Scheidecker (left) and owner Bill Patterson stand next to a portable tap stand at Turner Alley Brewing Co. in January 2015.  PHOTO/DAVE DEWITTE
By Dave DeWitte
dave@corridorbusiness.com
One of the first in the recent wave of production breweries to open in the Corridor is going on the market.
Bill Patterson opened Turner Alley Brewing about two years ago at 2715 12th St. SW, Cedar Rapids, naming it after Grant Wood's Cedar Rapids studio. He made the decision to sell the 15-barrel brewery after his wife accepted a position in California, and he realized he couldn't manage it from such a long distance.
Turner Alley has made good progress in two years, Mr. Patterson said, expanding distribution to more than half of Iowa and turning a profit. Although the brewery's location in a warehouse-type setting is unassuming, it has made an impression on Iowa's craft brewing scene with its Czech Village Pilsner and Mays Island IPA.
Turner Alley sells only in kegs and on premises, reaching about 60 percent of Iowa's bar and restaurant markets. Czech Village Pilsner is among the top 10 craft beers made in Iowa by sales.
The next logical step is to add a bottling or canning line, Mr. Patterson said, enabling the brewery to gain distribution in retail settings.
But he's leaving that to the next owner.
"It's just going to have to take that next step with the energy of a new owner or investors," Mr. Patterson said.
The most probable sale scenarios in Mr. Patterson's view are to a restaurant group looking to sell their own in-house beers or to a group of investors with an eye to expanding production and distribution. The brewery is at about 90 percent of production capacity, he said, but has space in its building to triple production and add a kitchen.
Iowa had 54 breweries at the end of 2014 after several years of rapid growth in the industry, and only 15 breweries in the state closed between 1985-2014, according to the Iowa Beer and Wine Marketing Board.
The Iowa Alcoholic Beverages Division reported that beer gallons sold in Iowa inched up less than 1 percent in fiscal 2015, however beer tax collected – based on the dollar value of that beer – climbed 11.3 percent, and beer permit revenues grew 17.5 percent.
The Corridor has seen several new breweries open their doors since Turner Alley Brewing.
Mr. Patterson said he's aware of concerns that the number of breweries could be reaching a saturation point, but he believes Iowa has a lot of room to run as a craft beer market.
"Iowa is a very healthy beer market going forward," he said, noting that craft breweries continue to take share away from the 'big three' national brewers. "If I were a consumer, I would expect to see some big improvements in quality and variety in the years to come."
Mr. Patterson acknowledged that it "might be a different conversation" if he was talking about starting a new brewery from scratch at this point, but he believes craft breweries that sell both in-house and offsite through bars and restaurants are generally faring well.
Turner Alley's brewer, Travis Scheidecker, and his assistant are open to working with a new owner, Mr. Patterson said. He declined to publicly disclose a sale price or other terms.
Turner Alley has been hosting five or six private events at its brewery per month, and is open to the public from 4 p.m.-8 p.m. Thursdays, Fridays and Saturdays.
Mr. Patterson said he and his two children will join his wife Jacque Patterson by the end of the year in San Jose, where she accepted a position as chief talent officer for the assessment division of ACT. A former Californian, Mr. Patterson said he recently dug out his surfboard and wetsuit to get the couple's eight- and 10-year-old children more excited about the move.