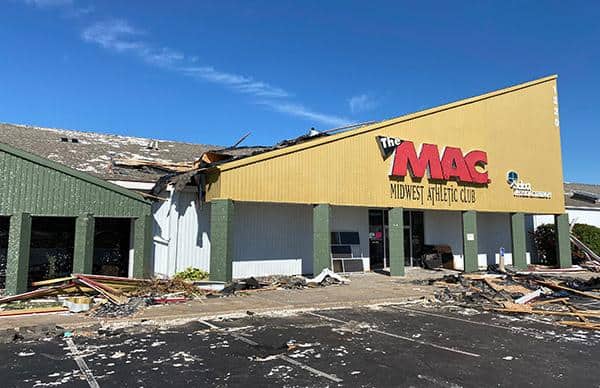 The heavily damaged MAC health club in southwest Cedar Rapids, shown on the  morning of Aug. 18.
By CBJ News Staff
news@corridorbusiness.com
President Donald Trump made an appearance at the Eastern Iowa Airport on Tuesday as thousands of out-of-state lineworkers converged on Linn County to help its return to full power following last week's derecho.
Speaking Tuesday afternoon with local and state officials including the state's senators, Gov. Kim Reynolds, Cedar Rapids Mayor Brad Hart and Marion Mayor Nick AbouAssaly, as well as the leaders of the Federal Emergency Management Agency (FEMA) and the Department of Homeland Security, Mr. Trump praised the resilience of Iowans and pledged the full assistance of the federal government – despite approving only about $45 million, or 1%, of the $3.99 billion in emergency aid formally requested by the Reynolds administration on Sunday.
"Cedar Rapids has had a rough couple of years when you think about it, right? But we took care of the flooding [in 2008], and just like we did that, that we're going to help you recover from the storm, and we'll get it done," Mr. Trump said.
The state had sought $3.78 billion for agricultural losses, $100 million for private utilities and $82 million in individual assistance for homeowners in 27 counties. The $45 million approved will provide governments and nonprofits with federal funding for repairs and other emergency work in 16 counties, including all of the Corridor except Washington County.
Both Mr. Hart and Mr. AbouAssaly pressed Mr. Trump to consider approving the individual assistance piece of the aid application, arguing that low-income residents were being particularly hard hit by the disaster. Sixty-thousand homes and businesses in Cedar Rapids, and 90-95% of the buildings in Marion, sustained damage in the storm, the mayors told the president. More than 500,000 households across the state were without power in its wake.
"So many people have – they may have homeowners insurance, but there's still a premium, they still have to pay for food, and most policies do not cover the removal of trees [from a property]," Mr. Hart said. "That could add up to tens of thousands of dollars for homeowners, so adding the individual assistance component to the disaster proclamation would help so many people."
A fact sheet released by FEMA on Monday shows the individual assistance portion of the application as "under review." Mr. Trump spoke with local leaders for about an hour, but did not travel to Cedar Rapids to tour the storm damage.
Meanwhile, utilities and crews made progress in restoring power and hauling debris out of Linn County, with ITC Midwest reporting around noon on Tuesday that the region's power transmission system had been restored. Alliant Energy hit its self-imposed deadline of having the power back on for 90% of customers by Tuesday at midnight, but the company was still reporting nearly 28,000 customers out as of 10 a.m. this morning — with new word that full restoration may not come until Friday.
The Linn County REC reported that 99% of customers had power back as of this morning, while MidAmerican Energy, which finished power restoration efforts in Des Moines and Iowa City, reported sending crews to Linn County to help finish the job.
Crews reported hauling away more than 2,000 truckloads of debris as of Monday, and many roads in the city's core remained closed or difficult to navigate as squads of bucket trucks with license plates from as far away as Alabama and New York worked on lines. As of Tuesday night, more than 23 million pounds of debris had already been moved, according to officials.
 "We have a ways to go, but the amount that [local workers] have done so far is quite impressive," said FEMA Administrator Peter Gaynor, speaking at Tuesday's press conference. "It will take time to clean up all the debris – that will be some of the hardest things to do, there's a lot of it out there. But we have a plan to do it, and we will be here until the job is done." CBJ