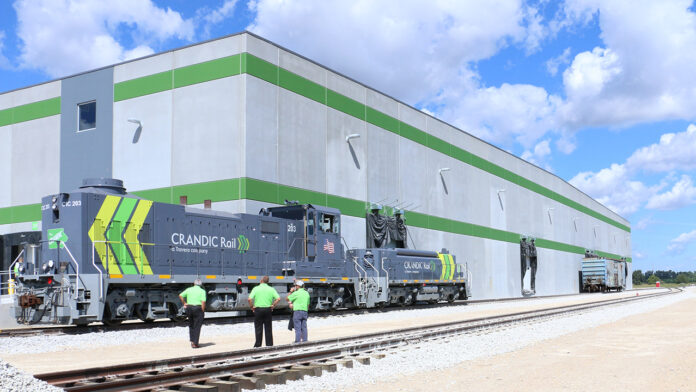 In recent years, small to medium-sized businesses and manufacturers in Eastern Iowa have faced a series of transportation and warehousing challenges.
A lack of access to affordable rail shipping options. A shortage of available and configurable warehousing space. Simple, local transloading capabilities from one form of transport to another.
Travero officials say the company's newest facility at the 101-acre Logistics Park Cedar Rapids, unveiled Sept. 15 during a grand opening and open house, will meet all those challenges —and more.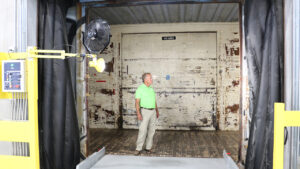 Travero, formerly known as Alliant Energy Transportation, was formed in July 2020 to align shipping, warehousing and logistics services under a single entity. The development of the new Logistics Park facility in Fairfax —at 259,000 square feet, the region's largest rail-served public warehouse and transload facility —is an important step forward in expanding those services to a local clientele, Travero president Lisha Coffey told company employees, local officials and other key players at the event.
"With this facility, we're going to bring the next piece of our transportation and logistics puzzle to life," Ms. Coffey said.
Local companies have battled transportation costs twice those of comparable companies in neighboring states, Ms. Coffey said. As a result, the Corridor region has been challenged to serve the transportation needs of existing businesses —and attract new ones.
"Cedar Rapids is in a great location where things are being sourced —whether from a raw material or a finished product —and where those things are being sent," Ms. Coffey said.
"Ultimately, one of the best things we can do for the state of Iowa, from an economic development perspective, is make sure the customers that are currently here can continue doing business and try to entice more by making sure that transportation costs are competitive," she added. "That's what this warehouse is doing —having the ability to have drop-down, lay down, drop lot with different material handling and food-grade capabilities. In short, we're opening up the opportunity for customers to be competitive in the landscape that, right now, they really aren't as competitive as they'd like to be."
The new Logistics Park adds the capacity to store and ship both raw and finished goods "so those companies can continue to grow," she said.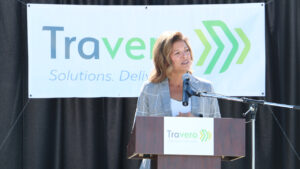 "Our customers now have optionality," she added. "It's about our commitment to help grow the community and our customers."
The facility itself is designed for flexible configuration. It offers a host of warehousing and manufacturing options, as well as a complete suite of transportation services, including rail-to-rail, rail-to-truck, truck-to-rail or truck-to-truck transloading options through 39 sealed loading dock bays.
The rail service, provided directly to the facility by the Cedar Rapids and Iowa City Railway Company (CRANDIC), Travero's rail subsidiary, is among the facility's differentiators, joining Travero's third-party logistics services and last-mile delivery options for a true end-to-end transportation solution.
Bill Oberfoell, the general manager of Logistics Park Cedar Rapids, said the facility's four railcar bays, offering direct on-site access to rail service via CRANDIC —and downstream, to a full Class 1 rail network —will open new transportation horizons on a local level.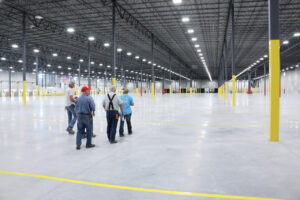 "We're going to be one of the only (facilities) in Eastern Iowa that can offer rail service to a warehouse," Mr. Oberfoell said. "With our own CRANDIC handling the switching and access to the class 1 railroads, we could bring rail in from all parts of the country and save on freight costs for the local or regional players here that don't have the option to bring in rail. They'll save on that truck freight. We think that by offering a rail service to a lot of different markets here in Eastern Iowa, and taking advantage of our Travero Logistics arm to help them move truck freight out of our facility to its end destination, helping customers bring in rail at a lower cost for this market is one of the biggest opportunities we can offer."
Shipping and transportation needs have changed dramatically since the onset of the COVID-19 pandemic, Ms. Coffey said.
"With COVID, you're starting to see customers wanting their products, whether raw or finished, near them," Ms. Coffey said. "We have so many customers that are struggling to get products where they need them to be. Whether it's to make (products) or once they've made, they don't have anywhere to go with them, because they can't deliver them, because we don't have the trucks and trailers or the drivers. So the size of the warehouse, and the ability we have for a drop lot, all of a sudden opens up opportunities for customers who are landlocked and don't have the ability to have their products close to them, to prevent what they've experienced in the last 18 months."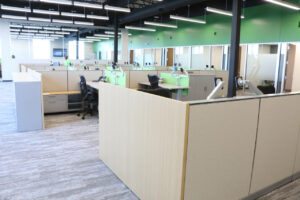 The new facility will serve as Travero's new headquarters, with up to 50 office workers and Travero Logistics employees on-site and a moderate contingent of warehouse workers, to be expanded as demand dictates, Mr. Oberfoell said. The facility is expected to begin accepting clients by mid-to-late late October.
"We will scale (employment) as customer demand dictates," he said. "We'll have what we'll call our starter crew, then as business expands, we can add more folks, or we go to a second shift, third shift, six days a week, seven days a week, 24-7. We also plan on cross-training with operators on rail. Some of these guys have never loaded or unloaded rail before. We may end up training folks to switch rail cars, so if CRANDIC isn't available, we can switch cars on our own with the trackmobile (an on-site railcar mover)."
Ms. Coffey said the Logistics Park intends to target small to medium-sized clients who intend to use the facility for transitional needs rather than longer-term storage. A variety of options will be available for clients once they can see for themselves what the facility can offer.
"We do have a couple contracts already," she said. "It's an interesting position because customers want to be able to make sure that they're doing what they need to do for themselves and to protect themselves. But whatever a company needs, we'll work with them. We're ready to navigate whatever comes our way."