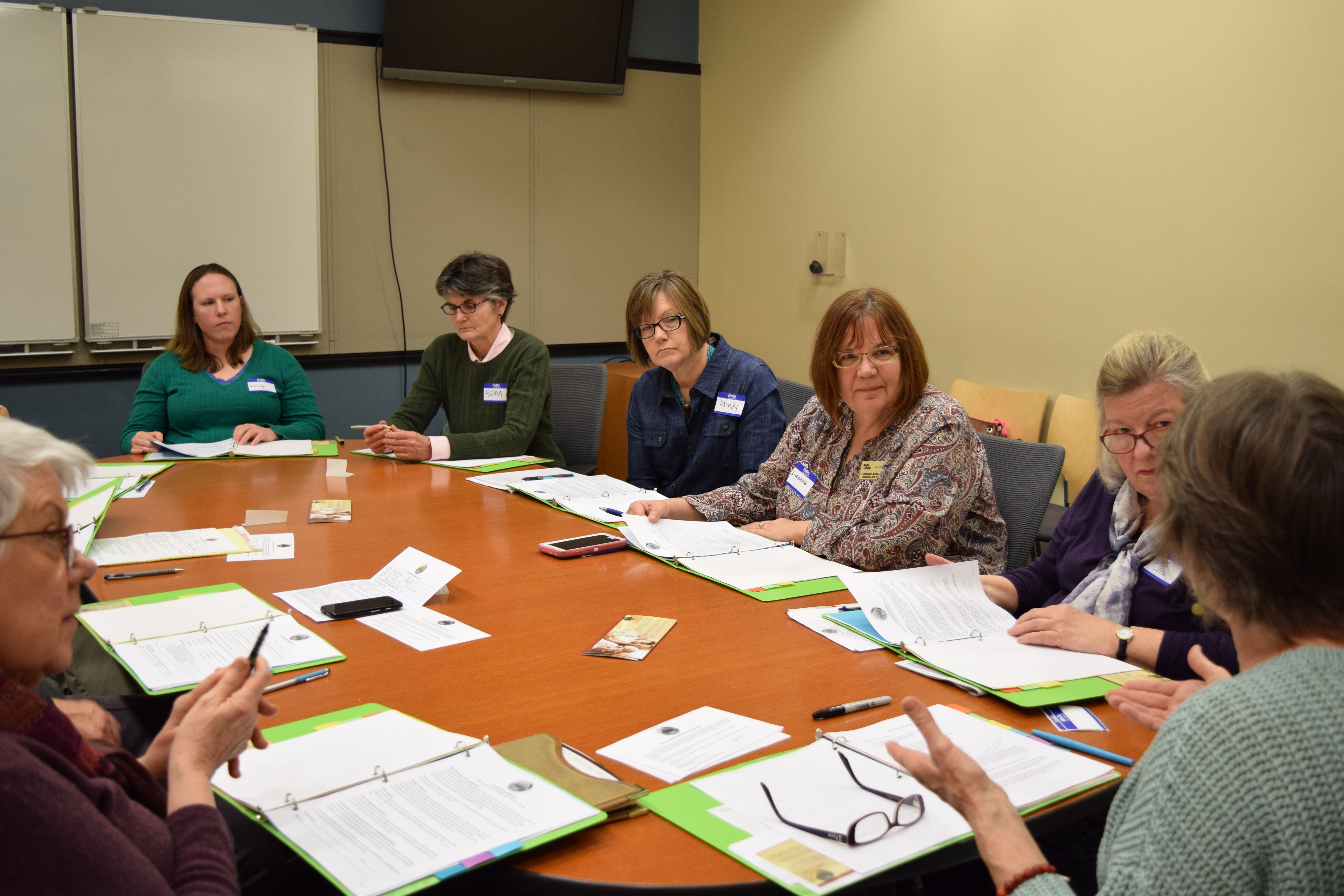 Volunteers for the new nonprofit TRIAL of Johnson County gathered last week for training. The program, aimed at keeping senior citizens safely in their homes, will launch in April. PHOTO TRAIL.
By Angela Holmes
angela@corridorbusiness.com
IOWA CITY—Susan Shullaw loves living in her multi-generational neighborhood on the northwest side of the city, but the 65-year-old who runs her own communications firm realizes that her multiple-story home may not always be so easy to navigate and maintain.
"In my neighborhood, we were talking about how much we love living there," Ms. Shullaw said. "But we also were wondering, how we can stay here? Some of us have seen our parents go through it [finding living accommodations], and didn't want it for our children."
They came across the Village to Village Network, an affiliation of aging-in-place organizations that began in the Boston area a decade ago. Although there are now more than 350 of the organizations in place across the United States, there was no known organization in Iowa.
After some more research, the Iowa City group formed a nonprofit named TRAIL (Tools and Resources for Active Independent Living) of Johnson County. The eight board members all have "significant nonprofit experience," Ms. Shullaw said.
Another dozen or so people have signed on to be volunteers.
TRAIL aims to provide three levels of services:
Volunteer assistance for needs such as daily check-ins, transportation, light handy-person chores, home technology assistance, health care services navigation and advocacy, and house checks when owners are away
Access to prescreened service providers to meet service needs beyond the capacity of volunteers, screened for reliability, expertise, fair pricing and overall positive customer relationships
Participation in TRAIL-sponsored social events, such as book groups, card parties, coffees, educational programs and group outings
A full membership with the organization costs $600/year for individuals, or $960/year for households of two or more, and provides access to all three services. An affiliate membership, which costs $100/year for individuals or $160/year for households of two or more, will provide access to the prescreened service providers and participation in social activities.
The initial interest level for the program has been positive, Ms. Shullaw said, with community members filling a related meeting held Feb. 15 at the Iowa City Public Library.
Another event, "Becoming a More Age-Friendly Community," will be held from 6-8 p.m. March 9 at the Iowa City-Johnson County Senior Center, 29 S. Linn St., Iowa City.
While the board appreciates the interest, members want to make sure the official April rollout of TRAIL runs smoothly with adequate resources.
"We don't want to make promises we can't keep," Ms. Shullaw said. "We want to keep full memberships to a minimum the first year, maybe 20-25 households."
A fundraising campaign with the goal of $120,000 by March 31 has already raised more than $108,000 from individuals in Johnson County. A part-time executive director has been hired, and the group is looking for office space.
Iowa City, which has been ranked as one of the nation's top retirement destinations, is an ideal place for people of all ages, Ms. Shullaw said.
"Senior citizens like Iowa City because of the youthful energy the college students bring," she said.
"I hope to age in my own home as long as I can," she added. "The altruistic part of it is I love this community. I want it to remain welcoming for all ages."