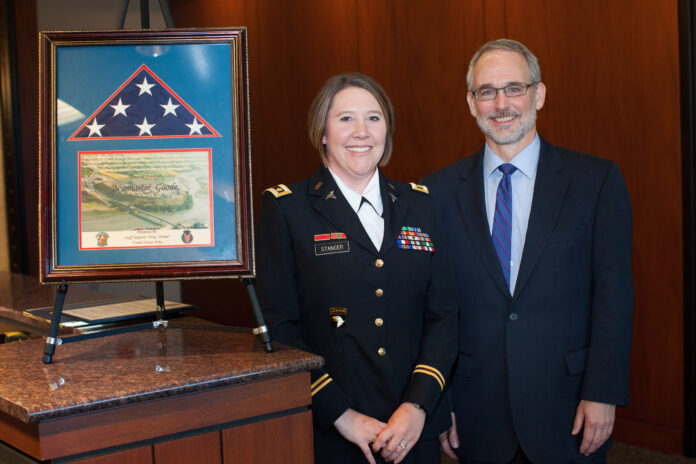 By Gigi Wood
CEDAR RAPIDS — Nyemaster Goode is a finalist for a major national award.
The 94-year-old law firm, headquartered in Des Moines with offices in Ames and Cedar Rapids, is a finalist for the 2012 Secretary of Defense Employer Support Freedom Award. Nyemaster Goode is one of 30 finalists chosen from a pool of 3,236 nominations. Businesses were nominated by National Guard and Guard Reserve service members or family members acting on their behalf.
The awards ceremony will be in December in Washington, D.C. Since the award was started in 1996, 160 businesses have received it, or 10 a year. There are three categories of award winners: public employer, large employer and small employer, which is the category for Nyemaster Goode.
The firm was nominated by Major Kristina Stanger, a National Guard Medical Service Corps officer, who is one of the highest ranking female guard officials in the state. She is a litigation attorney in Nyemaster's Cedar Rapids office. Her husband, Staff Sgt. Doug Stanger is a career National Guard member, making them a rare dual-military family.
The law firm supports Ms. Stanger when she needs to leave for drill weekends and training events, and she said the company and staff went out of its way to support her family during her husband's recent tour inAfghanistan.
"Over the last couple years, we've had, at least in our family, more of a difficult (military) service than we have in the past with two little ones and a deployment; not uncommon for any military family, really, but the fact that Nyemaster has taken those values and that leadership role and extended it into our family and the military community we know says a lot about not only the organization, but the individuals that make up a part of it," she said.
Her coworkers at Nyemaster would stop by her office and ask if she needed any errand run for her and some babysat her two daughters on the weekends when Ms. Stanger needed to work or take care of the house.
The company provides her paid leave during guard training events and gave her four weeks off when a family friend died in battle last year. The firm created a special "guard" category for recording her work time, so her service would not negatively impact her billable hour requirements.
Nyemaster Goode also hosted a reception for Mr. Stanger when he returned from deployment, created a scholarship fund for the daughter of the family friend who died in service and sponsored a hole at a charitable golf outing to raise money for another National Guard family.
Kevin Collins said Nyemaster Goode has always supported employees who serve in the military. It also dovetails with the American Bar Association's support of the military during the past two years, he said.
"It truly is a team effort and it does require both attorneys, as well as staff to take on additional responsibilities while Kristina is required to devote her energies to service to the country," he said. "But it's part of being a member of the community. We have a responsibility to do it, so we do it and it's not without some disruption and occasional hardship, but it's also without any compliant whatsoever. It's our responsibility."
The roughly 200-employee company has a number of veterans on staff. The Stangers' situation, however, opened the firm's eyes about military employee needs, said Michael Thrall, Nyemaster Goode's chairman.
"Having the opportunity to work with Kristina and see from a little more personal perspective, the sacrifice of the military families, different issues they have to deal with, particularly when they have family members deployed overseas – and frankly the issues that have come up with the extended conflict overseas that we've had – has brought things into focus for the firm in a much more personal and much closer way," Mr. Thrall said. "Observing Kristina first hand has given us a whole new perspective on their sacrifice and the importance of providing support through the workplace as best we can."
Nyemaster Goode was also recently recognized by Chambers USA, which named 24 of the company's attorneys "leading lawyers." Mr. Collins said several Nyemaster attorneys typically receive the recognition annually.
The firm employs eight attorneys and five staff in Cedar Rapids.