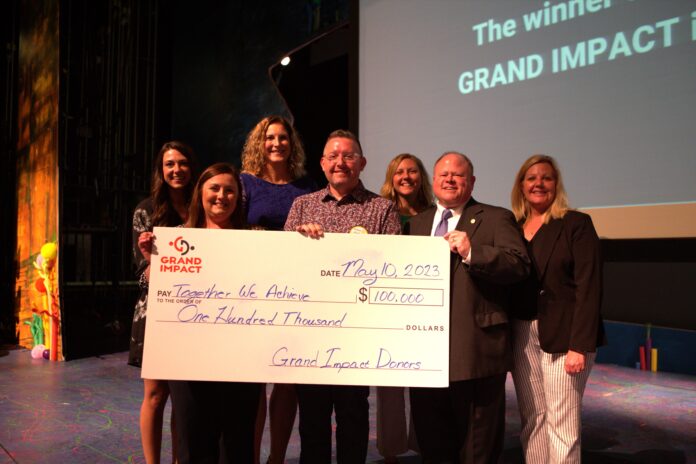 Cedar Rapids-based nonprofit Together We Achieve has been awarded $100,000 as part of the second annual Grand Impact event held Wednesday, May 10, at Theatre Cedar Rapids, according to the Rotary Club of Cedar Rapids.
Formed in the aftermath of the 2020 derecho, Together We Achieve received the funding after pitching to a theatre of representatives of 50 Cedar Rapids-area businesses during the Grand Impact event.
Each business pledged a $2,000 donation. Representatives were invited to vote for their favorite nonprofit proposal from three finalists.
"I'm taken aback, because we share a lot of the same goals and values that the other nonprofits here do," Matthew Salger, co-founder and treasurer of Together We Achieve, said in a release about receiving the check.
He said the money will be used to help the nonprofit build out a new kitchen, expand its cold storage capabilities, add accessibility elements to the organization's center and to purchase a vehicle for donations and deliveries in the community.
Among the organization's ongoing initiatives are a "choice pantry" that operates six days a week at 1150 27th Ave. SW and a hot meal service that operates two days a week.
The Grand Impact award
The award was the culmination of a night that saw pitches from three Grand Impact finalists: Together We Achieve, Feed Iowa First and Mission of Hope. 
The organizations were selected by a panel of judges from dozens of nomination applications submitted in the spring by local human services nonprofits. The finalists were given five minutes to pitch their proposed plans for the funding to the audience and asked to answer five minutes of questions about their proposal.
"The Rotary Club of Cedar Rapids was thrilled to take this event over, and it was a huge privilege to award $100,000 to one of these deserving organizations," Barb Randall, president of the Rotary Club of Cedar Rapids, said in a release. "This matches up so well with our 'Service Above Self' philosophy, and we're proud to help make such a big impact for one local nonprofit. We're excited to keep this event alive and thriving in the years to come."
The Grand Impact concept was created in 2021 by five local business leaders: Lura McBride, of Van Meter; James Klein, of Cedar Rapids Bank & Trust; Beth Malicki, of KCRG-TV9; Jason Smith, of TrueNorth Companies; and David Sorg, of OPN Architects. The inaugural $100,000 award was given to Matthew 25. In 2022, the Rotary Club of Cedar Rapids was asked to take over its management and the club plans to continue it into the future.