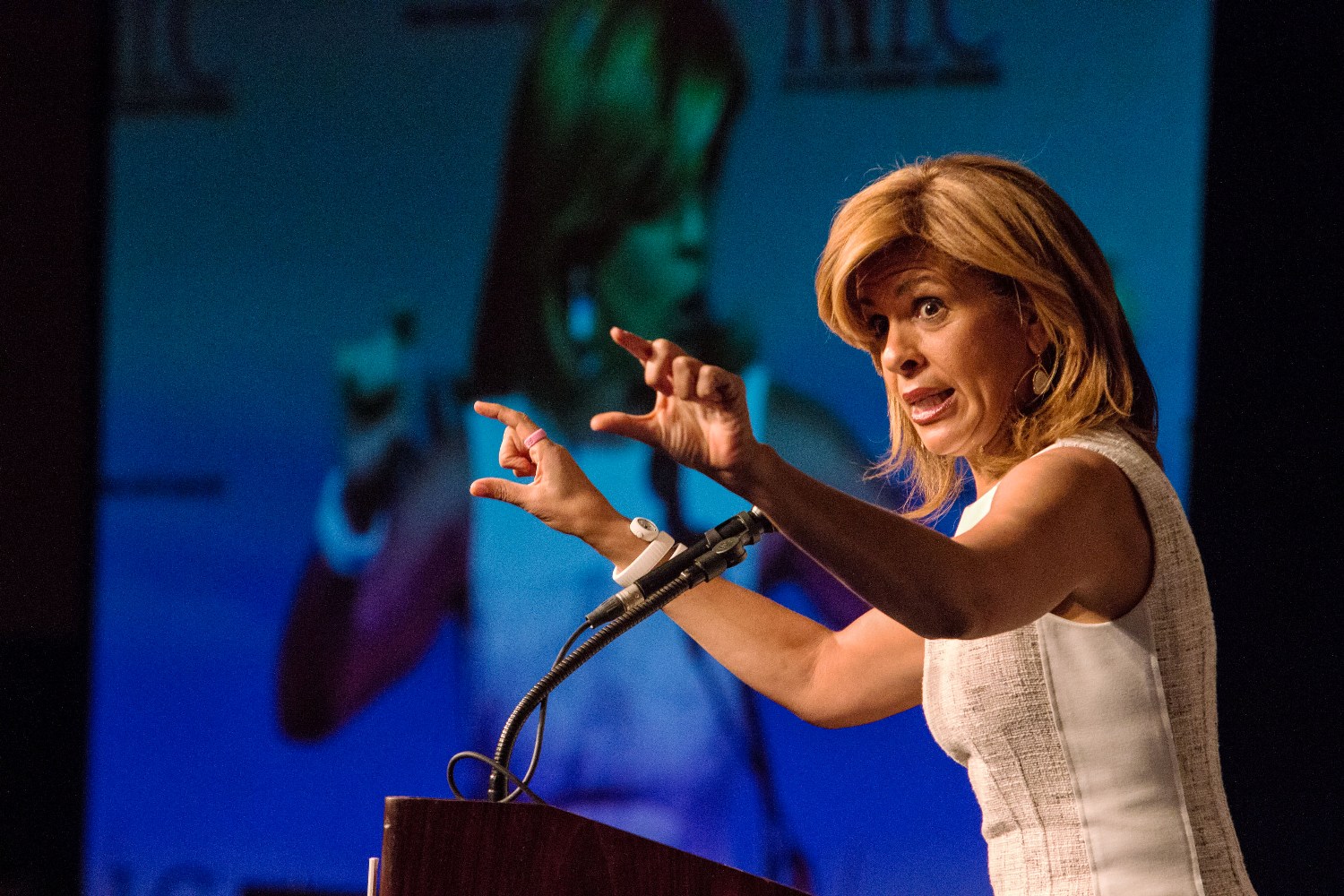 By Angela Holmes
CORALVILLE – You just need one person to believe in you.
For NBC broadcast journalist Hoda Kotb, that person was Stan Sandroni, news director at WXVT-TV in Greenville, Miss.
Ms. Kotb told the story of how she landed her first broadcast job during her closing keynote address, "Ten Years Later: Stories of Adversity and Transformation," at the IWLC's Eastern Iowa Conference held April 23 at the Coralville Marriott Hotel and Conference Center.
After graduating from Virginia Tech University in the mid-1980s, she knew she would be a broadcast journalist. With a resume videotape in hand, she had one plan – to land a job at a Richmond, Va., television station.
But, to her surprise, the news director stopped her video after a short time and told her she wasn't ready for Richmond. But he did suggest she apply for a job in Roanoke, Va., who also turned her down and sent her to Memphis.
"I drove from station to station for 10 days," she said. "I got rejected by 27 news directors."
While driving dejectedly home to return her mother's car, she literally saw a sign – a billboard promoting the Greenville, Miss., television station.  She drove to the station where Mr. Sandroni watched the entire tape and said, "Hilda, I like what I see." She was hired that day.
When the station's anchor was sick, Ms. Kotb filled in and endured "the worst 30 minutes in television history." Instead of firing her, Mr. Sandroni asked her to fill in the next night.
Ms. Kotb weaved humor, emotion and inspiration in her hour-long address to a sold out crowd of nearly 900 attendees.
She took pictures of the audience and promised to show them on the "Today" show the next day. She also engaged the crowd by playing and grooving to Van Morrison's "Days Like This" which puts her in a "good mood."
Although her tone was light throughout the speech, her demeanor was serious when she told of a health issue that changed her life.
In March 2007, when a doctor raised a red flag at a routine checkup, she shrugged it off, saying, "I run in Central Park and I eat apples."
Several weeks later she received a phone call from the doctor telling her tests revealed she had breast cancer. She got choked up when telling the story about a young intern at NBC who was with her at the time who gave her a hug.
"She was there at the exact time I needed her," Ms. Kotb said of the intern.
While recovering from a mastectomy and treatments, Ms. Kotb was offered a chance by NBC to travel to Ireland for a segment. On the plane she met a man who told her, "don't hog your journey; it's not just for you." It was then she decided to share her story of surviving breast cancer to help others.
As a breast cancer survivor, she had learned several important lessons. One is that life has margins. She kept what she wanted and got rid of what she didn't – including a husband she divorced.
Armed with her motto, "You can't scare me," she asked the NBC executives for a promotion when it was announced the "Today" show would be adding a fourth hour.  She got the job in 2007 with co-host Kathie Lee Gifford.
"I knew if I hadn't gotten sick, I would have never had the courage to ask for that job," she said.
In her book, "10 Years Later," Ms. Kotb tells stories of people who have conquered adversities, including Roxanne Quimby.
Much to her successful father's dismay, Ms. Quimby skipped college, married at a young age and went to live off the land.
When her marriage fell apart, she had two kids and no money. By chance, she came across a scruffy-looking man selling honey out of a pickle jar. She offered to help him market his product for a cut of the sales. She bottled the honey and eventually made candles from the beeswax.
The pair called their company Burt's Bees which she eventually sold to Clorox for $141 million. Meeting Burt Shavitz randomly off the road one day turned out to be Ms. Quimby's "moment."
"You have to be open for chance meetings," Ms. Kotb said, urging people to take out their ear plugs and turning off their computers and phones.
Another life lesson she learned was from comedian Steve Harvey, who told her during an interview that he was "sick of having fun" and wanted to experience joy.
"Fun is temporary; joy is forever," he told her.
Since joining the fourth hour of the "Today" show with Ms. Gifford, Ms. Kotb has let her guard down and relaxed more on air.
"It has been such a joyful, fun experience for me," she said, explaining she was a serious buttoned-up news anchor when the gig first began in 2007. One day, Ms. Gifford took Ms. Kotb's prepared scripts and threw them in the air, causing her to talk freely during the show.
"Who would have thought it would take the show and the wine to make me realize you need to talk and listen," she said.
Ms. Kotb and Ms. Gifford are known for enjoying a glass of wine on the morning show, which is sometimes dubbed as "Happy Hour." Keeping with that theme, somebody handed Mr. Kotb a glass of red wine at the beginning of her speech at the Marriott.
"God, I remember when I used to be a serious journalist," she quipped before taking a sip.