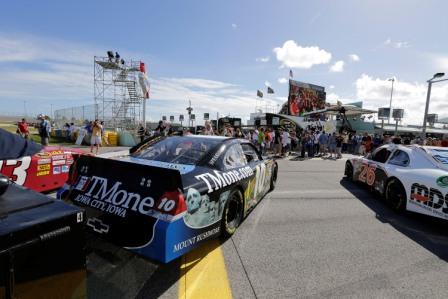 Story by Gigi Wood/Photo by TMone
IOWA CITY—They've reached the big leagues.
TMone, a business process outsourcing (BPO) company headquartered in Iowa City, announced Sept. 5 it was bought by Enhanced Recovery Company (ERC) of Jacksonville, Fla.
Celebrating its 10-year anniversary, TMone was started as a telemarketing service by MCI employees after MCI failed. Since then, the company has transitioned to inside sales, global contract accounts and account management for Fortune 500 companies. TMone was recently named to Inc. magazine's 500/5000 list for the seventh consecutive year. Co-founder Anthony Marlowe was named one of the Top 25 Youngest CEOs in the Country by Inc. in 2007.
He and co-founder John Burchert were 23 and 26 years old, respectively, when they started the company in 2003.
"It's a dream come true," Mr. Marlowe said.
Mr. Marlowe and Mr. Burchert, who will remain with the company, said part of the agreement with ERC was to not disclose the purchase price.
"I think we can safely say it is life-changing," Mr. Burchert said.
ERC is a customer experience management firm in the accounts receivable management industry. It provides collection services from its locations in Jacksonville and Orange Park, Fla.; Waycross, Ga.; and an international branch in India. ERC bought TMone in partnership with RLJ Equity Partners, a middle-market private equity firm founded by The Carlyle Group and media magnate Robert L. Johnson, founder of Black Entertainment Television.
"The new boss is Robert L. Johnson," Mr. Marlowe said. "That's a big deal to me and to John and to our team. People are excited about it and proud of it. He has been such an amazing entrepreneur and focused all of his efforts since the BET exit on community development and betterment and supporting entrepreneurs, to drive opportunities and to drive wealth creation for various industries and communities while maintaining an unbelievably impressive portfolio. Not many people get to go work for him every day."
The transaction closed on Aug. 30 and represents the second add-on acquisition for ERC.
"The acquisition of TMone provides ERC with a comprehensive suite of CEM (customer experience management) solutions and significant scale with seven domestic call centers, one international call center and approximately 1,200 combined employees," Rufus H. Rivers, RLJ Equity Partners' managing partner, stated in a press release.
Mr. Marlowe and Mr. Burchert said they were not seeking buyers for the company when the offer came their way.
"We received a phone call one day, there was a private equity conference going on in Dallas," Mr. Marlowe said. "Managing directors and managing partners from different funds were having a discussion about business services and somebody in the room asked if anybody knew of any BPO companies that had a best-in-class team and I happen to know a person in the room. That person responded to them and said, 'I have a friend, Anthony. He and his partner run TMone. Let me get you in touch with them.'"
At first, Mr. Marlowe and Mr. Burchert said they didn't think the timing would work because TMone is in the process of doubling in size.
"Being on the Inc.'s list of fastest growing companies, it's like the venture capital and private equity lead generation list, so we get 50-100 of those phone calls a year but this one was different," Mr. Marlowe said. "They committed to transparency and no games and an honest process and were willing to take into consideration that we were in the middle of a significant ramp-up of the company and valuation. With all of those elements in place, we decided to entertain it. It did take 11 months from that phone call to close."
TMone will remain in Iowa City, operate as an independent business unit and will retain its name and management team. Mr. Marlowe and Mr. Burchert also took what they describe as "meaningful positions" in the parent corporation, RLJ Companies.
"We make jokes in NASCAR, it's like getting the primary sponsorship to have names like the Carlyle Group, Bob Johnson, RLJ, ERC," Mr. Burchert said. "To see our creation of what we created 10 years ago in the basement of our townhouse and believe in our people and our processes and our ideas and our philosophies (succeed). The goal is to not change but to take TMone to what I would say is the major leagues. The field stays the same, the measurements are the same but the stadium is bigger and the lights are brighter but we're prepared to put on those pinstripes so to speak and go play that level of ball."
TMone operates additional offices in Des Moines and in Dakota Dunes and Spearfish, S.D. By working with ERC, both companies will have access to seven office locations. TMone will also have access to ERC resources, such as its in-depth industry analytics.
"This puts us in a position where we could have our people have opportunities so much faster than we could offer it to them," Mr. Marlowe said. "We couldn't find a downside to it. We have a substantial Fortune 500 customer base but ERC is four times the size. We know being able to offer our services to their client base is going to dramatically accelerate the TMone legacy and growth."
Mr. Marlowe and Mr. Burchert credit their business success to the early lessons they learned while working at MCI.
"It's where we came out of," Mr. Burchert said. "They taught us one important thing every single day, that failure is not an option. Although they may have gone to the wayside, unlike others who might have seen that as a dark day, Anthony and myself very quickly saw that as an opportunity."