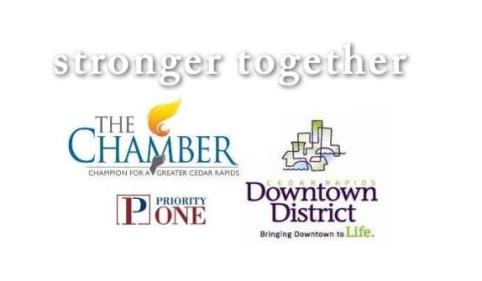 Chamber, Downtown District and Priority One become the Cedar Rapids Metro Economic Alliance
By Pat Shaver
Standing in front of projected images of the inside of a kaleidoscope Tuesday, officials announced a new, merged Cedar Rapids economic group.
The Cedar Rapids Downtown District, the Chamber and Priority One held a joint annual meeting Tuesday evening at Hawkeye Downs in Cedar Rapids. Along with celebrating the three organizations' accomplishments from the past year, officials officially unveiled the new organization.
The merger of the three organizations will officially go into effect Jan. 1.
Nancy Kasparek, chair of the Cedar Rapids Chamber board, said the kaleidoscope theme represents an evolving community, with "frequently changing shapes and colors."
"We come to do you today stronger together in true kaleidoscope form," Ms. Kasparek said.
The event featured nearly 30 different speakers from various community groups. Topics included education, health care, nonprofit work and local business. Each speaker discussed how the Chamber, Downtown District and Priority One have impacted their organization, and looked ahead to the single corporation.
"Together, the best is closer than ever before," said Jack Evans, president of The Hall-Perrine Foundation, a private philanthropic corporation in Cedar Rapids.
"As we work together to reshape development, we need to be forward thinking," said Debi Durham, director of the Iowa Department of Economic Development, in a pre-taped video.
At the event, the new organization also revealed its new name, Cedar Rapids Metro Economic Alliance (CRMEA), and vision for the future.
Doug Neumann, executive director of the Downtown District and executive vice president of the CRMEA said the organization will be "laser focused" on job growth, retention, downtown development and will focus on public policy.
"It's been an extraordinary and unusual year," Mr. Neumann said, adding that the move couldn't have been accomplished without each organization's staff and stakeholders.
The organization, officials said, will lead to better integration of resources for economic development, increased public policy coordination and will form a unified voice for local and regional efforts.
The organizations signed a letter of intent in July. A nine-member council then began formalizing a mission, bylaws and determining a name for the organization. The council includes three members from each of the three organizations. The three organization's boards approved a definitive merger agreement late last month.