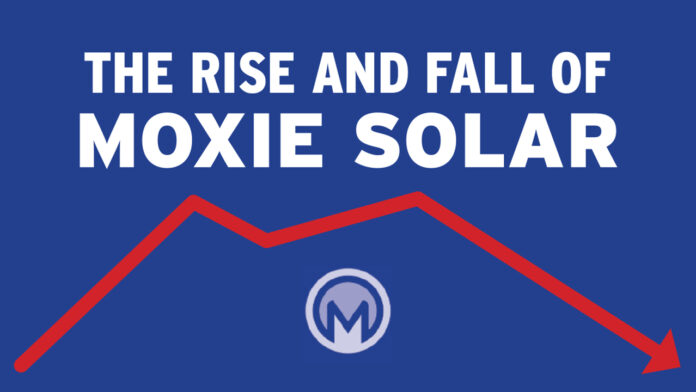 Once a rising star in the solar industry, Moxie Solar failed to adequately care for its customers and properly install solar facilities for its clients, a Corridor Business Journal investigation finds.
Moxie Solar was a North Liberty-based solar installation company founded in 2008 by CEO and president Jason Hall. First operating under the name Greenhall Industries, the company flourished in a burgeoning industry and diversified into other renewable energy ventures, including VERV Auto Sales, a used electric vehicle dealership.
This investigation explores the underlying strategic business decisions behind the company's rapid expansion and sudden demise, leaving installation crews unable to fulfill orders while leadership forged ahead with lofty goals of constructing a mixed-use entertainment district, solar panel manufacturing facility and more.
Moxie customers detailed their experience with the company, including many who are unlikely to recoup damages in full. With Moxie's permanent closure Dec. 5, some customers are on the hook for tens of thousands of dollars and few options to remedy the situation.
Former employees blamed poor decision-making (in some cases acknowledging the luxury of hindsight) from leadership —  a team that included Mr. Hall, his wife Jenn Hall, his sister and senior vice president Lee Anne Dicecco, and COO Travis Eichelberger, the current CEO of upstart True Solar Iowa — as well as struggles obtaining equipment and an organizational structure unable to cope with a massive surge of sales as primary factors for the disarray. These factors, and more, caused a staggering number of complaints to hit the desk of the Better Business Bureau and state attorneys general across the country. 
Documents shared with the CBJ show Moxie made recurring errors in engineering plans, was unreliable with meeting previously agreed-upon timelines and ignored customer concerns for months, among other problems.
An out-of-state investment group attempted to save the cash-stricken company in 2022, but the group closed Moxie's doors for good, later claiming in a lawsuit the previous ownership team misrepresented the value of assets and liabilities by more than $6.5 million prior to the acquisition.
Creditors allege Moxie, at a minimum, breached contracts. In another case, one equipment supplier claims the owners used a real estate-focused tax deferment strategy that unjustly enriched Mr. Hall under an entity called Ralos Eixom LLC – Moxie Solar spelled backward.
In this multi-part investigative series, we look at how Moxie Solar rose to prominence, the company's grand ambitions, how it attempted to resolve a cash flow crisis spiraling out of control, the lawsuits key players now face, as well as look at what former Moxie leadership is up to now.
The CBJ spoke to former employees, affected customers, industry professionals and government officials for the exclusive stories.
Mr. Hall and Ms. Dicecco did not respond to multiple interview requests.
Check back to this page as more stories are released. Join us as we dive deep into the rise and fall of Moxie Solar in our subscriber-only content.
Read more: