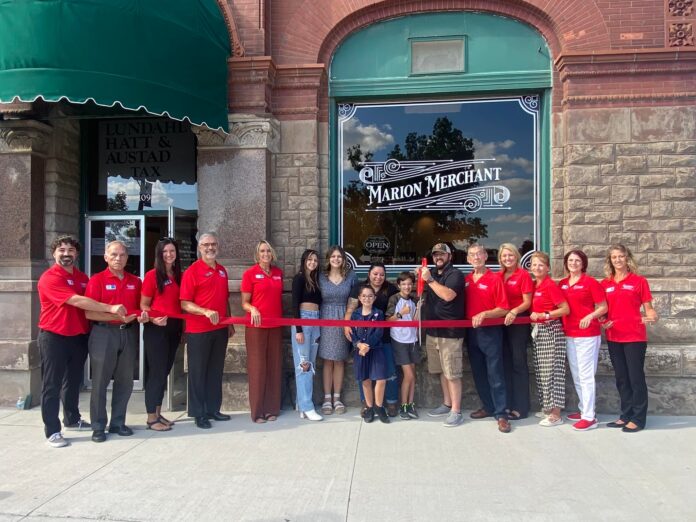 The Marion Merchant, located at 1090 Seventh Ave., celebrated its opening with a ribbon cutting Aug. 17. The store which opened in April offers art for everyday people with a purpose.
Owners Rob and Laurie Klein are excited to join the Marion community and open a store which features quality products made by local veterans and artists trying to fuel their passion and break free from the everyday grind. 
Rob, who is now retired, spent 12 years on active duty in the Army before becoming a full-time member of the Iowa National Guard and retiring in July 2021. He returned to the workforce and quickly determined it wasn't the right fit for him or his family. He began formulating a plan to continue service to community and fellow veterans while fulfilling a lifelong dream of owning his own business.
"I think building relationships and support within the community is something this world needs more of," he said. "If I can bring people together and support those trying to make something for themselves, then I feel it's my duty to provide that service."
Drawing on his appreciation for the outdoors and renewable resources, Klein found his passion in woodworking because of its unique properties and durability to last a lifetime. He sees his shop as being a way for local veterans and artists to get their work to the public without the hassle of burdening logistics.
"Products will come straight from the crafter to the consumer," Klein added. "Each artist offers a unique set of skills. We can use those skills to drive our passions and continue to be stewards of our future professions."
Items for sale in his store include various types of handcrafted art, wood carved items including signs, displays, plaques, games and small furniture. Items will be as locally sourced as possible and made by people in the community.
The Marion Merchant will be open 11 a.m.-5 p.m. Tuesday-Friday, and 11 a.m.-4 p.m. Saturday. Learn more by visiting themarionmerchant.com or @themarionmerchant on Facebook.