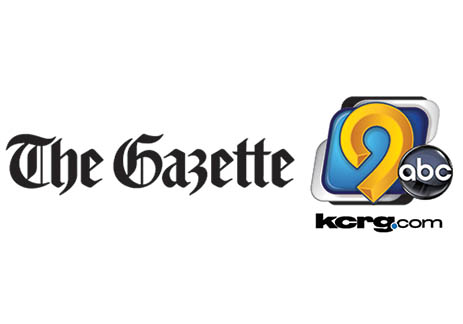 By Dave DeWitte
dave@corridorbusiness.com
KCRG-TV9, the Cedar Rapids-based ABC affiliate that has been part of The Gazette Company since it went on the air in 1953, has been sold to a publicly traded broadcasting company in a $100 million all-cash purchase.
Gray Television closed on its purchase of most of KCRG-TV9's non-licensed assets on Tuesday, and expects to close on the station's remaining assets in the fourth quarter of 2015 following receipt of FCC and other approvals.
Atlanta-based Gray Television (GTN:NYSE) pointed to KCRG's No. 1 market ranking, and said the transaction reinforces its growth strategy of acquiring high-quality assets in attractive markets with the same values and record of success as its existing stations.
"With this very strong foundation and a great staff, we are confident that Gray's backing will propel KCRG-TV9 to even greater success in the future," said Hilton H. Howell Jr., Gray president and CEO, in a press release.
Gray Television approached The Gazette Company with an offer to buy KCRG-TV9, which it was initially not looking to sell, according to Gazette CEO Chuck Peters. He said the company's board had to take the offer seriously.
"It was both a fair price and a buyer that is about as philosophically aligned [with The Gazette Company] as you can get," Mr. Peters told the CBJ.
The Gazette had long been privately owned by a group that included the Hladky family of Cedar Rapids and others, but was sold several years ago to an Employee Stock Ownership Plan in a move said to provide tax advantages and opportunities for employees to benefit directly from the company's success.
KCRG-TV9 has about 130 employees, or 107 full-time equivalent positions. Mr. Peters said Gray is expected to post a new position for general manager, but will welcome applications from existing staff. Otherwise, no immediate personnel changes were expected.
Gray recently netted $176 million from a public stock offering primarily intended for acquisitions, which have recently included stations in Odessa, Texas, and Presque Isle, Maine.
Mr. Peters said The Gazette will be looking to invest in other companies with proceeds from the KCRG-TV9 sale. He added that The Gazette is now an ESOP company looking for growth opportunities, rather than a media company, and that most of the investments it is expected to consider are outside media.
Following completion of the purchase, Gray will be in 46 television markets broadcasting over 160 program streams with multiple network affiliations. The $100 million purchase price represents a multiple of 6.9 times the blended average of the station's 2015 through 2016 pro forma broadcast cash flow, according to Gray, and will immediately be positive to the company's free cash flow.
Editor's note: Dave DeWitte was a former employee of The Gazette Company.