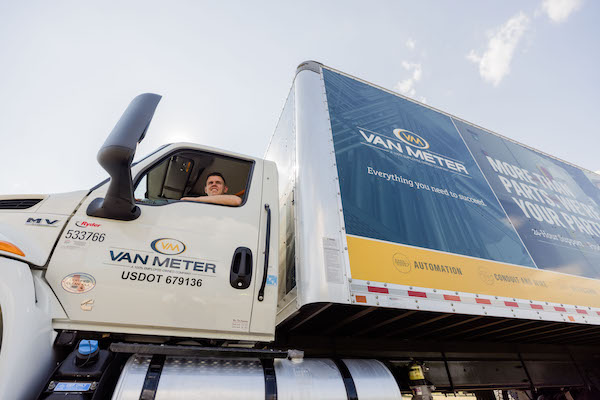 Now nearing a century in business, much has changed with Van Meter Inc.'s products and processes over the years, but the Cedar Rapids-based company's mission has remained in sharp focus: add value to their ventures, not only for the company, but for customers as well.
"We talk a lot about Van Meter being a mission-based organization in the pursuit of creating lasting value," Van Meter CEO Lura McBride said. "And when you're in the pursuit of purpose alongside the pursuit of profit, you have a better chance of being more sustainably successful."
Founded in 1928 in downtown Cedar Rapids, Van Meter is now headquartered in the city's southwest quadrant. An award-winning workplace, Van Meter is the nation's 14th largest electrical distributor. The 100 percent employee-owned company provides electrical and automation products and services to contractor, industrial and commercial customers. Van Meter's offerings encompass lighting, data communications, utility, automation, power transmission, renewable energy, core electrical components and more.
Celebrating 95 years, Van Meter has grown organically, establishing full-scale branch locations in Omaha and Kansas City. The company has also completed several acquisitions, most notably acquiring Minnesota-based Werner Electric in 2021, and has opened several remote locations nationwide to serve large-scale data centers and battery plants.
In total, Van Meter has 25 locations in eight states, most in Iowa and Minnesota, with other sites in Illinois, Wisconsin, Nebraska, Kansas, Virginia and Alabama. The company currently has 825 employees and anticipates $950 million in overall revenue for 2023.
The company also became 100% employee-owned in 2005, one of the first major employers in the area to transition to full ESOP ownership. Ms. McBride said that status has been key to the company's growth and success.
"I think there's a mindset that comes with employee ownership," Ms. McBride said. "The key is making sure that when new people come to the company and as people grow in their career, that every person knows what it means to think like an owner, so they can act like an owner. You don't always have that thought process if you're not an ESOP. People have a stake in the outcome here. People win when the company wins. The bottom line is we've gotten very intentional when we're recruiting people to say this isn't for everybody. If you're looking for a punch-in, punch out job, Van Meter is not your place. When you come here, you're an owner. And there's expectations that come with being an owner."
In addition to Ms. McBride, key Van Meter leaders include chief financial officer and chief operating officer Nate Jensema, chief sales officer Tim McClimon, chief marketing officer Karmen Wilhelm, chief organizational effectiveness officer Alicia Murphy, chief strategic growth officer Brian Bytnar and chief information officer Sam Slingluff.
Van Meter's vision is to continue the legacy of employee ownership for future generations by "being the best partner, working with the right manufacturers and the right end users to create lasting value for them, to be their competitive advantage and having an employee-owner experience where people are first, building our very best teams and creating lasting value," Ms. Wilhelm said.
"Our customers do important work – processing food, saving lives, building communities, educating the next generation, managing data, and more," she added. "Recognizing and embracing that we play a part in this work inspires us to go above and beyond, to keep innovating, to keep improving, to keep investing. We aim to be more than parts. We want to be a partner. And we believe true partnerships power progress. When our customers win, we win. The power of our people is the difference-maker. We grow and succeed because each of our employee-owners understands how they create lasting value for our customers and show up motivated and empowered to give their very best. Empowered, purpose-driven people who care about each other and want to make a meaningful impact are unstoppable." 
Van Meter Inc. details:
2022 Revenue: $928.46 M
Established: 1928
Top Executive: Lura McBride, CEO & President
---
This article was originally published in the CBJ's Largest Privately Held Companies magazine.
In 2023, this magazine celebrated its tenth anniversary, after a three-year hiatus due to the pandemic. It featured a look back through the last decade and a glimpse into the future of the Corridor's biggest, and most impactful, companies. Through in-depth interviews and people-focussed articles, the magazine explored how these industry titans have supported and inspired their communities through hardship and prosperity, and how they plan to continue their involvement for years to come.