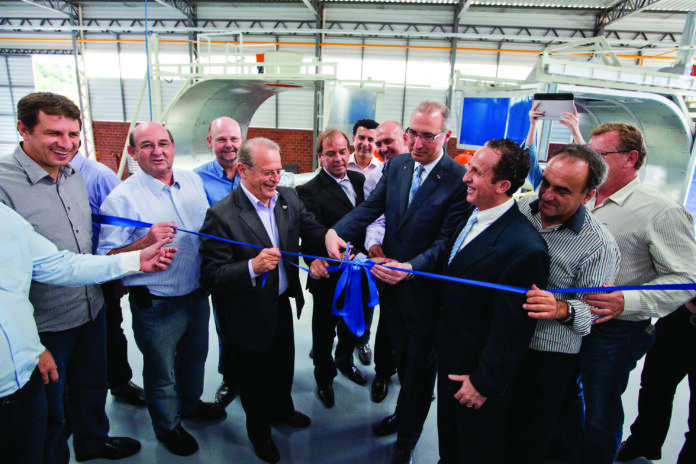 It's safe to say Centro Inc. being named as one of the Largest Privately Held Companies in the Corridor is now routine, having made the list in 2020 and 2018.
Founded in 1970 by Dick Rozek in Oxford, the business has its roots in converting fiberglass tanks to large, molded plastic tanks. As Centro shifted to molding highly engineered products, the company never strayed from its mission of becoming the best company for rotational molding, or rotomolding, said Director of Sales and Marketing Ty Windy.
The North Liberty-based company serves a host of industries but primarily creates plastic parts for industry-leading Original Equipment Manufacturers (OEM) in the lawn and garden, agriculture and construction fields. 
"Centro has achieved significant growth and the growth would not be possible without our dedicated associates helping make it happen," said Mr. Windy. 
The company's strength comes from its ability to make strong, robust products for a wide range of applications including fuel tanks, cab roofs for heavy construction equipment, corn heads on harvesting combines, high-end dog kennels and cargo beds for utility vehicles, among others.
Centro has since expanded to Cascade in 2021 and Hampton in 2022. Both manufacturing locations are 30,000-square-feet and consist of two machines each.
"This expansion represents continued confidence in our markets and our future business prospects. This, our 11th location, is an exciting opportunity in Hampton, Iowa which is a terrific Midwest community," said Brian Olesen, president and CEO of Centro Inc., in a news release. 
Expansion helped push Centro's revenues even after global supply chain woes, a pandemic and workforce issues plague companies around the country.
"While Centro faced these challenges head on, we are very proud of how our associates stepped up and persevered through the challenging times and were able to continue to keep our associates safe and customers' production lines moving," said Mr. Windy.
Centro also experienced a growth surge in 2019 when they broke into new markets, such as evaporative cooling, and building on its patented RotoLoPerm process and barrier materials products.
In addition to its manufacturing locations, Centro has an engineering office located in Northern Ireland. 
The custom molding company continues to maintain its 190,000-square-foot presence in North Liberty where the business holds 14 machines, in addition to Centro's operations in Valley City, North Dakota; Claremont, North Carolina; East Moline, Illinois; Beaver Dam, Wisconsin; Horizontina, Brazil; Ankeny and Waterloo.
In total, there are approximately 1,200 Centro employees globally today. 
"We really had to have a laser focus on our people and the hiring and training process," Mr. Olesen told the CBJ in 2020. "We feel really good about these efforts and it has opened the door to shift the focus to growing and diversifying our business further."
Still, Centro sees even more opportunities to take the company to the next level.
"We certainly see opportunities to diversify the industries we serve and the type products we produce," said Mr. Windy. "We are watching the trends and emergence of green energy initiatives and are looking for the right opportunities where Centro can add value to the supply chain of these applications – whether that be through investment in new technology, product development or research and development (R&D)."
Other R&D breakthroughs include liquid nylon, cleanliness technology and calibrated custom engineered fixtures.
"Similarly, one of the potential threats Centro faces is the electrification of traditionally gas-powered equipment," he added. "Whether that be small construction equipment to commercial mowers, we manufacture fuel tanks for many of these applications." 
Centro details:
2022 Revenue: $218.1 M
Established: 1970
Top Executive: Brian Olesen, President & CEO
---
This article was originally published in the CBJ's Largest Privately Held Companies magazine.
In 2023, this magazine celebrated its tenth anniversary, after a three-year hiatus due to the pandemic. It featured a look back through the last decade and a glimpse into the future of the Corridor's biggest, and most impactful, companies. Through in-depth interviews and people-focussed articles, the magazine explored how these industry titans have supported and inspired their communities through hardship and prosperity, and how they plan to continue their involvement for years to come.