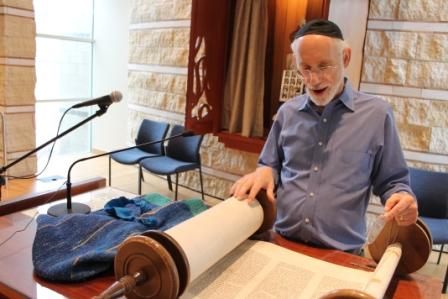 By Pat Shaver
CORALVILLE—Rabbi Jeff Portman jokes his new synagogue transformed Gold's Gym into God's Gym.
The Agudas Achim Synagogue congregation started worshiping at its new location, 401 E. Oakdale Blvd. in Coralville, the former location of Gold's Gym, last March. The congregation hosted an open house in August.
The new building allows the congregation more room for its programs and for the first time in 40 years, all of the Sunday school classes will be in the same building.
The new multi-function facility features rooms for Sunday school focused on Jewish history and values and serves children ages 3-16; Hebrew School to help children prepare for their bar mitzvah and bat mitzvah; a Kosher kitchen; a new, larger sanctuary for regular Sabbath services; a library with books focused on Jewish ideas, literature, history and philosophy; an adult education program that holds events on topics important to the Jewish community; a gift shop that offers items needed for Jewish rituals and holidays; and a social hall for life-cycle events and congregational celebrations.
The move was a long time coming. The synagogue was previously located in downtown Iowa City, 602 E. Washington St. The building had been rapidly deteriorating and it was determined that it would be too much of a burden to renovate that building.
"The building was falling apart," Mr. Portman said, adding that it was more than 50 years old. "Every time Ralston Creek flooded, we flooded."
With the building needing constant repair and the rapidly growing congregation, Mr. Portman said they decided to seek options for another building and began fundraising.
"Gold's Gym was available and this was ideal, though I couldn't envision this being a synagogue," he said. "But we do miss being in downtown Iowa City. No one wanted to leave Iowa City, but once we saw the options, everyone was on board."
Iowa City-based Neumann Monson was the architect for the project, along with Levin, Brown and Associates of Baltimore, Ma., which oversaw the design of the sanctuary.
From the time the Agudas Achim took over the building, it took about one-year-and-a-half to complete the renovations. Mr. Portman noted that when they took over, the building it looked like a gym on the inside and they had to gut most of the interior.
"It was a big open gym, there were weights all over the place. It hadn't been used in 2-3 years," he said.
The synagogue has improved technology throughout and has incorporated art and other pieces from the former building, Mr. Portman noted.
The downtown location was purchased by a developer and turned into apartments.
"I don't miss the building at all. Actually, a few of our people couldn't go in there because of the mold. Every day was a challenge," he said.
Over a period of about 40 years, Agudas Achim has grown from about 65 families to 190 families, or about 400 people. Many of the members are University of Iowa faculty and staff, he noted. Most of the Jewish students worship at UI Hillel student center on the north side of campus.
Agudas Achim's growth is likely from the university's growth over the years, which is slowing, he said. Mr. Portman also recognized that the synagogue has to keep revenues in line like any other business.
"We have to have revenue to pay the bills; in that sense it's a business, but very much a non-profit business. We don't make money doing this," he said.
Agudas Achim is a unique center because of its focus on the two major Jewish movements: conservative and reform. Iowa City is too small to have a synagogue focused on each movement, he said.
With the recent Oakdale Boulevard extension opening, Mr. Portman noted that it is more convenient for many members to get to the synagogue.
The new portion of Oakdale Boulevard from Pembrokeshire Drive east to Dubuque Street was opened to the public last week.
The Oakdale Boulevard Extension to Dubuque Street was a joint project between Johnson County and the City of Coralville, with a project budget of $3.22 million
Mr. Portman was born in South Bend, Ind., and graduated from Indiana University. He received his rabbinic ordination from Hebrew Union College Jewish Institute of Religion (Cincinnati) in 1973. He and his wife Gail have been in Iowa City for 41 years. Mr. Portman plans to retire in two years.
Oakdale Boulevard extension to Dubuque Street open
The new portion of Oakdale Boulevard from Pembrokeshire Drive east to Dubuque Street is open to the public.
The extension was a joint project between Johnson County and the city of Coralville. The prime contractor was Peterson Contractors from Reinbeck. The budge was $3.2 million with $1.5 million in Surface Transportation Program funds from the Iowa Department of Transportation. The remaining cost was split 50/50 between Johnson County and the city of Coralville.
This is one of the few direct connections between Iowa City and Coralville and has been in the works for several years. Many residents and business owners have waited for years for the extension, on the north side of Coralville and Iowa City, to open.